Brand engagement is the holy grail for businesses on Instagram looking to monetize their presence on social media, to earn with Instagram, you just cannot joke with engagement Instagram, as it is established, is the best social media platform to display your company's culture and brand through images & videos.
According to

research

, visual content is especially potent because people remember 80% of what they see, compared to 20% of what they read and 10% of what they hear.

According to

TechCrunch

, in June 2018, Instagram exceeded 1 billion monthly users, and according to

Business Insider

, Instagram Stories drew nearly 400 million users-

Forbes

.
Going by these numbers, it looks like businesses are already using this tool to the fullest.
With the addition of an interactive quiz sticker feature that allows users to engage with their followers by sharing trivia-kind multiple-choice questions and tracking the results, the popularity of the platform grew manifold.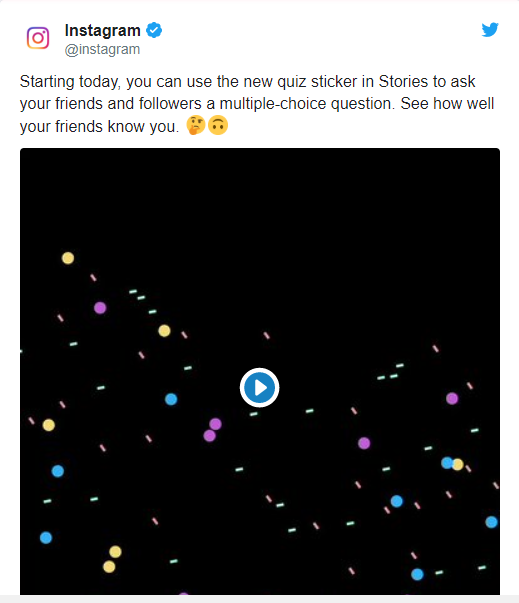 With the popularity of Instagram Stories skyrocketing (In January 2019, it grew to more than 500 million daily users) and, with businesses increasingly looking for tools to increase engagement, this was no less than a long-awaited feature for brands, because, of course, engagement.
But every business on Instagram isn't using it. That's because either they don't know how to create one as per their business, or they don't know how to use them to improve audience engagement and promote their business.
That's why I've come up with this article to fill you up on all about Instagram quizzes. After reading this article, you'll finally know:
How to create Instagram quizzes

How to use Instagram quizzes for your story for your business
How To Create Instagram Quizzes
Step 1 – To create an Instagram story quiz with the Instagram quiz sticker, simply tap the quiz sticker button after you've captured a photo or video in the Instagram Stories camera.
Step 2 – Select the quiz sticker option from the sticker tray.
Step 3 – Next, give your quiz a name.
Step 5 – Also, customize the color of your quiz by tapping the color wheel at the top of the screen. Choose a color that matches your background or your business' brand to maintain brand authenticity.
Step 6 – Then, draft your question and customize the answer choices.
Step 7 – Tap on the correct answer and share it with your Instagram story.
The "correct" answer will be highlighted in green.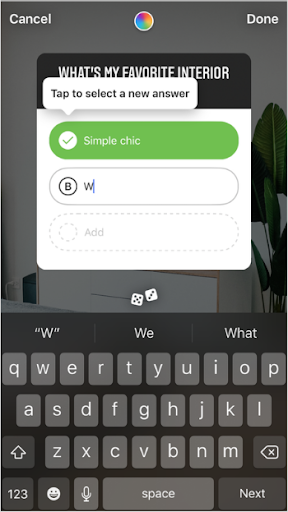 Once you're done, share your story and see which of your followers answer correctly!
What happens next?
Your audience can respond by tapping one of the options you've provided.

After they've voted, your audience can learn whether they got it right or not.
Watch How to Create an Online Quiz in Under 5 Mins

In case they did, they'll get an immediate green response on their answer and a ticker-tape animation to celebrate.
And if they didn't, they will see their response marked in red and the correct answer highlighted.
They will also see the choice with the leading responses at the top. This gets updated if they watch the story again.

You can check your quiz results by swiping up. This will open the quiz's viewer's list for you.

Then, you can see how many people responded to each answer and how they answered.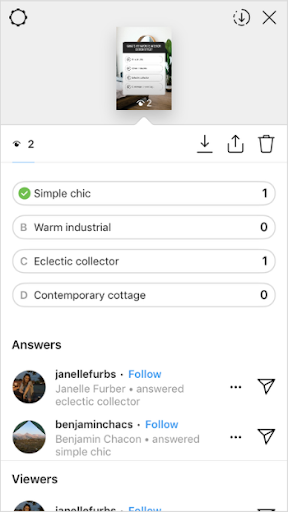 How to Use Instagram Quiz Sticker for Businesses
No underestimating here! The Instagram quiz sticker is so much more than just fun. If used right, it can prove to be a fruitful resource for your business. So, here are a few ways you could create a quiz and put it to good use:
Create a Quiz to Educate Your Followers About Your Brand:
See how much your followers know about your brand. Ask questions about your brand using quizzes for Instagram. See how many followers get it right and how many don't. If they don't get it right, they'll ultimately learn it when the correct answer appears.
You can use these types of quiz questions for Instagram:
What is our flagship product?

Who is our current brand ambassador?

In which year did we establish our brand?
For instance, ask them which year you launched a certain product or which year did you establish your company.
Socialite and model Kourtney Kardashian did something exactly like this with her lifestyle brand Poosh: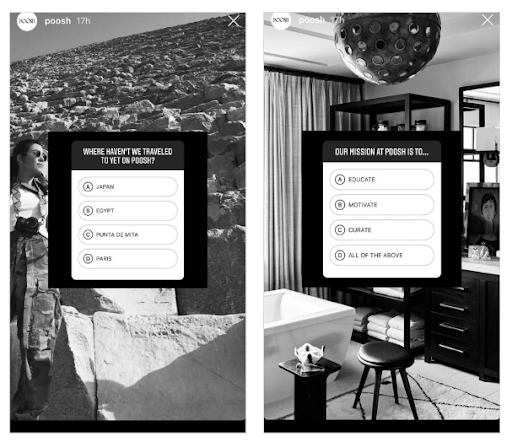 Use It as a Feedback Tool:
Instagram quizzes are a great tool to get feedback about your business and products.
Using questions related to your product, you can easily get your audience's feedback in the most interesting ways. Suppose, if you're a brand that sells healthy snacks, you can create quizzes to get customer feedback that'll help you in many ways.
Sample questions to ask on an Instagram quiz-
What is your go-to evening snack?

Which flour do you think is both tasty & healthy?

Gluten or no gluten, what's your pick?
See this- A beauty company on Instagram (anonymous) used the quiz sticker to ask their followers about their morning skincare routine or what skincare products they can't live without.
Use the Instagram Quiz Sticker as a Promotional Tool:
The Instagram quiz sticker can be very well used to draw attention to your current online sales and promotions just like Milk and Makeup did-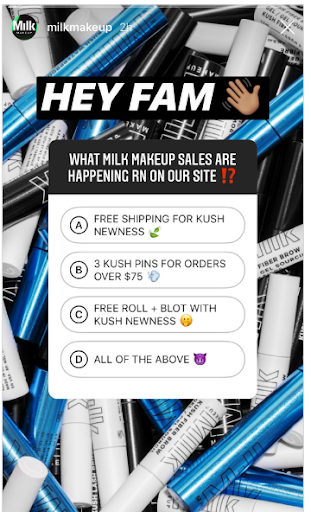 Similarly, the famous restaurant chain Chipotle used an Insta quiz to highlight their most popular dishes-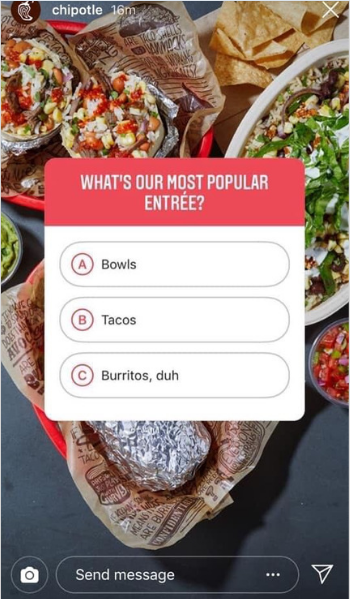 Create A Quiz Using an Instagram Quiz Generator
You can also make your own quiz using an online quiz maker like ProProfs and add it to your Instagram bio. That way, you can get your audience to not just take your quiz but also turn them into leads. Here are the steps you need to follow to do so:
On your ProProfs dashboard, click on 'Create a Quiz"

In the templates section, click on Personality Quiz

Choose a template that you like and edit it to create your own Personality quiz for Instagram

Copy the Instagram quiz URL and embed it on your website

Then, add the embed link in your Instagram bio

Integrate your quiz with a CRM tool to capture leads and build your mailing list
See? That's easy! I bet it won't take more than 10 minutes of yours, even if you decide to build your Instagram quiz from scratch this way. The question bank will help you quickly import ready-to-use questions to your quiz.
---
Read More:- How to Create a Quiz with an Online Quiz Generator
---
The Possibilities Are Many
It's up to you how you plan to use the Instagram sticker. You can build a creative platform for your business and boost your online engagement via Instagram stories. Just ensure to use it to your fullest potential with Instagram quizzes in the most creative and engaging way possible.
Also, look at some of Facebook profile quizzes and Facebook personality quizzes to get an idea about how they generate leads. It's fun, free, and very easy.
Do you want free Quiz Software?
We have the #1 Online Quiz Maker Software for complete learning & assessment