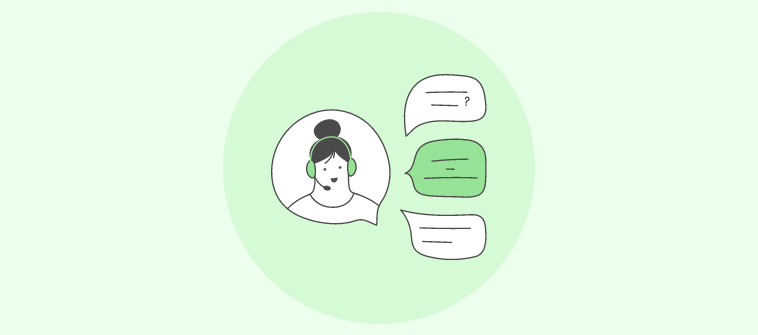 $1.6 trillion!!
This is how much Accenture estimates US companies lose each year due to customer churn stemming from poor customer service.
From creating a high-quality product or service to conducting savvy marketing campaigns – there are several ways to make people fall in love with your brand.
But when it comes to the mistakes that can drive away customers, almost nothing beats delivering poor customer service.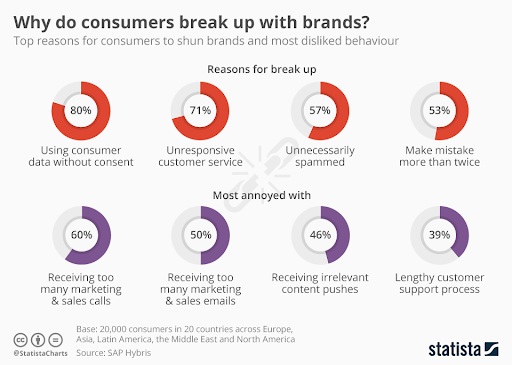 One of the best things you can do to avoid the heartbreak of high customer churn and the accompanying reputation damage is to build better customer service teams using customer service assessments.
Customer service assessments provide a quick and easy way to analyze skills and attitudes crucial for customer service roles. Using online assessment tests, you can hire and train the best customer service professionals to seamlessly enhance customer experience.
In this blog, you'll learn all about customer service assessments, including how to create and optimize them and what skills and attributes to measure using them.
What Is a Customer Service Assessment?
Customer service assessments test a job candidate's or employee's skills, knowledge, or temperament relevant to a customer service agent and other similar customer-facing roles.
Online customer service tests consist of a series of questions in various formats, such as multiple-choice, true/false, essay, audio/video-response, etc. Depending on the type – scored or personality, such tests may provide a score/percentage or a personality analysis as the outcome.
Recruiting professionals and hiring managers can use such assessments to improve their hiring process and onboard top-quality customer service representatives with skills and attributes aligned to the role.
Meanwhile, corporate trainers can use customer service assessment tests to identify and address knowledge and skill gaps in the company's current customer service workforce.
Types of Customer Service Assessments
Online customer service assessments can be broadly classified into four categories. These are:
Hard/technical skills assessments

Soft skills assessments

Video interviews
Let's look closely at each of these.
Hard Skills Assessments
Hard skills assessments test technical knowledge and skills specific to customer service. Here are the essential hard skills required for success in customer service roles.
Whether you're hiring for an entry-level or advanced position, a customer service representative needs to have a sound knowledge of the customer service industry and understand the importance of social skills in providing top-of-the-line customer service.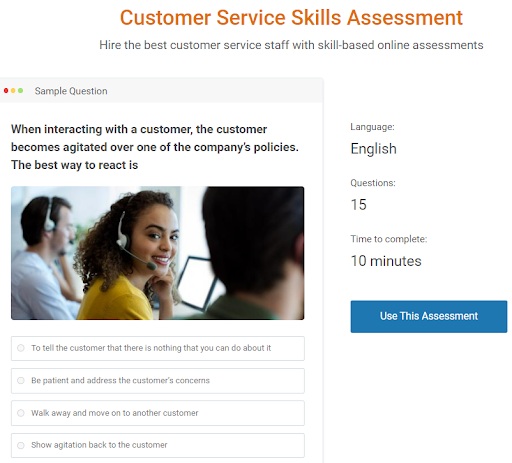 Product/Service Knowledge
A good customer service experience involves the customer talking to a single customer service representative in a single interaction and leaving satisfied.
Customer service executives can provide quick and effective help only if they thoroughly understand the products or services they're providing the service for and other related offerings by the company.
In other words, a customer service executive shouldn't have to refer to manuals and brochures or consult a co-worker to solve customer queries.
Besides product knowledge, customer service agents must also be aware of the policies and regulations of the business. Corporate trainers can use customer service skills assessments to ensure employees fully comprehend all this critical knowledge.
Pro Tip: When using customer service assessments as part of a training program, you can add links to your internal knowledge base in the assessment results. This way, you can encourage learners to refresh their product knowledge.
Customer support professionals must know how to diagnose a customer's issue and implement an effective solution to the problem. They must have a good understanding of the various problems that customers may encounter while using the product or service. They must also know how to ask questions to identify the root cause of the problem.
Depending on the region, a customer service representative may need to be proficient in one, two, or even more languages. For example, customer service agents working for US companies may need to be proficient in both English and Spanish.
Your customer service skills test should assess job candidates' proficiency in all language aspects, such as grammar, pronunciation, vocabulary, accent, etc.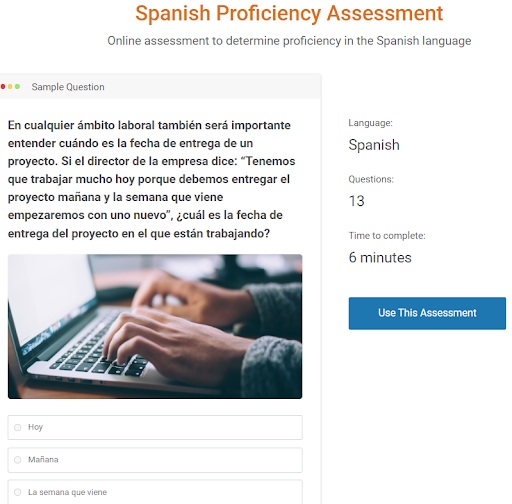 A large part of a customer service agent's responsibilities involves working on a computer and storing and retrieving information using it. So, every customer service agent in your organization needs to be computer-literate. They should also be willing to learn to operate new software applications as part of the job.
Many companies don't realize how important this is until they start losing customers over minor issues that could have been easily resolved if the service reps were properly trained on basic software.
Knowledge of Customer Support Tools
A customer service professional may have to employ multiple online tools to offer effective customer support. For example, support executives may need to use a tool, such as ProProfs Live Chat, to provide instant help or comprehensive support software, such as ProProfs Help Desk, to enable seamless switching between communication channels.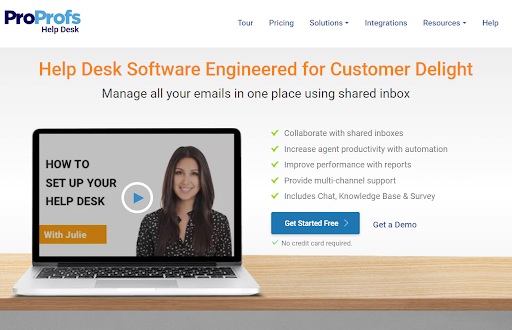 You can conduct customer service tests to assess and train employees on their knowledge about the usage of such tools.
Customer service agents need to reply quickly via email or chat, whether to provide a better experience to the customers or to handle more than one customer at a time. They must also communicate efficiently with team members and quickly add new information to databases. So, customer service agents must have great typing speed and accuracy.
Soft Skills Assessments
When it comes to customer service, soft skills might be even more important than hard skills. Here are the essential soft skills one must have to provide delightful customer service.
Communication is the backbone of any customer service operation. Effective communication skills enable customer service agents to provide speedy resolutions to customer queries and grievances, diffuse tense situations, create better customer relationships, and even cross-sell and up-sell.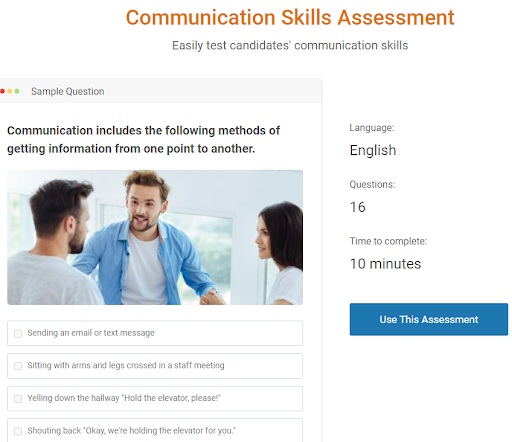 It's been more than three decades since the dawn of the internet age. But, phone calls remain customers' most preferred method for resolving issues.
For phone customer service, listening skills are just as important as speaking skills, if not more. Customer service agents must understand a customer's query or grievance in the first go so they don't waste the customer's time and their own.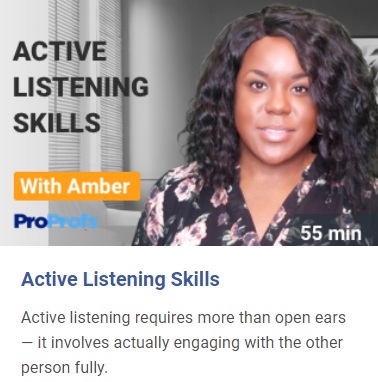 No matter how effective your customer service is, conflict can arise, especially when a customer makes an unreasonable request that your company simply can't entertain. A customer service agent with excellent conflict resolution skills can guide such customers to a mutually acceptable and beneficial solution.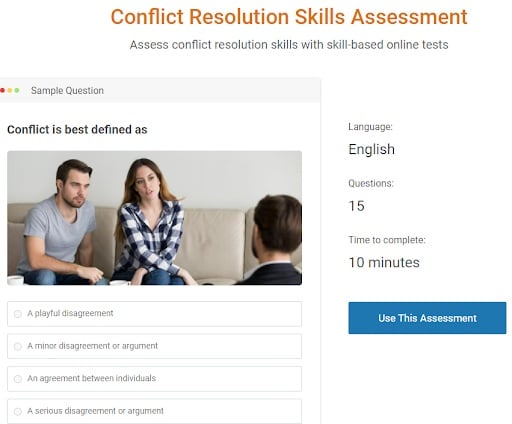 Customer service agents must be able to quickly and accurately comprehend any form of communication by the customer. They must also be able to read between the lines and interpret customers' intentions from casually-worded, stream-of-consciousness messages.
You can easily check candidates' reading or listening comprehension skills by conducting customer service quizzes that present quiz-takers with a passage or audio clip and ask questions based on it.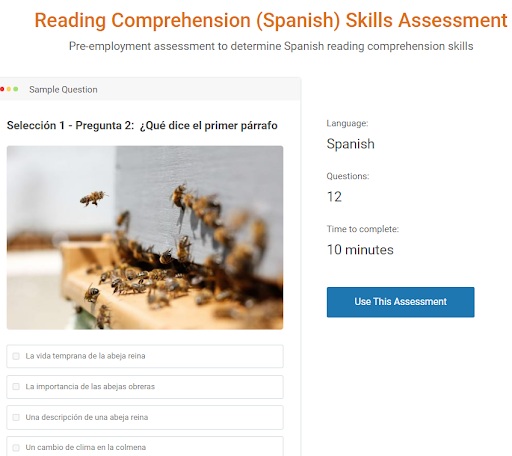 Customer service agents must know the basic email etiquette so they don't accidentally offend or confuse a customer. On the flip side, well-written emails can be a great way to make positive impressions on customers and improve customer retention.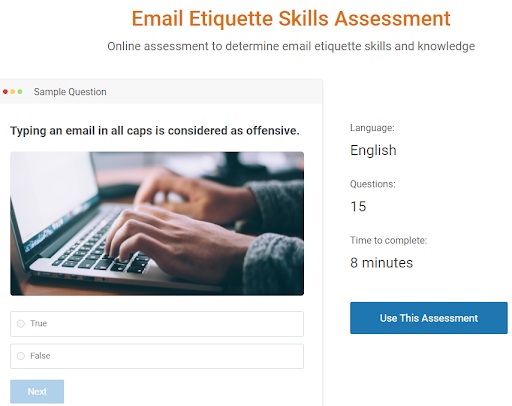 From time to time, customer service representatives may need to collaborate with other employees in their own and other departments. Having great teamwork skills makes for effective, fruitful collaboration, which improves the quality and efficiency of customer service.
Customer service executives may need to make important decisions, such as:
whether to entertain the customer's request

which tasks to prioritize

whether to escalate a complicated case to a superior or tackle it oneself.
Excellent decision-making abilities in your customer service representatives ensure a smooth-functioning customer service department.
Pro Tip: You can assess decision-making skills by including scenario or case study-based questions in your customer service assessment.
Customer service representatives can have a LOT of stress-inducing tasks on their plate each day. Time and stress management skills enable them to handle pressure effectively to deliver consistently brilliant service.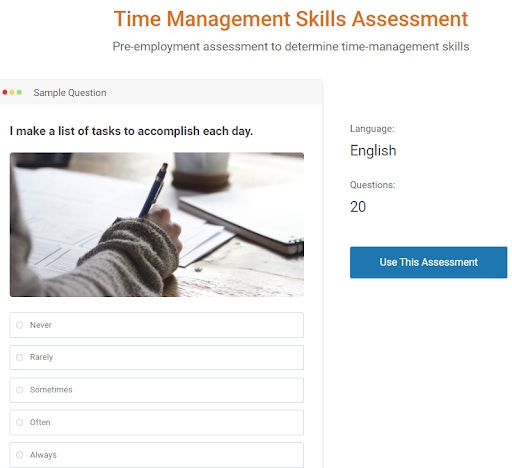 Empathy & Emotional Intelligence
Excellent customer service professionals can manage their own and the customer's emotions to come out of sticky situations with innovative solutions. For example, they can retain their confidence and composure even when faced with frustrated customers.
Good customer service also means being able to put oneself in the other person's shoes to accurately assess the gravity of the situation.
Customer support agents who possess an empathetic mindset can make the customer feel that they are deeply valued by the organization and work together with them to overcome hurdles.
Customer service executives may need to deal with multiple angry customers daily. They may also need to provide detailed explanations for seemingly straightforward queries to ensure that the customer leaves the interaction happy and satisfied. All of this requires a lot of patience on their part.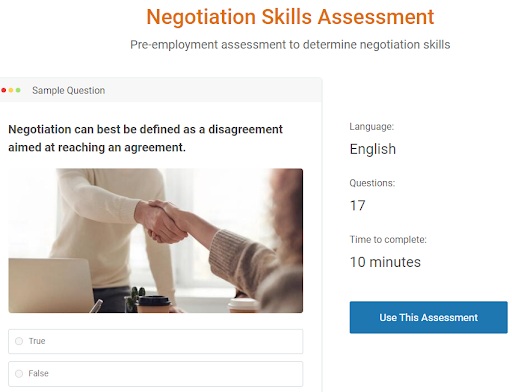 Negotiation skills can be very useful for customer service representatives. Just like a sales representative may need to negotiate over the price and terms of a sale, a customer service representative may need to negotiate over the terms of a proposed solution.
For example, let's say you offer a cloud-based software solution, and one of your customers requests a new feature. The new feature will require extensive customization and development time but won't provide much value to the customer's business or your own.
In such a scenario, your customer service executive should be able to use the art of persuasion to convince the customer to go for a different solution without hurting their sentiments.
Customer service representatives face tricky situations every day requiring cognitive abilities, such as:
Critical thinking

Attention to detail

Multitasking ability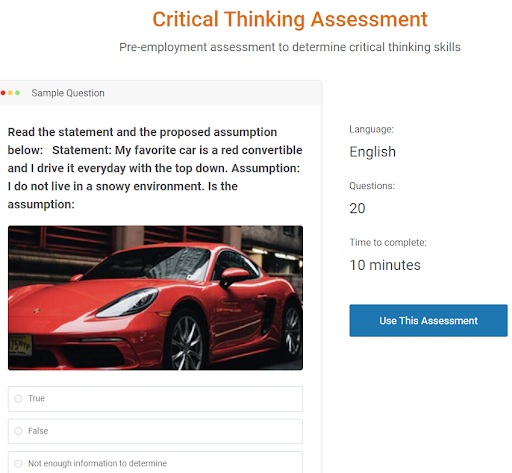 A customer service representative with excellent cognitive abilities can process and recall information quickly. This enables them to resolve grievances efficiently and easily familiarize themselves with new information related to the company's products and services.
Confidence and Sense of Humor
Customer service representatives need to have a confident and vibrant personality and a good sense of humor to thrive in the industry. Having a good sense of humor enables customer service representatives to have pleasing conversations with their customers and contribute toward creating a positive atmosphere in their team.
On the other hand, being confident enables them to easily take control of situations and implement the best solutions for the customer's issues.
Personality Assessments
Using personality assessments during your hiring or onboarding process can be a great way to ensure that new customer service employees fit in seamlessly with their team and role.
For example, you can use a conflict management style assessment, as shown below, to find an employee's preferred way of dealing with conflicts.
Corporate trainers can use the insights from such an assessment to train employees on conflict resolution skills. Meanwhile, managers who know their team members' conflict styles can use the knowledge to personalize and enhance their leadership.
Similarly, you can conduct a pre-employment personality test to find out if a candidate has the required personality traits needed to thrive in the customer service industry and in the role they're being considered for.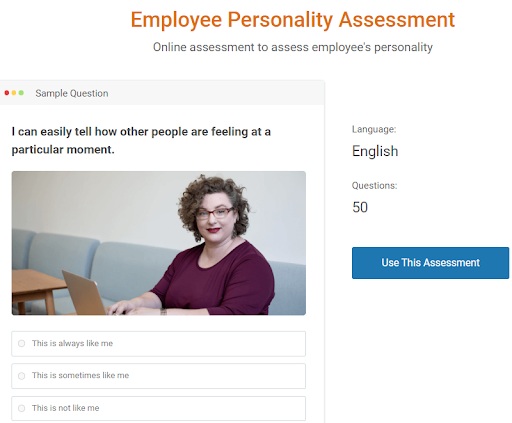 Here are the personality traits you should look for in customer service representatives:
Conscientiousness

Optimism

Intrinsic motivation

Adaptability

Emotional intelligence

Friendly attitude

Humility

Patience

Curiosity
Important: Conducting personality assessments can be an incredibly effective way to ensure role and culture fit when hiring customer service employees. But remember that the test must be related to the job you're hiring for and consistent with a business necessity.
Also, avoid using personality assessments as a screening tool or as the sole hiring criteria. Instead, you should use them to complement skill assessments and enrich your face-to-face or video interviews.
Audio/Video Interviews
Did you know you can use an online assessment tool to conduct audio/video interviews?
Audio/video interview assessments let assessment takers respond to questions by recording or uploading videos or audio clips at their convenience.
Video interview assessments provide an excellent, highly-flexible alternative to face-to-face interviews when conducting customer service evaluations for remote hiring.
How does this help?
It removes any interview scheduling issues

Lets you easily hire customer service employees from different time zones.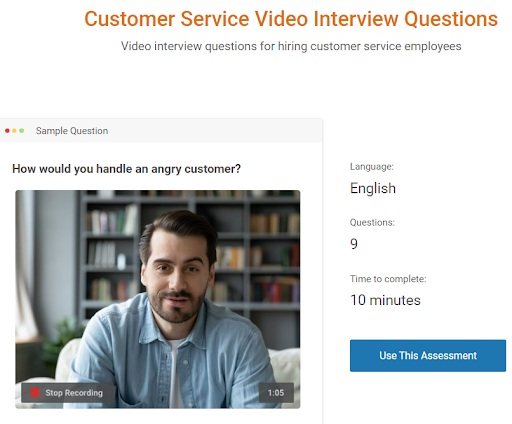 Audio/video response questions can also be a handy tool for corporate trainers looking to assess employees' language, communication, and other skills relevant to customer service.
Watch: How to Create a Video Interview Question
Other Assessment Methods for Hiring
For hiring, there are a few other methods you can use to conduct customer service assessments.
In this assessment method, you provide the candidate with a look at a typical day on the job. The candidates who don't like what they see or don't think they are up to the task will screen themselves out of the race.
You can provide a job preview in multiple ways, such as
Sharing job preview videos or video testimonials featuring the employees and managers.

Conducting a situational judgment test

VR simulation

Job shadowing
Tip – You can add job preview videos and employee testimonials to your assessments. Candidates can watch the video before or after they attempt the test.
A peer interview is just like regular face-to-face interview. The only difference is that, in a peer interview, the interviewer is a potential team member in a similar role instead of a recruiter or team leader. Conducting peer interviews as a customer service assessment offers many benefits, such as:
Better, more-relevant questions asked in the interview

Candidates get a proper idea of what the job will be like

Candidates feel at ease, so they can better express themselves

Helps decide role and culture-fit
A one-day trial can be a good way to find out if the candidate will be able to do the job. For the trial day, you can provide the candidate with previously solved tickets to work on. This will give you a fair idea of their ability to do the job effectively as well as their working style.
If you ask the right questions, reference checks can provide a lot of insights into how a candidate works and how they deal with customers. For example, you can ask questions such as:
How long did Mr. XYZ work for you?

What were their key responsibility areas?

What were some of their strengths and weaknesses?

Why did Mr. XYZ leave your company?
Pro Tip: You can conduct your reference checks in a streamlined way by using quiz or survey software to create and share your reference check questions. You can request text, audio, or video responses as per your preference.
So, that was a look at the various types of customer service assessments you can create and the customer service skills you need to evaluate using them. Now let's find out how you can make your assessments using online assessment software.
How to Create an Online Customer Service Assessment
Here's the process for creating online customer service assessments in five simple steps.
Step 1: Choose assessment type – scored or personality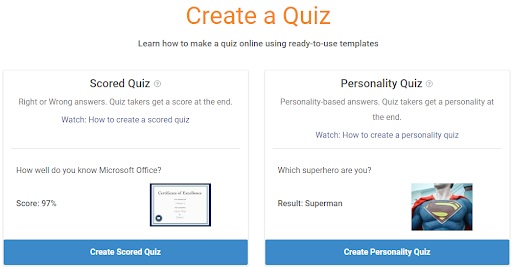 Step 2: Pick a template/pre-built assessment or create from scratch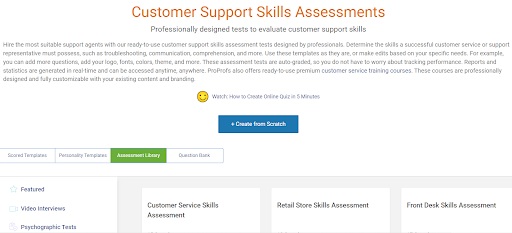 Step 3: Add questions or select them from the library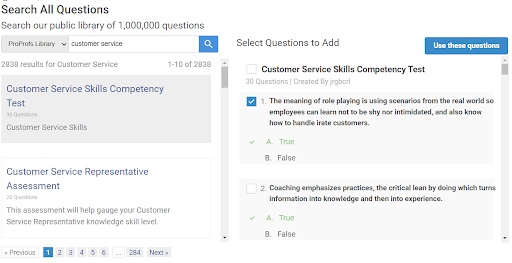 Step 4: Customize the look and settings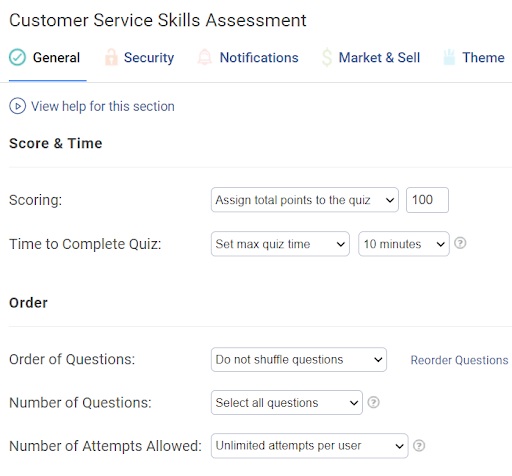 Step 5: Share with the candidate or learner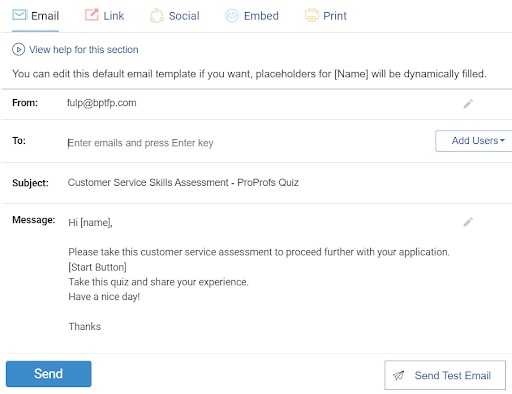 Watch: How to Create an Assessment Online
For personality assessments: If you're creating a personality assessment, you'll also need to map answer options with personalities, as shown in the image below.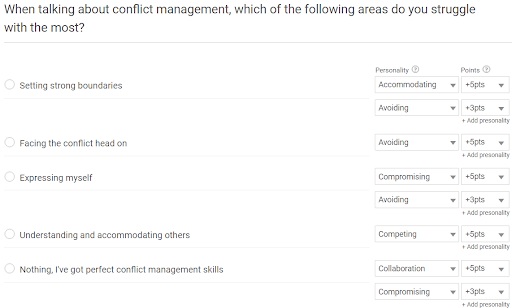 Also, if you're conducting a customer service assessment for training, you can consider setting up automated certification to motivate and engage learners.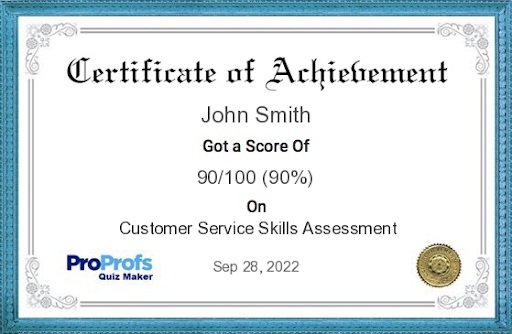 ---
Want to learn more about creating customer service assessments using online assessment software?
Check out our ultimate guide on creating and sharing online quizzes and assessments.
---
Now that you know how to create customer service assessments online, let's look at some tips to optimize them for effectiveness.
Tips to Create Effective Customer Service Assessments
Using the best practices listed below, you can ensure that you conduct professional and insightful customer service assessments for hiring or training.
Create visual & engaging tests
Adding images and videos to an assessment or quiz instantly makes them more engaging. Improving the engagement factor of your assessments is especially useful when you're using them to reinforce knowledge imparted in training.
Check out this example of a customer service assessment below to know what we mean.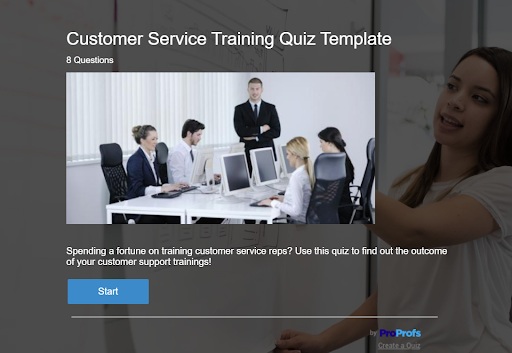 Besides adding visual elements, there's another powerful way to increase the engagement level of your assessments.
Instead of having only multiple-choice or true/false questions in your assessment, you can use a mix of different question types.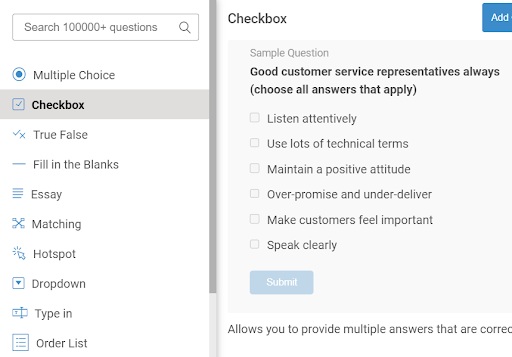 For example, you can use the order list question type to ask questions on task prioritization. Assessment-takers can respond by dragging and dropping items to form the correct priority sequence.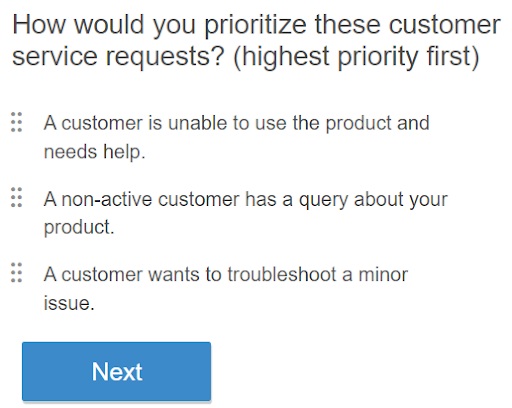 Pro Tip: Another interesting way of asking questions is by adding a video, comprehension passage, or document and asking questions based on them.
Include situational judgment questions
Situational judgment questions are essential for recruitment assessments. They provide a good way to predict how a candidate will react in specific situations when on the job.
On the other hand, corporate trainers can use a customer service situations assessment to check whether an employee understands the company's priorities or not.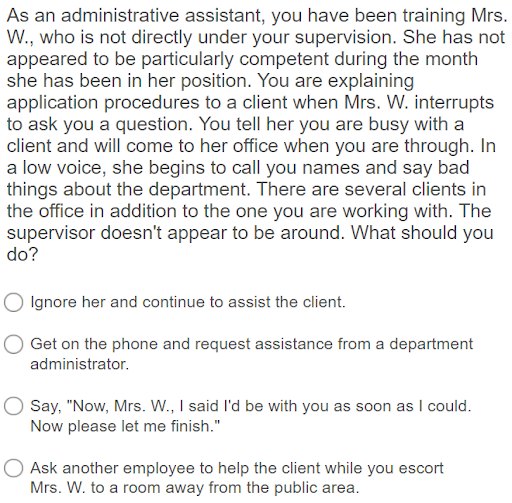 Pro Tip: You can add images to your situational judgment questions to make it easier for assessment takers to visualize the situations.
Include audio/video response questions
Audio/video response questions provide an excellent way to assess several key customer service skills, such as:
Communication skills

Language proficiency

Empathy

Confidence
Audio/video response questions also let you engagingly ask open-ended questions and conduct remote interviews. For example, you can ask questions such as "How do you deal with a difficult customer?"
The assessment taker can answer the question by recording a video. In doing so, they can show you exactly how they talk with difficult or frustrated customers.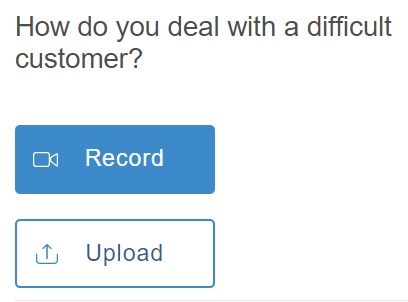 Configure security and anti-cheating settings
To ensure the credibility and integrity of your assessments for customer service, you'll need to configure certain quiz settings. You can:
Enable remote proctoring to prevent remote assessment takers from getting outside help
Disable tab and browser switching so assessment takers can't look for answers online
Disable copying and printing of assessment content
Randomize the order of questions and answer options
Prevent unauthorized access by adding password protection or creating secure, individualized logins for each assessment-taker
Pro Tip: In addition to configuring the above settings, you can also create a question bank so that each assessment taker gets a different, random set of questions from the question bank.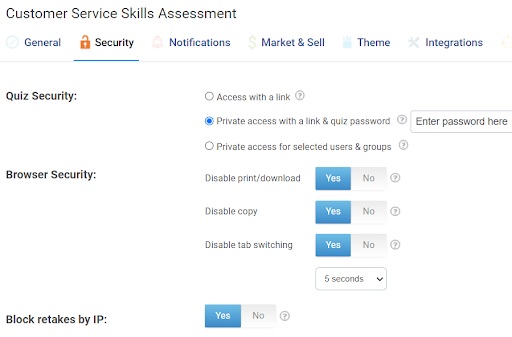 Adding time limits to assessments is a great way to make the assessment more challenging and ensure that candidates and employees have knowledge about key concepts on the tips of their fingers.
Additionally, adding time limits also serves as a cheating prevention measure. With time limits in place, assessment takers only get enough time to complete their assessments and not enough time to use unfair means to find the answers.
You can set an overall time limit for the assessment or individual time limits for each question.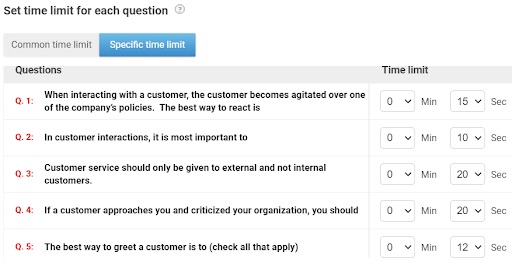 Watch: How to Create a Timed Assessment
Ask focused questions in interviews
As mentioned above, video interviews work amazingly well for remote hiring. But that is only true if you ask the right questions. Asking only generic questions, such as "what are your strengths and weaknesses" won't be much helpful when conducting a customer service assessment.
You need to ask questions to help uncover how the candidate deals with customers.
For example, you can ask questions such as:
How do you handle irate customers?

How do you stay motivated facing multiple angry customers in a single day?

Have you ever helped a customer by bending the company rules?
A good-looking assessment creates a positive first impression on potential employees. You can add a theme to your assessment that fits well with your company colors. You can also include your company logo and graphics in the theme and add an attractive cover image.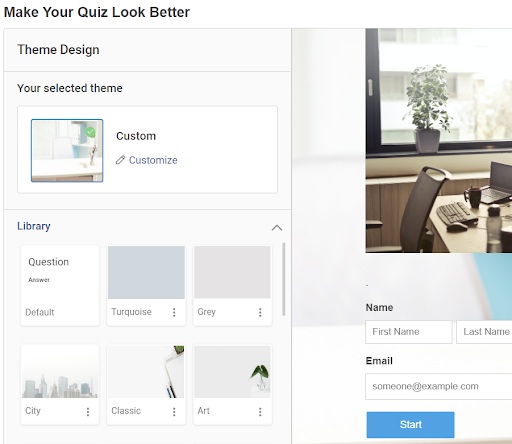 Use top-notch assessment software
Good assessment software makes the entire process of creating and sharing assessments seamless. For example, using an excellent assessment tool, you can:
Get started quickly with pre-built customer service assessments

Create new assessments easily using the tool's question bank

Ensure cheating-free assessments with browser security, shuffling, question pooling, etc.

Hire across time zones by conducting flexible video interviews

Motivate learners with custom certificates

Accurately analyze performance and progress with in-depth reports and analytics

Design engaging assessments by adding images & videos, multiple styles of questions, themes, etc.
Watch: How to Choose the Best Assessment Software
Build a Delight-Focused Customer Service Team
We know that creating a five-star customer service team isn't easy but the good news is that it isn't impossible. Your customer service representatives must have a wide variety of soft and hard skills and a pleasing and empathetic personality. Hiring and training highly-skilled consumer-facing employees become much more streamlined and cost-effective when you incorporate technology such as online assessment software into your recruitment, onboarding and training processes.
ProProfs Quiz Maker is the simplest and most feature-rich assessment tool for conducting customer service assessments. It comes equipped with a massive resources library featuring pre-built skill tests and over a million ready-to-use questions. It also lets you customize your assessments using 100+ smart settings and offers a delightful reporting system to analyze performance and progress.
Do you want free Quiz Software?
We have the #1 Online Quiz Maker Software for complete learning & assessment