Pg Blazer - Online Test Series 32 - Dermatology
---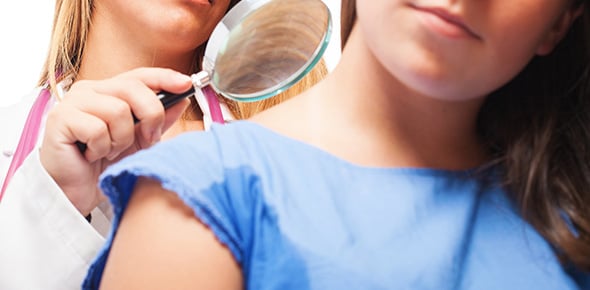 Subject wise MCQ test - Dermatology. For more online practice tests, go to PG Blazer Online Test Series
---
1.

Air borne contact dermatitis can be diagnosed by:

A.

B.

C.

D.

Estimation of serum IgE levels

Correct Answer

B. Patch test

Explanation

In patch test, the suspected allergens are applied on the back of the patient under separate patches for 48 hours. The presence of dermatitis is then looked for.

2.

A patient had seven irregular hyperpigmented macules on the trunk and multiple small hyperpigmented macules in the axillae and groins since early childhood. There were no other skin lesions. Which is the most likely investigation to support the diagnosis?

A.

Slit lamp examination of eye

B.

Measurement of intraocular tension

C.

D.

Retinal artery angiography

Correct Answer

A. Slit lamp examination of eye

Explanation

The irregular hyperpigmented macules since early childhood are probably cafe au lait macules. Presence of 6 or more cafe au lait macules is diagnostic of neurofibromatosis type I even when cutaneous neurofibromas are absent. Lisch nodules on the iris can be demonstrated by slit lamp examination and it helps support the diagnosis.

3.

Pterygium of nail is characteristically seen in:

A.

B.

C.

D.

Correct Answer

A. Lichen planus

Explanation

Pterygium of the nail refers to a triangular or wing-like growth of the nail plate over the proximal nail fold. This is a characteristic finding in lichen planus, an inflammatory skin condition that can affect the nails. Lichen planus can cause various nail abnormalities, including pterygium formation. Psoriasis, tinea unguium (fungal infection of the nails), and alopecia areata are not typically associated with pterygium of the nail.

4.

A 24-year old unmarried woman has multiple nodular, cystic, pustular and comedonal lesions on face, upper back and shoulders for 2 years. The drug of choice for her treatment would be:

A.

B.

C.

D.

Correct Answer

B. Isotretinoin

Explanation

The clinical picture is diagnostic of acne vulgaris. Isotretinoin is used in severe intractable acne.

5.

A 45 year old farmer has itchy erythematous papular lesions on face, neck, 'V' area of chest, dorsum of hands and forearms for 3 years. The lesions are more severe in summer and improve by 75% in winter. The most appropriate test to diagnose the condition would be:

A.

B.

Estimation of IgE levels in blood

C.

D.

Correct Answer

C. Patch test

Explanation

The history is suggestive of photodermatitis. Patch test is used for diagnosis of photodermatitis.

Patch test (photopatch test) : Here, 2 patches containing photosensitising material is applied on 2 different sites on the body. One of them is irradiated with UVA rays. The other is kept as control. Development of eczema is looked for upto 72 hours.

Analysis of results:

No development of eczema – patient does not have photodermatitis

Development of eczema under the patch irradiated with UVA – Photodermatitis

Development of eczema under both patches – Contact dermatitis

6.

A 6 month old infant had itchy erythematous papules and exudative lesions on the scalp, face, groins and axillae for one month. She also had vesicular lesions on the palms. The most likely diagnosis is:

A.

B.

C.

D.

Explanation

Based on the symptoms described, the most likely diagnosis is scabies. Scabies is a contagious skin condition caused by the Sarcoptes scabiei mite. It is characterized by intense itching, erythematous papules, and exudative lesions, particularly in areas such as the scalp, face, groins, and axillae. The presence of vesicular lesions on the palms is also consistent with scabies. Congenital syphilis would typically present with different symptoms, such as rash on the palms and soles, hepatosplenomegaly, and other systemic manifestations. Seborrheic dermatitis and psoriasis may cause similar symptoms, but the distribution and vesicular lesions make scabies a more likely diagnosis.

7.

In which of the following conditions Parakeratosis most frequently occurs?

A.

B.

C.

D.

Correct Answer

A. Actinic keratoses

Explanation

Parakeratosis refers to the persistance of cellular nuclei in the stratum corneum of skin.

8.

A 16 year-old boy presented with asymptomatic, multiple, erythematous, annular lesions with a collarette of scales at the periphery of the lesions present on the trunk. The most likely diagnosis is:

A.

B.

C.

D.

Correct Answer

C. Pityriasis rosea

Explanation

The classical lesions of pityriasis rosea are described in the question.

9.

All of the following drugs are effective in the treatment of pityriasis versicolor except:

A.

B.

C.

D.

Correct Answer

C. Griseofulvin

Explanation

Griseofulvin is used in the treatment of dermatophyte infections.

10.

An 8 year old boy from Bihar presents with a 6 months history of an ill defined, hypopigmented slightly atrophic macule on the face. The most likely diagnosis is:

A.

B.

C.

D.

Correct Answer

B. Indeterminate leprosy

Explanation

Bihar is a known endemic region for leprosy.