Nutrition Quiz About Dietary Guidelines, Proteins, Fats, Grains, And Many More
10 Questions
| Attempts: 171
---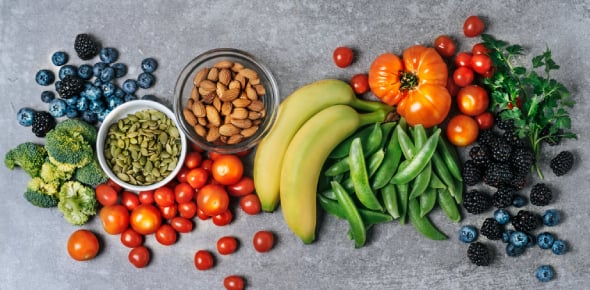 ---
1.

What is one of the happiest memories you have had where food was a main component? There is no right or wrong answer here, the purpose is simply getting you to think about food in a positive way. Some examples include birthday celebrations, holiday dinners, or learning to cook a great dish.

2.

Added sugars and fats load foods with extra ____ you don't need

3.

What are some ways you can achieve a balanced diet?

A.&nbsp

B.&nbsp

Cut back on foods high in solid fats, added sugars, and salt

C.&nbsp

Eat the right amount of calories for you

D.&nbsp

Reward yourself with treats every day.

4.

Cooking more often at home will help you stay in control of what's in your food.

A.&nbsp

B.&nbsp

5.

Regardless of your diet plans, it's always a good idea to limit or cut back on foods high in solid ___, added ___, and ___.

A.&nbsp

B.&nbsp

C.&nbsp

D.&nbsp

6.

You should stop eating when you feel satisfied, not full.

A.&nbsp

B.&nbsp

7.

Why will using smaller plates, bowls, and glasses help you with portion control?

A.&nbsp

Smaller plates and bowls make it look like there is more food on your plate.

B.&nbsp

You will feel bigger in comparison to the small plates.

C.&nbsp

It's fun to use tiny plates.

8.

Which of the following is NOT a good way to manage portion control?

A.&nbsp

Measure a fixed amount of some foods and drinks to see what they look like in your glasses and plates

B.&nbsp

When eating out, order the smaller size option.

C.&nbsp

If you tend to overeat, be aware of the time of day, place, and your mood while eating so you can better control the amount you eat.

D.&nbsp

Eat really quickly and race your friends.

9.

Eating in front of the TV will distract you from your food long enough that you'll actually end up eating less.

A.&nbsp

B.&nbsp

10.

What are some lifestyle choices you can make to help you stay on track with your nutrition goals?

A.&nbsp

Make food the main attraction at meals.

B.&nbsp

Plan your meals in advance.

C.&nbsp

Take time to enjoy your food.

D.&nbsp

Make eating a game and race your friends to see who can finish their plate first.