Test On Meiosis: Quiz Questions!
12 Questions
| Total Attempts: 67
---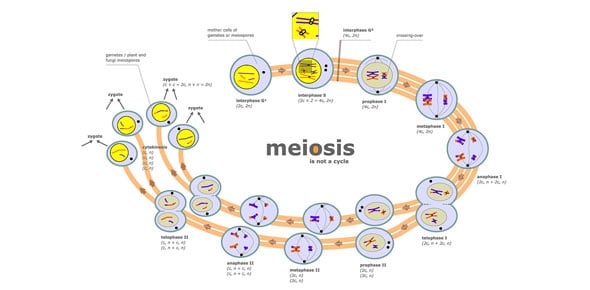 .
---
1.

Meiosis is needed to create sex cells which are also known as ________.

2.

Sex cells are?

A.&nbsp

B.&nbsp

3.

Prophase 1 The chromosomes have appeared and the nuclear _______ is still present. The chromosomes each consist of two ________. They form homologous pairs.

4.

Metaphase 1 The ________ move to opposite poles of the cell and the spindle is set up. The nuclear envelope has now disintegrated. The ________ of the chromosomes are still in their homologous pairs.

5.

Anaphase 1 The spindle fibers pull the chromosomes to opposite sides of the cell. One ________ from each cell is pulled to each pole.

6.

Telophase 1 A new _____ _______ forms around each group of chromosomes at each pole.

7.

Prophase 2 The ______ _______ breaks down again.

8.

Metaphase 2 The ______ ______ are set up, and the chromosomes line up on the ______ of the spindle, attached by their centromeres. The spindle starts to re-form.

9.

Anaphase 2 The _______ have divided and the daughter chromatids are pulled to the opposite poles of the cell.

10.

Telophase 2 Four ______ cells are formed, each with a haploid number of chromosomes.

11.

Chromatids of homologous chromosomes twist round each other at places called _________. This process is called _______ ______,

12.

During anaphase 1, homologous chromosomes are separated. However, it is random in which chromosome migrates to which pole. The homologous chromosomes are not genetically identical so there are many different combinations available. This is known as ________ ________.