Genetics Quiz! Trivia Knowledge! Test Questions
---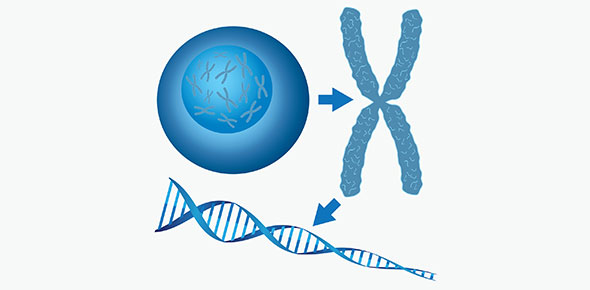 Are you ready to take these genetics quiz trivia knowledge test questions? The study of genetics has helped greatly in the medical field to either explain the chances of traits or illnesses being passed from parents to their offspring. If you have just learnt the basics of this study, this quiz is for you. How about you give it a try and see what new information you might learn. All the best!
---
1.

What is the study of the passing on of traits from an organism to its offspring?

A.

B.

C.

D.

Correct Answer

A. Genetics

Explanation

Genetics is the study of the passing on of traits from an organism to its offspring. It involves the study of genes, heredity, and how traits are inherited through generations. This field of study helps us understand how traits are passed down, how genetic diseases are inherited, and how genetic variations contribute to the diversity of species. By studying genetics, scientists can also develop new ways to diagnose and treat genetic disorders.

2.

_______________ show possible results of a cross between two organisms.

Correct Answer

Punnet Square

Explanation

A Punnet Square is a diagram used to predict the possible outcomes of a genetic cross between two organisms. It is named after Reginald Punnett, who developed this tool in the early 20th century. The Punnet Square shows the different combinations of alleles that can be inherited from the parents and helps determine the probability of certain traits or genetic disorders in the offspring. It is a visual representation that allows scientists to understand and analyze the patterns of inheritance in genetics.

3.

A Phenotype is a:

A.

B.

C.

Correct Answer

C. Visible characteristics

Explanation

A phenotype refers to the observable traits or characteristics of an organism, such as its physical appearance, behavior, or other measurable features. It is determined by the interaction between an organism's genotype (gene makeup) and its environment. This answer accurately describes the concept of phenotype, focusing on the visible characteristics that can be observed and studied in an organism.

4.

A Genotype is a?

A.

B.

C.

Correct Answer

B. Gene makeup

Explanation

The term "genotype" refers to the genetic makeup or composition of an organism. It represents the specific combination of genes that an individual carries, determining their traits and characteristics. The genotype includes both dominant and recessive genes, which together determine the physical and genetic traits of an organism. Therefore, "gene makeup" is an appropriate explanation for the term "genotype."

5.

________________ theory states that _______________ are the carriers of gene.

Correct Answer

chromosomes

Explanation

The given correct answer states that chromosomes are the carriers of genes. Chromosomes are thread-like structures found in the nucleus of cells, made up of DNA and proteins. They contain genes, which are segments of DNA that carry the instructions for building and functioning of organisms. During cell division, chromosomes replicate and are passed on to daughter cells, ensuring the transmission of genetic information. Therefore, chromosomes play a crucial role in carrying and transmitting genes from one generation to the next.

6.

What is a basic substance of heredity?

A.

B.

C.

D.

Explanation

DNA is the basic substance of heredity because it carries the genetic information that determines an organism's traits and characteristics. It contains the instructions for building and maintaining an organism, and is passed down from parents to offspring. Genes are segments of DNA that contain specific instructions for making proteins, which ultimately determine an organism's traits. Dominant genes refer to specific genes that are expressed over other versions of the same gene, while traits are the observable characteristics of an organism. Therefore, DNA is the correct answer as it encompasses all of these concepts and is the fundamental substance of heredity.

7.

Human traits are controlled by?

A.

B.

C.

D.

Correct Answer

B. Multiple alleles

Explanation

Multiple alleles refer to the existence of more than two alternative forms of a gene. In the context of human traits, this means that there can be multiple variations of a gene that contribute to the expression of a particular trait. Each allele can have a different effect on the phenotype, resulting in a wide range of possible trait outcomes. Therefore, multiple alleles play a significant role in controlling human traits.

8.

What is a mutation?

A.

B.

C.

Correct Answer

A. A change in the genes

Explanation

A mutation refers to a change in the genes, which can occur due to various factors such as errors during DNA replication, exposure to certain chemicals or radiation, or genetic recombination. This change can lead to alterations in the genetic sequence, resulting in different traits or characteristics being expressed in an organism. Mutations can be beneficial, harmful, or have no significant effect on an organism's survival and reproduction.

9.

The process of meiosis produce?

A.

B.

C.

D.

Correct Answer

D. Sex cells

Explanation

Meiosis is a type of cell division that specifically occurs in reproductive cells. During meiosis, the number of chromosomes is halved, resulting in the formation of sex cells, also known as gametes. These sex cells, such as sperm and eggs, contain half the number of chromosomes found in other cells of the body. Therefore, the correct answer is "sex cells".