Novel Quiz On A Farewell To ARMS By Ernest Hemingway!
10 Questions
| Total Attempts: 498
---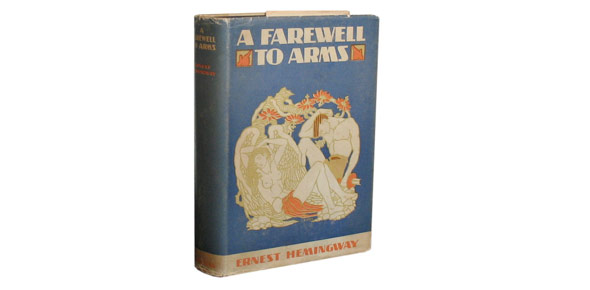 A Farewell to Arms is a novel written by Ernest Hemingway which was published in 1929 during World War I. The story revolves around an English Nurse, Catherine Barkley and Henry who had a love affair. This section of the book is focused on Henry's recovery in Milan. Later Catherine finds out she is pregnant, and Henry must return to the Front. Take this quiz to test your knowledge about the novel characters and events. So, let's try out the quiz. All the best!
---
1.

In this section of the reading, Lt. Henry and Catherine get married.

A.&nbsp

B.&nbsp

2.

Catherine and Lt. Henry have a wonderful summer during his recovery.

A.&nbsp

B.&nbsp

3.

During one conversation between Catherine and Lt. Henry, Catherine is describing her fear of the rain then she states, "It's all nonsense. It's only nonsense. I'm not afraid of the rain. I'm not afraid of the rain. Oh, no, God, I wish I wasn't." What influence do you see here?

A.&nbsp

B.&nbsp

C.&nbsp

D.&nbsp

E.&nbsp

4.

Which nation was Lieutenant Henry serving in World War I?

A.&nbsp

B.&nbsp

C.&nbsp

D.&nbsp

5.

What type of injury does Lieutenant Henry sustain?

A.&nbsp

His leg is removed by machine gun fire

B.&nbsp

His gun backfires and disfigures his face

C.&nbsp

His ambulance has an engine fire and he is burned

D.&nbsp

His knee is blown up by a mortar

6.

Who else loves Catherine in the novel?

A.&nbsp

B.&nbsp

C.&nbsp

D.&nbsp

7.

What is the name of Henry and Catherine's baby?

A.&nbsp

B.&nbsp

C.&nbsp

D.&nbsp

8.

Bonello kills a soldier after fleeing the scene of an incapacitated ambulance. What rank is this soldier?

A.&nbsp

B.&nbsp

C.&nbsp

D.&nbsp

9.

Henry is afraid of what?

A.&nbsp

B.&nbsp

C.&nbsp

D.&nbsp

10.

What is the main geographical dichotomy in the book?

A.&nbsp

A contrast of cold climates and warm climates

B.&nbsp

A contrast of desert and wetlands

C.&nbsp

A contrast of land and sea

D.&nbsp

A contrast of mountains and plains