Satiate Your Appetite By Taking This Chinese Food Quiz!
11 Questions
| Total Attempts: 1255
---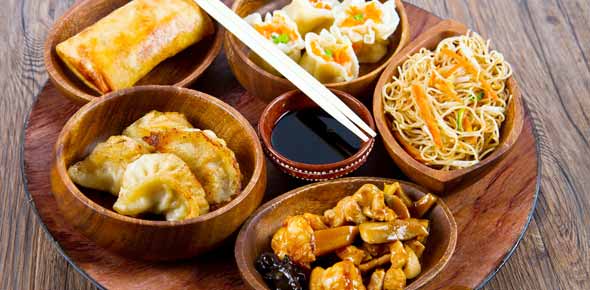 Chinese cuisine or food is a vital part of Chinese culture, which includes cuisine from varied regions of China. It has influenced Asian Countries in terms of food such as rice, soy sauce, noodles, tea etc which can now be found worldwide. This Chinese Food Quiz has been designed to test your knowledge on the various mouth-watering delicacies of Chinese cuisine. So, let's try out the quiz. All the best!
---
1.

Which of these is an actual name for a Chinese dish?

A.&nbsp

B.&nbsp

C.&nbsp

D.&nbsp

2.

Which of these is a specialty rice dumpling that is particularly popular during the Dragon Boat Festival in the summer?

A.&nbsp

B.&nbsp

C.&nbsp

D.&nbsp

3.

Which famous Chinese recipe would include pork tenderloin, several varieties of mushrooms, eggs, bamboo shoots, scallions, garlic and ginger all wrapped in a pancake?

A.&nbsp

B.&nbsp

C.&nbsp

D.&nbsp

4.

Which of these ingredients is absolutely necessary to make a good batch of the popular Chinese dish 'Kung Pao Chicken'?

A.&nbsp

B.&nbsp

C.&nbsp

D.&nbsp

5.

What is the specific term for the small, boiled dumplings that can be stuffed in many ways?

A.&nbsp

B.&nbsp

C.&nbsp

D.&nbsp

6.

Which of these is the term for a very popular southern Chinese cuisine style?

A.&nbsp

B.&nbsp

C.&nbsp

D.&nbsp

7.

The Ma Po Tofu dish traditionally contains plenty of red hot spicy chili and other related ingredients

A.&nbsp

B.&nbsp

8.

Which of these dishes is a delicious darkened egg having a wonderful flavor and aroma?

A.&nbsp

B.&nbsp

C.&nbsp

D.&nbsp

9.

What does the name 'Dim Sum' translate to literally in English?

A.&nbsp

B.&nbsp

C.&nbsp

D.&nbsp

10.

Though the Chinese are known for their many wonderful recipes, their cuisine is virtually devoid of sweet dishes, pastries or other confections that we would consider dessert?

A.&nbsp

B.&nbsp

11.

Which of these exotic items is not a part of Chinese cuisine?

A.&nbsp

B.&nbsp

C.&nbsp

D.&nbsp