Chapter 1 - Introduction To The Airplane Student Exercise 1a The Airplane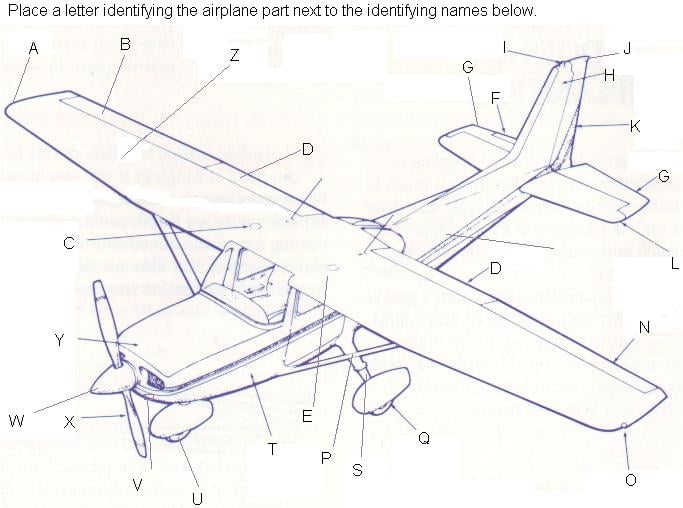 Chapter 1 - Introduction To The Airplane Student Exercise 1A The AirplanInstructions: Complete this exercise using chapter 1, section A, of the text for reference. Place a letter identifying the airplane part next to the identifying names below. 1-26 ARE A-Z27-33 ARE FILL IN THE BLANK
4.

Flaps

26.

Wings designed to carry the entire load without using external bracing, or struts, are termed "full ____________" wings.

27.

The wing component which extends from the root to the tip and absorbs the major portion of the wing camber are called ____________.

28.

The wing components which extend from the leading edge to the trailing edge and form the shape of the wing camber is called ____________.

29.

When the fuselage skin carries a major portion of the stresses, this type construction is called ____________.

30.

The tail assembly is sometimes referred to as the ____________.

31.

Trim tabs are used to relieve control pressures on the surfaces to which they are attached. their movement is in the ____________ (same, opposite) direction with respect to the control surface.

32.

Landing gears which incorporate a steerable nosewheel are referred to as a ____________ type gear.

33.

Those which utilize a tailwheel are referred to as ____________ type gear.