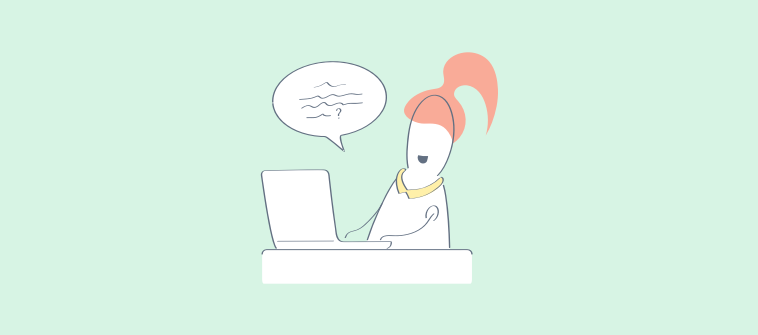 Every business, before developing a new product or a service, or even improving either of them, goes through several stages. This is important as it gives a direction to the process of product development and makes it smooth and simple.
Research is a primary step in this process. It mainly includes gauging the market for the latest trends followed by collecting customer feedback.
Collecting customer feedback is as important as researching as it gives a clear picture of things like what the customers expect from a product or a service, how is the product/service helping them, pain points related to the product/service, etc.
Now, there are many ways in which companies/brands/businesses can collect customer data but nothing beats a web-based questionnaire.
In this article, we'll walk you through all the important aspects of a business questionnaire- what is a questionnaire, types of questionnaire, benefits, and how to create an online questionnaire.
Let's get started.
What is a Questionnaire?
Even though there's no precise statement that would define questionnaires, an online questionnaire is basically a web-based survey that companies and other organizations use to both deliver information and collect information from their customers or another target audience (stakeholders, employees, potential customers—the list is endless).
Online questionnaires have become a vital addition to any B2B and B2C marketing toolkit, helping to achieve significant improvements in the business.
They enable companies to learn the opinions of their valued customers, an essential requirement for improving the quality of products and services and allowing organizations to drive the business forward.
What is a Questionnaire Created for?
Online questionnaires can take many forms and be used for many purposes.
For example, many companies use an online survey questionnaire to get consumer feedback about advertising campaigns before releasing them on a large scale.
They may also use online questionnaires to obtain information about their audience demographics, customer preferences, and opinions about their products.
Some even create online questions simply for fun, as a type of content marketing aimed at increasing audience engagement.
Online questionnaires are usually created with web-based survey authoring tools connected to a database. These technologies automate all of the administrative tasks associated with the questionnaires, including creation, distribution, data collection, and analysis and reporting.
Here are Six Benefits of Using Online Questionnaires for Your Business:
They are easy to create.

Using an online questionnaire creator, you can design and develop an unlimited number of surveys quickly and easily. You can also save your questions so it's easy to reuse them later.

They are inexpensive

. Most online questionnaire creators are free or low-cost to use, which is not the case with most market research software packages.

They are easy to distribute to a large number of people

. With online questionnaires, the size of your respondent pool is limited only by your own needs and preferences. It is just as easy to distribute a survey to 100,000 people as it is to distribute it to only 10 so you can sample a broad audience at little to no additional cost.

They can support a variety of question types

.

Online surveys

can support any type of question, including multiple choice, checkbox, pull-down, and pop-up menus, rating scales, matching, short answer—well, you get the idea. This is much more difficult to accomplish in a traditional pencil-and-paper format.

They can provide companies with a large amount of data and insight.

Since online questionnaire creators both store and tabulate the response data automatically, companies can use this information to gain valuable insight into their customers.

They reduce the possibility of human error.

Since the software does everything automatically, there is very little room for human bias or error to enter into the process.
One challenge with online questionnaires is getting people to actually fill them out. Response rates are typically pretty low, which is something you need to keep in mind—if you want 100 responses, you should send your questionnaire to a few hundred people at least.
Below are a Few Ways You Can Increase the Response Rate for Your Online Questionnaire:
Target your audience carefully.

You will likely get better results from sending your questionnaire to a list of current customers than to a list of people who don't know much about your company.

Provide incentives.

If you require a certain number of responses, you can greatly boost participation by providing incentives, for example, loyalty points, a small store credit, or an entry into a prize drawing.

Keep it short and sweet

. People are busy. Don't ask too many questions, and make sure that the questions you ask are interesting and relevant.
How to Create an Online Questionnaire?
Now that you have learned all about online questionnaires and 'what is a questionnaire' to be more precise, there's one question that remains- how to make an online questionnaire?
Well, it is not rocket science, really. All you need is a good online questionnaire tool.
You may look up the web and you'll find a myriad of online questionnaire tools in the name of online survey creator, online questionnaire maker, online questionnaire tool, etc. using which you can create your own questionnaire.
---
Read More:- What is an Online Questionnaire Creator and How Do You Use It
---
For instance, you can make your own web-based questionnaire or an eLearning questionnaire on ProProfs Quiz Maker.
With this tool, you can create custom designed questionnaires that carry your logo, themes, and branding.
It offers robust analytics and statistics that help analyze the numbers easily.
Watch How to Analyse Quiz Results | 5 Steps to Better Decision Making

The best part about creating a questionnaire on this tool is that it requires no software installation.
All you need to do is sign-up and create questionnaires for free that are easily shareable on social media.
Watch this video to see how to create an online quiz
Or, you can simply use ready to use survey quizzes available on ProProfs Quiz Maker
ProProfs houses a comprehensive database of more than 81 survey quizzes online, test your knowledge with survey quiz questions.
These online survey questionnaire quizzes can be adapted to suit your requirements for taking some of the top survey quizzes.

With questions ranging from the different types of surveys to how surveys are conducted, and everything in between, these quizzes are sure to absorb all survey enthusiasts!
You can even make your own online survey with a survey questionnaire tool. Look upon ProProfs Survey Maker and you may find all the know-how you need on what is a survey questionnaire, how to distribute a survey questionnaire, and its benefits.
Online questionnaires are great tools for learning about your audience. Sign up for a web-based survey authoring tool and start creating your own online questionnaires today.
Do you want a free Training Software?
We have the #1 Learning Management Software for complete learning solution starting at $0