Test Your Anatomy Concepts: Quiz!
20 Questions
| Total Attempts: 479
---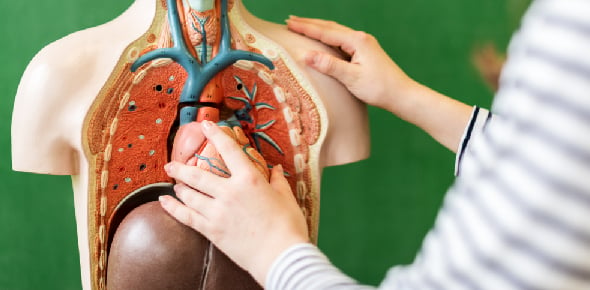 Anatomy is the part of the biology involved with studying the structure of organisms and their parts. It is a division of natural science which deals with the anatomical organization of living things. Take this quiz to test your concepts related to human anatomy. All the best!
---
1.

This is defined as a group of cells with a similar structure and function.

A.&nbsp

B.&nbsp

C.&nbsp

D.&nbsp

2.

In which cavity is the brain located?

A.&nbsp

B.&nbsp

C.&nbsp

D.&nbsp

3.

In which cavity are the lungs located?

A.&nbsp

B.&nbsp

C.&nbsp

D.&nbsp

4.

Stomach located in?

A.&nbsp

B.&nbsp

C.&nbsp

D.&nbsp

5.

Which cavity would include the heart?

A.&nbsp

B.&nbsp

C.&nbsp

D.&nbsp

6.

A transverse plane will cut a body or organ into:

A.&nbsp

B.&nbsp

C.&nbsp

D.&nbsp

7.

The directional term is the opposite of deep:

A.&nbsp

B.&nbsp

C.&nbsp

D.&nbsp

8.

The sternum is ( ) to the heart.

A.&nbsp

B.&nbsp

C.&nbsp

D.&nbsp

9.

Which of the following organs is not found in the abdominal cavity?

A.&nbsp

B.&nbsp

C.&nbsp

D.&nbsp

10.

The human is ( ) to the scapula.

A.&nbsp

B.&nbsp

C.&nbsp

D.&nbsp

11.

The branch of medicine that deals with the correction of disorders of the musculoskeletal system is called

A.&nbsp

B.&nbsp

C.&nbsp

D.&nbsp

12.

How many bones are found in the adult human skeleton?

A.&nbsp

B.&nbsp

C.&nbsp

D.&nbsp

13.

Which of the following is NOT found in the axial skeleton?

A.&nbsp

B.&nbsp

C.&nbsp

D.&nbsp

14.

Which of the following is found in the axial skeleton?

A.&nbsp

B.&nbsp

C.&nbsp

D.&nbsp

15.

Which type of bone is the femur?

A.&nbsp

B.&nbsp

C.&nbsp

D.&nbsp

16.

Which type of bone is the occipital?

A.&nbsp

B.&nbsp

C.&nbsp

D.&nbsp

17.

This is a bone located within the ankles or wrists.

A.&nbsp

B.&nbsp

C.&nbsp

D.&nbsp

18.

Which of the following is not facial bone?

A.&nbsp

B.&nbsp

C.&nbsp

D.&nbsp

19.

Bones in the following area protect the brain.

A.&nbsp

B.&nbsp

C.&nbsp

D.&nbsp

20.

These bones include the organs of hearing and balance and articulate with the mandible.

A.&nbsp

B.&nbsp

C.&nbsp

D.&nbsp