Sudden Illness (Diabetic Emergencies, Fever, And Asthma)
---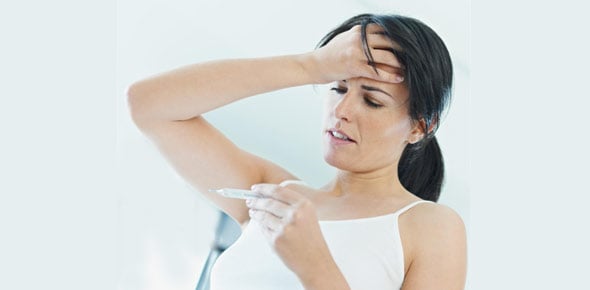 ---
1.

The Conditions In Which The Airways Swell And Narrow By Producing Extra Mucus, Making It Difficult To Breathe Is Know As ______ .

Explanation

Asthma is a respiratory condition characterized by the swelling and narrowing of the airways, leading to difficulty in breathing. This is caused by the production of excess mucus, which further obstructs the airflow. Asthma can be triggered by various factors such as allergens, exercise, stress, or respiratory infections. Symptoms may include wheezing, coughing, chest tightness, and shortness of breath. Proper management and treatment, including medication and avoiding triggers, can help control asthma symptoms and improve quality of life for individuals with this condition.

2.

What Is Used To Help Stop An Asthma Attack?

A.

B.

C.

D.

Correct Answer

D. Lung Inhalors

Explanation

Lung inhalers are used to help stop an asthma attack. Asthma is a chronic respiratory condition characterized by inflammation and narrowing of the airways, leading to difficulty in breathing. Inhalers deliver medication directly to the lungs, providing quick relief by relaxing the muscles around the airways and reducing inflammation. This helps to open up the airways and improve breathing. Therefore, lung inhalers are an effective treatment option for managing and stopping asthma attacks.

3.

Which Of The Following Are Symptoms Of Asthma?

A.

B.

C.

D.

Correct Answer(s)

A. Minor Episodes

C. Early Awakening

D. Difficulty Breathing

Explanation

The symptoms of asthma include minor episodes, early awakening, and difficulty breathing. Minor episodes refer to the occurrence of asthma attacks or flare-ups, which can range from mild to severe. Early awakening refers to waking up in the early morning hours due to asthma symptoms such as coughing or wheezing. Difficulty breathing is a common symptom of asthma, where individuals may experience shortness of breath, chest tightness, or wheezing. These symptoms are characteristic of asthma and can vary in severity from person to person.

4.

Fevers Can Cause Shivering, Headaches, And Delirium.

Explanation

Fevers can indeed cause shivering, headaches, and delirium. When the body temperature rises above its normal range, it can lead to muscle contractions, which cause shivering. Headaches are a common symptom of fevers as the increased body temperature can affect blood vessels in the brain. Delirium, characterized by confusion and disorientation, can also occur when the body is fighting an infection and the fever is high. Therefore, the statement "Fevers can cause shivering, headaches, and delirium" is true.

5.

What Can Cause Fevers?

A.

B.

C.

Insufficient Amounts Of Sleep

D.

Correct Answer(s)

A. Bacteria

B. Viruses

C. Insufficient Amounts Of Sleep

D. Heat Exhaustion

Explanation

Fevers can be caused by various factors, including bacteria and viruses. When these pathogens enter the body, they trigger the immune system to release chemicals that raise the body's temperature, resulting in a fever. Additionally, insufficient amounts of sleep can weaken the immune system, making the body more susceptible to infections and fevers. Heat exhaustion, caused by prolonged exposure to high temperatures, can also lead to fevers as the body tries to regulate its temperature. Therefore, bacteria, viruses, insufficient sleep, and heat exhaustion are all potential causes of fevers.

6.

Medical Attention Is Needed To Treat Fevers.

Explanation

Medical attention is not always needed to treat fevers. Fevers are a natural response by the body to fight off infections and illnesses. In many cases, fevers can be managed at home with rest, fluids, and over-the-counter medications. However, there are certain situations where medical attention may be necessary, such as if the fever is very high, persistent, accompanied by severe symptoms, or if it occurs in infants, elderly individuals, or individuals with weakened immune systems. Therefore, the statement that medical attention is always needed to treat fevers is false.

7.

Having Too Much Insulin In The Body Can Cause ______ _____ .

Correct Answer

Insulin Shock

Explanation

Insulin shock, also known as hypoglycemia, occurs when there is an excessive amount of insulin in the body. Insulin is responsible for regulating blood sugar levels, and too much insulin can cause a rapid drop in blood sugar levels, leading to symptoms such as confusion, dizziness, sweating, and even loss of consciousness. This condition can be dangerous and requires immediate medical attention to raise blood sugar levels back to normal.

8.

Insulin Shock Can Cause Which of The Following?

A.

B.

C.

D.

Correct Answer(s)

A. Rapid Pulse

B. Fast Breathing

C. Trembling

D. Numbness

Explanation

Insulin shock, also known as hypoglycemia, can cause a variety of symptoms including a rapid pulse, fast breathing, trembling, and numbness. When a person experiences low blood sugar levels due to an excess of insulin, it can lead to increased heart rate, shallow and rapid breathing, shaking or trembling, and a sensation of numbness or tingling in the extremities. These symptoms are the body's way of responding to the low glucose levels and can be indicators that immediate medical attention is needed to prevent further complications.

9.

What Come As A Result Of Extremely High Or Low Blood Sugar Levels?

A.

B.

C.

D.

Correct Answer

B. Diabetic Coma

Explanation

Extremely high or low blood sugar levels can lead to a diabetic coma. A diabetic coma occurs when blood sugar levels become dangerously high or low, causing a person to lose consciousness. This can happen in individuals with diabetes who do not properly manage their blood sugar levels. If left untreated, a diabetic coma can be life-threatening and requires immediate medical attention.

10.

Administer CPR Until An Ambulance Arrives For An Unconscious Person In A Diabetic Coma.

Explanation

Administering CPR until an ambulance arrives for an unconscious person in a diabetic coma is true. A diabetic coma is a life-threatening condition that can occur when blood sugar levels are either too high or too low. In this situation, the person may become unconscious and their vital signs, such as breathing and heartbeat, may become compromised. CPR, which stands for cardiopulmonary resuscitation, involves chest compressions and rescue breaths to maintain blood circulation and oxygenation until professional medical help arrives. Therefore, it is crucial to administer CPR in such cases to increase the chances of survival until the ambulance arrives.