Practice Questions: How Much Do You Really Know About Judicial Branch?
15 Questions
| Total Attempts: 1116
---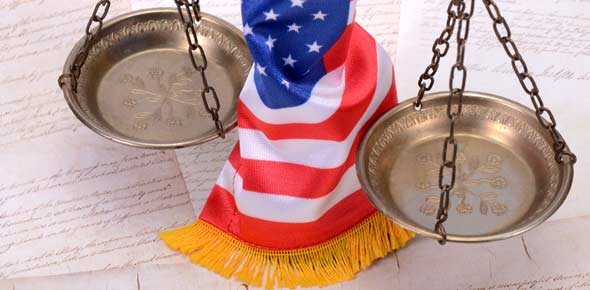 A Judiciary Branch or Judicial system is the structure of courts that interpret laws made by the law giving branch and imposed by the administrative branch. Judiciary is a place where justice is served for resolving any disputes. This quiz has been designed to test your knowledge about the powers and rules of the judiciary or court. Read the questions carefully and learn new laws. So, let's try out the quiz. All the best!
---
1.

What is the job of the judicial branch of the government?

2.

What is the highest law of the land?

3.

What is the highest court of the land?

4.

How many judges preside over the highest court in the USA?

5.

How long can federal judges serve in a federal court once they are appointed and approved for the position?

6.

Which branch of government appoint Supreme Court justices?

7.

Which branch of government approve Supreme Court justice appointments?

8.

If Kelly committed a crime in New York City, which of the following court has original jurisdiction over this case?

A.&nbsp

New York State Supreme Court

B.&nbsp

New York City Civil Court

C.&nbsp

United States Supreme Court

D.&nbsp

New York City Criminal Court

9.

What type of cases does the Supreme Court hear?

A.&nbsp

B.&nbsp

Cases that deals with government officials

C.&nbsp

Cases dealing with the rights written in the Constitution

D.&nbsp

10.

What are the steps that law enforcement agencies and the government courts must go through to properly handle a case?

A.&nbsp

B.&nbsp

C.&nbsp

D.&nbsp

11.

People who try to influence law makers with different opinions are called

A.&nbsp

B.&nbsp

C.&nbsp

D.&nbsp

12.

What power allows the courts to decide whether laws and government actions are constitutional?

A.&nbsp

B.&nbsp

C.&nbsp

D.&nbsp

13.

Which of the following is part of our nation's "unwritten constitution"?

A.&nbsp

The office of the President

B.&nbsp

C.&nbsp

The creation of the Supreme Court

D.&nbsp

14.

Who is the current Chief Justice of the United States Supreme Court?

A.&nbsp

B.&nbsp

C.&nbsp

D.&nbsp

15.

What must a person do to request to transfer a case from a lower court to a higher court?

A.&nbsp

B.&nbsp

C.&nbsp

D.&nbsp