The Great Indian General Elections - 2009 & Its Personalities
---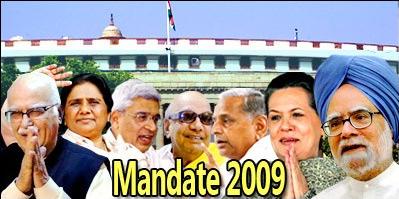 A 10 question quiz on the recently concluded Indian General Elections and the personalities associated with it.
---
1.

A veteran trade union leader who has won nine Lok Sabha Seats was denied a ticket to contest by his own party. Name this politician who still decided to contest the 2009 Elections as an Independant Candidate from Muzaffarpur, but unfortunately lost..

A.&nbsp

B.&nbsp

C.&nbsp

D.&nbsp

Correct Answer

A. George Fernandes

Explanation

George Fernandes, who has won nine Lok Sabha elections, contested in Muzaffarpur as an Independent, despite being the convenor of the Bharatiya Janata Party-led National Democratic Alliance."

Denied a ticket by the Janata Dal (United) on health grounds, the party's leaders Sharad Yadav and Bihar Chief Minister Nitish Kumar had refused to heed the BJP's pleas that Mr. Fernandes be accommodated.

2.

This man has been a former captain of the Indian cricket team and has made his political debut in 2009. Which among the following was a surprise winner from the Moradabad constituency of Uttar Pradesh?

A.&nbsp

B.&nbsp

C.&nbsp

D.&nbsp

Correct Answer

B. Mohd Azharuddin

Explanation

Mohammad Azharuddin contested the Moradabad seat as a Congress candidate and was widely expected to lose. But he emerged a surprise winner. Chetan Chauhan and Kirti Azad are also cricket players who entered politics and have been members of the Indian parliament before.

3.

How many seats did Congress win in Lok Sabha Elections 2009?

A.&nbsp

B.&nbsp

C.&nbsp

D.&nbsp

Explanation

The Indian National Congress won 206 of the 401 seats that it contested in 2009. It has done well in Uttar Pradesh, winning 21 of the 69 seats that it contested

4.

Who was undersecretary in United Nations Secretariat and won in Lok Sabha Elections 2009?

A.&nbsp

B.&nbsp

C.&nbsp

D.&nbsp

Correct Answer

D. Shashi Tharoor

Explanation

Originally from Kerala, Shashi Tharoor was born in London. He studies at St. Stephens College in Delhi and did his Ph.D at Tuffts University. He was awarded his Ph.D at the age of 22. Later he joined the UN and served as the UN Under-Secretary General for Communications and Public Information between June 2002 and February 2007.

He won his 2009 Election seat from Trivandrum Consitutency and has been named a Minister of State for External Affairs

5.

Which of the following parties, which has a mango as its election symbol, did not win any seat in Lok Sabha Elections 2009?

A.&nbsp

B.&nbsp

C.&nbsp

D.&nbsp

Correct Answer

C. Pattali Makkal Katchi

Explanation

PMK was founded in 1989 by Dr. S. Ramdoss and the president is G.K. Mani. Although it had won 6 seats in the 14th Lok Sabha but it has failed to win even a single seat out of the 7 seats that it contested in alliance with AIADMK in Tamil Nadu and 1 seat in Puducherry

6.

Which is the smallest Lok sabha constituency in India by area?

A.&nbsp

B.&nbsp

C.&nbsp

D.&nbsp

Correct Answer

B. Chandni Chowk

Explanation

Chandni Chowk (Hindi: चाँदनी चौक, Punjabi: ਚਾਂਦਨੀ ਚੌਂਕ, Urdu: چاندنی چوک) originally meaning moonlit square or market, is one of the oldest and busiest markets in central north Delhi, India.

It is the smallest in terms of Area in the country but it had more than 41 candidates fighting for the seat, including 19 independents, the highest in Delhi.

Senior Congress leader Kapil Sibal defeated BJP's candidate Vijender Gupta from Delhi's Chandni Chowk constituency. Sibal, who won second time, defeated Gupta by a huge margin of over two lakh votes.

7.

Which state has the highest number of MPs in Lok Sabha?

A.&nbsp

B.&nbsp

C.&nbsp

D.&nbsp

Correct Answer

C. Uttar Pradesh

Explanation

Uttar Pradesh has the highest number parliamentary constituencies, which number 80.

Parliamentary Consituencies in MP number 29, Maharashtra has 48 while Andhra Pradesh accounts for 42.

8.

This former athlete had won gold medals in the Asian Games and had also won the most prestigious award in Indian sports, the Rajiv Gandhi Khel Ratna. After retiring from sports, she won elections to the parliament from West Bengal in 2004 and was expected to win in 2009 too from the Krishnanagar seat as her party the CPI (M) had a very strong hold there. However she lost rather tamely. Which athlete is it?

A.&nbsp

B.&nbsp

C.&nbsp

D.&nbsp

Correct Answer

B. Jyotirmayee Sikdar

Explanation

Jyotirmayee Sikdar had won the 800 m and 1500m gold in the 1998 Asian Games. All the other names mentioned here are famous athletes from the Kerala state.

9.

This former actor had starred in many super hit Hindi movies of the 1980s. He twice won elections on the BJP ticket from Gurdaspur in Punjab, despite being an outsider to the state and had also served as a union minister. He however failed to make it a hat-trick in 2009, losing by a very narrow margin. Which personality am I talking about?

A.&nbsp

B.&nbsp

C.&nbsp

D.&nbsp

Correct Answer

B. Vinod Khanna

Explanation

Vinod Khanna was once the highest tax-payer in Mumbai in 1990! He had served as the union minister of state in the external affairs but lost in 2009 by just over 8,000 votes. Navjot Sidhu and Shatrughan Sinha both won elections in 2009 on the BJP ticket.

10.

This former actress hails from Andhra Pradesh and has starred in many in Telugu, Tamil, Kannada and Hindi films in the 1970s and 1980s. She made her entry to the upper house of the Indian parliament as a Telugu Desam member but broke away from the party and joined the Samajwadi Party, on whose ticket she won from Rampur in Uttar Pradesh in 2004. After a bitter campaign in 2009 involving her own party leaders, she managed to retain her seat. Which actress is this?

A.&nbsp

B.&nbsp

C.&nbsp

D.&nbsp

Correct Answer

B. Jayaprada

Explanation

Jayaprada has won many awards in her film career and was once labeled by the famous director Satyajit Ray as the "most beautiful woman" in India. Mallika Sarabhai is a famous dancer who also contested the 2009 elections against L K Advani in Gandhinagar.