Disneyland Quiz. How Well Do You Know The Happiest Place On Earth?
19 Questions
| Total Attempts: 6229
---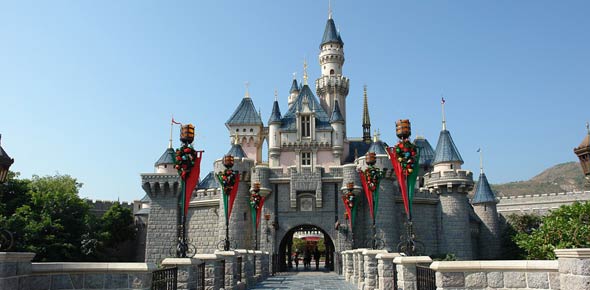 Walt Disney nurtured the idea of Disneyland for years and supervised its growth till his death. Many kids hope to visit Disneyland at some point in their life and getting to do so is something amazing. This pace has been described as the happiest place on Earth and there are many parks inside it. How much do you know about Disneyland? Take up the quiz and find out!
---
1.

In which ride can you find a basketball court?

A.&nbsp

B.&nbsp

C.&nbsp

D.&nbsp

E.&nbsp

2.

A.&nbsp

B.&nbsp

C.&nbsp

D.&nbsp

E.&nbsp

3.

Here you leave today and enter the world of yesterday, tomorrow and.....

A.&nbsp

B.&nbsp

C.&nbsp

D.&nbsp

E.&nbsp

4.

How many audio-animatronics are on the ride Pirates of the Caribbean? Including people and animals.

A.&nbsp

B.&nbsp

C.&nbsp

D.&nbsp

E.&nbsp

5.

In the haunted mansion, which attraction do you travel underneath in the hallway of portraits?

A.&nbsp

B.&nbsp

C.&nbsp

D.&nbsp

E.&nbsp

6.

Who is the captain of the Star Speeder on Star Tours?

A.&nbsp

B.&nbsp

C.&nbsp

D.&nbsp

E.&nbsp

7.

The original name of the Astro Orbiter was....

A.&nbsp

B.&nbsp

C.&nbsp

D.&nbsp

E.&nbsp

8.

Other than Astro Jets, King Arthur's Carousel, and Dumbo, which is the only other attraction in Disneyland to have changed location?

A.&nbsp

Adventures of Winnie the Pooh

B.&nbsp

C.&nbsp

D.&nbsp

E.&nbsp

9.

What does the gold spike under the Castle represent?

A.&nbsp

Opening Day of Disneyland

B.&nbsp

C.&nbsp

Central point of Main Street

D.&nbsp

E.&nbsp

Refurbishment of Fantasyland

10.

Which attraction did Winnie the pooh's Adventure replace?

A.&nbsp

B.&nbsp

Great moments with Mr.Lincoln

C.&nbsp

D.&nbsp

E.&nbsp

11.

A silly spook may...

A.&nbsp

B.&nbsp

C.&nbsp

Start to shriek and harmonize.

D.&nbsp

Arrive for the midnight spree.

E.&nbsp

Shroud in a daft disguise.

12.

Splash Mountain used characters from...

A.&nbsp

B.&nbsp

C.&nbsp

D.&nbsp

E.&nbsp

13.

The scent getting vented from a shop on main street...

A.&nbsp

B.&nbsp

C.&nbsp

D.&nbsp

E.&nbsp

14.

Other than Alcohol, you can't purchase this in the park...

A.&nbsp

B.&nbsp

C.&nbsp

D.&nbsp

E.&nbsp

15.

The matterhorn yeti's name...

A.&nbsp

B.&nbsp

C.&nbsp

D.&nbsp

E.&nbsp

16.

How old was Walt Disney when the park opened?

A.&nbsp

B.&nbsp

C.&nbsp

D.&nbsp

E.&nbsp

17.

How old was the first Aerialist to fly as tinkerbell?

A.&nbsp

B.&nbsp

C.&nbsp

D.&nbsp

E.&nbsp

18.

Who worked in the magic shop on main street?

A.&nbsp

B.&nbsp

C.&nbsp

D.&nbsp

E.&nbsp

19.

A.&nbsp

B.&nbsp

C.&nbsp

D.&nbsp

E.&nbsp