Appositive Or Appositive Phrase Quiz!
8 Questions
| Total Attempts: 21969
---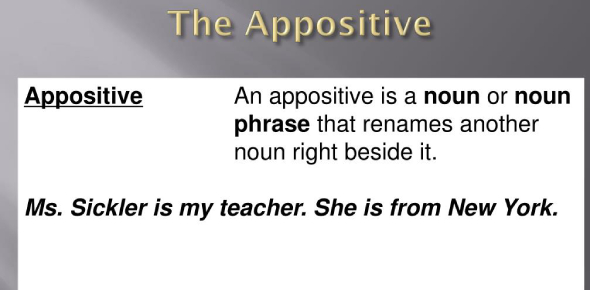 A noun is a naming word, and an appositive phrase is a noun phrase that renames another noun besides it. The phrase can either be short or long. Do you know how to identify such phrases in a given sentence according to what we learned in class today? Take up the quiz below and have some practice on it.
---
1.

Trucks, large and small cargo carries, come in all colors.

A.&nbsp

B.&nbsp

C.&nbsp

Large and small cargo carries

D.&nbsp

2.

The bald eagle , our national bird, soured above the trees.

A.&nbsp

B.&nbsp

C.&nbsp

D.&nbsp

3.

I would love a bright red Porsche,a sports car.

A.&nbsp

B.&nbsp

C.&nbsp

D.&nbsp

4.

Ken and Joyce, Ken's wife, are business partners.

A.&nbsp

B.&nbsp

C.&nbsp

D.&nbsp

5.

Macy's, a large department store, is centered in New York.

A.&nbsp

B.&nbsp

C.&nbsp

D.&nbsp

6.

The pyramid of Khufu, the Great Pyramid, loomed over the explorers.

A.&nbsp

B.&nbsp

C.&nbsp

D.&nbsp

7.

Trucks, large and small cargo carries, come in all colors.

A.&nbsp

B.&nbsp

Large and small argo carries

C.&nbsp

D.&nbsp

8.

You must take your umbrella today, which is an important tool to protect from rain.

A.&nbsp

You must take your umbrella today

B.&nbsp

C.&nbsp

D.&nbsp