What Offencive Football Position Are You? (American Football)
9 Questions
| Attempts: 9274
---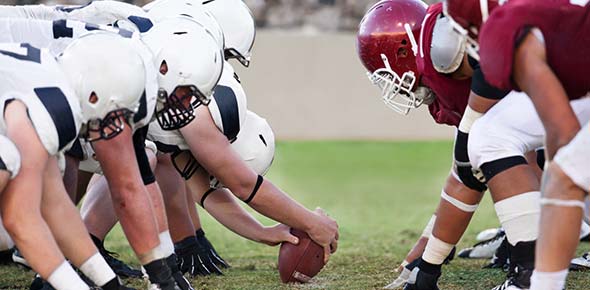 What position should you be? Find out here.
---
You May Get
Running Back
You are small but you make good reads when running through the hole for a TD.
Fullback
You are big and athletic. You need to lead in the hole for the Running Back. You also are a good hitter.
& many more results.
Start this quiz
to find your result.
1.

How big are you?

A.&nbsp

Small (its okay I'm tiny lol)

B.&nbsp

C.&nbsp

A little bigger above average

D.&nbsp

E.&nbsp

2.

Whats your best skill?

A.&nbsp

B.&nbsp

C.&nbsp

D.&nbsp

E.&nbsp

3.

What position do you think fits you best?

A.&nbsp

B.&nbsp

C.&nbsp

D.&nbsp

E.&nbsp

F.&nbsp

4.

Are you tall

A.&nbsp

B.&nbsp

C.&nbsp

D.&nbsp

5.

Are you consistent at what you do?

A.&nbsp

B.&nbsp

C.&nbsp

D.&nbsp

6.

Are you determined at what you do?

A.&nbsp

B.&nbsp

C.&nbsp

D.&nbsp

E.&nbsp

F.&nbsp

7.

Do you enjoy contact?

A.&nbsp

B.&nbsp

C.&nbsp

D.&nbsp

E.&nbsp

F.&nbsp

8.

Who is your favorite football player?

A.&nbsp

Brandon Jacobs/ Michael Turner

B.&nbsp

C.&nbsp

Vincent Jackson and Chad Johnson

D.&nbsp

E.&nbsp

F.&nbsp

9.

What animal are you most like?

A.&nbsp

B.&nbsp

C.&nbsp

D.&nbsp

E.&nbsp

F.&nbsp