Do You Know Your Creepypasta? ( Part 3)
---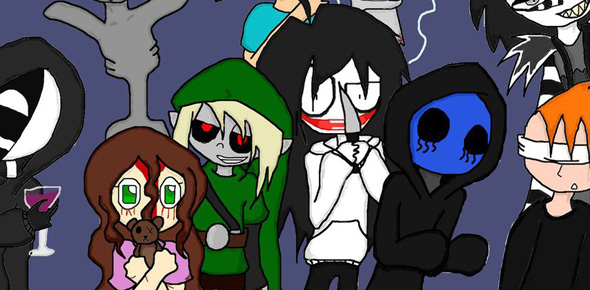 Creepypasta is a term used to refer to horror-related images and legends shared around the internet, which are made with the intention of scaring readers. Subject matter varies, but do you think you know enough to pass this test?
---
1.

This female character can be found in the cornfields.

A.

B.

C.

D.

E.

Correct Answer

B. ScareCrow

Explanation

The correct answer is ScareCrow because a ScareCrow is a common character found in cornfields. Scarecrows are typically used to scare away birds and protect crops.

2.

How did Eyeless Jack, lose his eye, before cutting the other one out?

A.

He lost it in a car crashed

B.

C.

E.

Correct Answer

D. He lost it while he was being beating up by a bully

Explanation

Eyeless Jack lost his eye while being beaten up by a bully. This suggests that he was involved in a physical altercation with someone who caused him to lose his eye during the fight.

3.

Out of these, which one is Not a Creepypasta

A.

B.

C.

D.

E.

Correct Answer

E. Cherry Pau

Explanation

The given question asks which option is not a Creepypasta. Creepypasta refers to horror-related legends or stories that are shared on the internet. Nurse Ann, Ms.PencilNeck, Little Jackie, and Nemesis are all names that could potentially be associated with Creepypasta characters or stories. However, Cherry Pau does not have any known association with Creepypasta, making it the correct answer.

4.

Why does Jane The Killer, want to get revenge on Jeff The Killer?

A.

B.

C.

D.

E.

Jeff cut up her face to make her ugly

Correct Answer

A. He killer her family

Explanation

Jane The Killer wants to get revenge on Jeff The Killer because he killed her family.

5.

Out of these character, who was forgotten, and later killer their creator

A.

B.

C.

D.

E.

Correct Answer

D. Laughing Jack

Explanation

Laughing Jack is the correct answer because he is a character who was forgotten and later killed his creator. The other characters listed do not fit this description. Scp-173 is a statue-like creature that can move when not observed, Mr. WideMouth is a character from a creepypasta story, Lilly is not a well-known character, and Mr. WellDone does not exist as a known character. Therefore, Laughing Jack is the only character that matches the given criteria.

6.

Is Ticci Toby and ClockWork a Couple?

Explanation

There is no official information or evidence to suggest that Ticci Toby and Clockwork are a couple. Their relationship is primarily based on fan fiction and fan art, but it is not a canon or confirmed pairing in the original source material. Therefore, the correct answer is False.

7.

Finish this Creepypasta catch phrase " Can you feel the_____?"

Correct Answer

Sunshine

sunshine

SunShine

Explanation

The correct answer is "Sunshine,sunshine,SunShine" because in Creepypasta stories, catchphrases are often repeated for emphasis and to create a haunting or eerie atmosphere. By repeating the word "sunshine" in different capitalization forms, it adds a sense of unease and mystery to the catchphrase. This repetition also emphasizes the importance or significance of "sunshine" in the context of the story, possibly hinting at a darker or sinister meaning behind it.

8.

Is Lost Silver a Killer?

Explanation

The given question asks whether Lost Silver is a killer. The correct answer is "False" because Lost Silver is not a killer. This implies that Lost Silver does not possess the characteristic or engage in the activity of killing others.

9.

Is Slenderman a Creepypasta?

Explanation

Slenderman is not a Creepypasta because Creepypasta refers to a genre of internet horror stories and urban legends, whereas Slenderman is a specific character within that genre. Creepypasta encompasses a wide range of fictional tales, while Slenderman is a specific creation within that realm. Therefore, Slenderman cannot be considered a Creepypasta itself, but rather a character that exists within the Creepypasta genre.

10.

What is ClockWork's First Name?

Correct Answer

Natale

natale

Explanation

The given answer "Natale, natale" suggests that the first name of ClockWork is "Natale". The repetition of the name reinforces the idea that this is the correct answer.