Book Quiz: Red Badge Of Courage By Stephen Crane
10 Questions
| Total Attempts: 94
---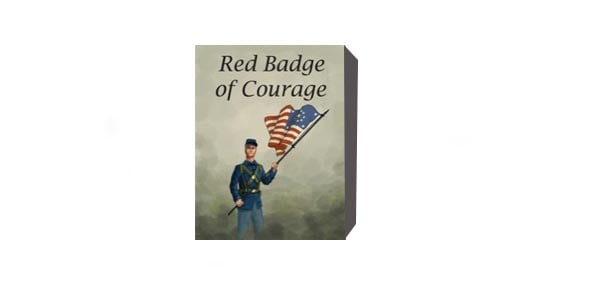 ---
1.

Who wrote The Red Badge of Courage?

A.&nbsp

B.&nbsp

C.&nbsp

D.&nbsp

2.

Once a certain ______ soldier developed virtues and went resolutely to wash a shirt. He came flying back from a brook waving his garment bannerlike. He was swelled with a tale he had heard from a reliable friend, who had heard it from a truthful cavalryman, who had heard it from his trustworthy brother, one of the orderlies at division headquarters. He adopted the important air of a herald in red and gold. (Page 2)

3.

A corporal began to swear before the assemblage. He had just put a costly board floor in his house, he said. During the early spring he had refrained from adding extensively to the comfort of his _______________ because he had felt that the army might start on the march at any moment. Of late, however, he had been impressed that they were in a sort of eternal camp. (Page 2)

4.

Explain the following quote in your own words. He had, of course, dreamed of battles all his life--of vague and bloody conflicts that had thrilled him with their sweep and fire. In visions he had seen himself in many struggles. He had imagined peoples secure in the shadow of his eagle-eyed prowess. But awake he had regarded battles as crimson blotches on the pages of the past. He had put them as things of the bygone with his thought-images of heavy crowns and high castles. There was a portion of the world's history which he had regarded as the time of wars, but it, he thought, had been long gone over the horizon and had disappeared forever.

5.

But his mother had discouraged him. She had affected to look with some contempt upon the quality of his war _______and ________. She could calmly seat herself and with no apparent difficulty give him many hundreds of reasons why he was of vastly more importance on the farm than on the field of battle. She had had certain ways of expression that told him that her statements on the subject came from a deep conviction. Moreover, on her side, was his belief that her ethical motive in the argument was impregnable. (Page 4)

6.

Page vi--there is a description of the people of Red Badge--check all the answers that apply.

A.&nbsp

B.&nbsp

C.&nbsp

Officers who think they are bullet-proof.

D.&nbsp

E.&nbsp

F.&nbsp

G.&nbsp

7.

Page x-Crane tried to join the navy and was successful in becoming an officer.

A.&nbsp

B.&nbsp

8.

Pages 4-5-The soldier's mother convinced him to join the war and cried with tears of joy.

A.&nbsp

B.&nbsp

9.

Page 11-Did the cavalry start that morning?

A.&nbsp

B.&nbsp

10.

The_______________of this tale felt gratitude for these words of his comrade.