Albany Street Name History
---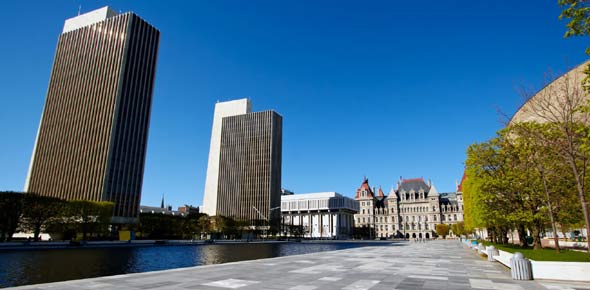 ---
1.

In the early to mid 18th century, Albany had a Lydius Street. It would eventually become which current roadway?

A.

B.

C.

D.

Correct Answer

C. Madison Ave

Explanation

Madison had been called Wolfe Street in the 18th century, named after James Wolfe, a British hero in the Battle of the Plains of Abraham against the French near Quebec during the French and Indian War. It was then changed to Wolf Street in 1790 (again, as Albany moved from its English to animal street phase). It would later become Lydius Street, named after a prominent Dutch minister named Johannes Lydius. And in 1867 the Common Council changed the name to Madison Avenue (which apparently didn't go over well with people of Dutch heritage in the city).

2.

Of the following names, which one was NOT used at one point for State Street?

A.

B.

C.

D.

Correct Answer

D. Staatshuis Street

Explanation

"Staatshuis" is Dutch for "state house." It is not, however, one of State Street's former names. ("Jonkers" does come from Dutch -- it was derived from Jonkheer, a sort of honorific for a young member of the nobility.)

3.

Livingston Ave was once called…

A.

B.

C.

D.

Correct Answer

A. Lumber Street

Explanation

Livingston had been called Lumber Street during much of the 19th century. And that made a lot of sense, because the street ran down the hill into the head of Albany's then booming lumber district along the river and Erie Canal. It was changed in 1879.

4.

Albany went through a phase of naming its east-west streets after animals. Which animal did NOT end up being represented in a street name?

A.

B.

C.

D.

Explanation

Tiger Street became Lancaster Street, Hare Street became Orange Street, and Mink Street became Myrtle Avenue. There was even a Lion Street (became Washington Ave). But no love for fishers.

5.

In 1867, the part of Central Ave near Washington Park was renamed from…

A.

B.

C.

D.

Correct Answer

C. The Bowery

Explanation

The part of Central Ave near where it runs into Washington Ave was once called The Bowery. The name was an the anglicization of an old Dutch word "bouwerij," which meant farm. The thoroughfare led to the turnpike that traveled to Schenectady and, presumably, went past many farms.

6.

Albany has many north-south streets named after birds -- including Lark, Robin, Hawk, and… Quail. What was Quail former's name?

A.

B.

C.

D.

Correct Answer

B. Turkey Street

Explanation

As it happens, two of Albany's "bird" streets -- Quail and Robin -- had previous bird names, Turkey and Duck.

7.

Since 1695 the section of Pearl Street north of what's now State Street has also had which name(s)…

A.

B.

C.

D.

E.

Correct Answer

E. None of the above

Explanation

The given question asks about the name(s) of the section of Pearl Street north of what is now State Street since 1695. The options provided are Market Street, Duke Street, Sturgeon Street, and None of the above. However, the correct answer is "None of the above" because the question states that the section of Pearl Street has had a different name, which means that none of the options provided are correct.