How Well Do You Know Taylor Swift(Quiz)?
18 Questions
| Total Attempts: 1998
---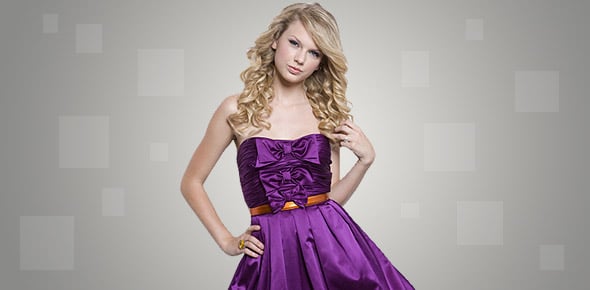 Hey It's Justindemiselena here! Now here is a Taylor Swift quiz and after this check out my "How well do you know Justin Bieber? . . . . Quiz" but for now I just want you to have fun on this quiz okay? Enjoy!
---
1.

What is Taylor Swift's middle name?

A.&nbsp

B.&nbsp

C.&nbsp

2.

What are two of Taylor Swift's favorite color?

A.&nbsp

B.&nbsp

C.&nbsp

3.

What farm was Taylor Swift born on?

A.&nbsp

B.&nbsp

C.&nbsp

4.

What is Taylor Swift's favorite song?

A.&nbsp

B.&nbsp

Can't tell me nothin by Tim Mcgraw

C.&nbsp

5.

What is Taylor Swift's favorite animal?

A.&nbsp

B.&nbsp

C.&nbsp

6.

Where is Taylor Swift from?

A.&nbsp

B.&nbsp

C.&nbsp

7.

What is Taylor Swift's mom and dad's name?

8.

Name Taylor Swift's favorite T.v. Show.

9.

Name the agency Taylor Swift is with.

10.

Name the first agency that tried to get Taylor Swift to sing their songs.

11.

Taylor Swift hates Miley Cryus.

A.&nbsp

B.&nbsp

12.

Taylor Swift has siblings.

A.&nbsp

B.&nbsp

13.

Taylor Swift has a guest starred in a McD's commercial.

A.&nbsp

B.&nbsp

14.

Taylor Swift is on ONDEMAND.

A.&nbsp

B.&nbsp

15.

Finish the rest of this sentence. When your fifeteen yeah,somebody tells you they love you...

16.

Name Taylor Swift's first album of songs in order.

17.

Name all of Taylor Swift's best-friends in order.

18.

This anwser does not count. Do you love Taylor Swift?

A.&nbsp

B.&nbsp

C.&nbsp