Do You Have Basic Knowledge Of American Constitution And Law?
10 Questions
| Total Attempts: 119
---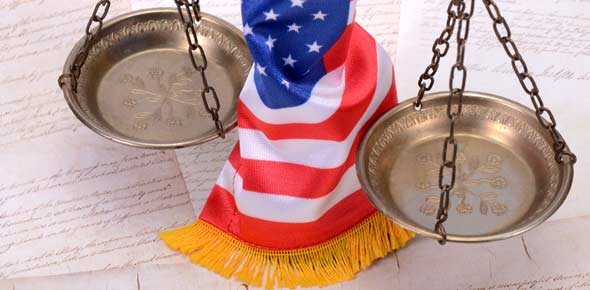 This quiz has been made to make you aware of the American Constitution, amendments, rights, laws and policies. There is a list of basic questions which you may have read or heard during your School or College time. So, let's try out the quiz. All the best!
---
1.

What was our Country's first Constitution called

A.&nbsp

The Articles of Confederation

B.&nbsp

The Declaration of Independence

C.&nbsp

D.&nbsp

The Emancipation Proclamation

2.

Laws for the United States are made by

A.&nbsp

B.&nbsp

C.&nbsp

D.&nbsp

3.

The Longest possible time a person can now serve as a President is

A.&nbsp

B.&nbsp

C.&nbsp

D.&nbsp

4.

A Man accused of a crime in court has a right to

A.&nbsp

Hear the witnesses against him

B.&nbsp

Be tried wherever he wants

C.&nbsp

D.&nbsp

5.

Our First Vice President was

A.&nbsp

B.&nbsp

C.&nbsp

D.&nbsp

6.

The Bill of Rights is

A.&nbsp

B.&nbsp

C.&nbsp

D.&nbsp

7.

If neither the President nor the Vice President can serve, the position will be filled by

A.&nbsp

B.&nbsp

C.&nbsp

The Elected President of the Senate

D.&nbsp

8.

The Major Department Head who is appointed by the president to deal with foreign Countries is the

A.&nbsp

B.&nbsp

C.&nbsp

D.&nbsp

9.

The President is elected if he

A.&nbsp

Wins the majority of the electoral votes

B.&nbsp

Wins most of the country's vote

C.&nbsp

Wins all of the states' votes

D.&nbsp

Wins most of the states' votes

10.

The Supreme Court has the right to

A.&nbsp

Review decisions of the inferior courts

B.&nbsp

C.&nbsp

Set punishment for traitors

D.&nbsp