Are You The Ultimate Eminem Fan?
14 Questions
| Total Attempts: 606
---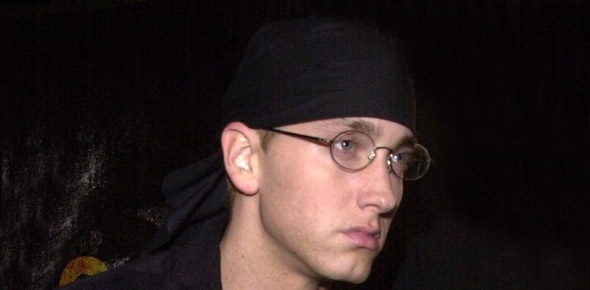 There is undoubtedly no rapper in the world who can dish out diss tracks like Eminem can and those in the receiving end always bow at his greatness. How much do you know about this legendary rapper? Take up the quiz below and see if you fit to be called his number one fan.
---
1.

Which U.S. state was Eminem born in?

A.&nbsp

B.&nbsp

C.&nbsp

D.&nbsp

E.&nbsp

2.

What are his favorite colored socks?

A.&nbsp

B.&nbsp

C.&nbsp

D.&nbsp

E.&nbsp

3.

In which neighborhood did Eminem grew up?

A.&nbsp

B.&nbsp

C.&nbsp

D.&nbsp

E.&nbsp

4.

Where does Eminem live?

A.&nbsp

B.&nbsp

C.&nbsp

D.&nbsp

E.&nbsp

5.

On Rolling Stone's magazine list (100 greatest artists of all time) what number did Eminem rank?

A.&nbsp

B.&nbsp

C.&nbsp

D.&nbsp

E.&nbsp

6.

How many Grammy Awards has Eminem won?

A.&nbsp

B.&nbsp

C.&nbsp

D.&nbsp

E.&nbsp

7.

Which of the following songs does not include Mariah Carey's name?

A.&nbsp

B.&nbsp

C.&nbsp

D.&nbsp

E.&nbsp

8.

In 8 mile what did Eminem's character say that Papa Doc's real name was?

A.&nbsp

B.&nbsp

C.&nbsp

D.&nbsp

E.&nbsp

9.

In an interview with Tim Westwood, Eminem admitted that one drug was mostly responsible for his addiction. Which one?

A.&nbsp

B.&nbsp

C.&nbsp

D.&nbsp

E.&nbsp

10.

What is Eminem's favorite comic book of all times?

A.&nbsp

B.&nbsp

C.&nbsp

D.&nbsp

E.&nbsp

11.

Eminem hosted the EmSee Battle in Detroit in August 2010. Who won?

A.&nbsp

B.&nbsp

C.&nbsp

D.&nbsp

E.&nbsp

12.

How many awards did Eminem win at the Video Music Awards 2010?

A.&nbsp

B.&nbsp

C.&nbsp

D.&nbsp

E.&nbsp

13.

Scenes of the music video for 3 a.m. were shot at?

A.&nbsp

B.&nbsp

Popsomp Hills Rehab Center

C.&nbsp

D.&nbsp

Top of a building in New Jersey

E.&nbsp

Ambassador Bridge in Detroit

14.

The music video for "Not Afraid" was partly shot in which area?

A.&nbsp

B.&nbsp

C.&nbsp

D.&nbsp

E.&nbsp