Are You A Basketball Expert?
30 Questions
| Total Attempts: 112
---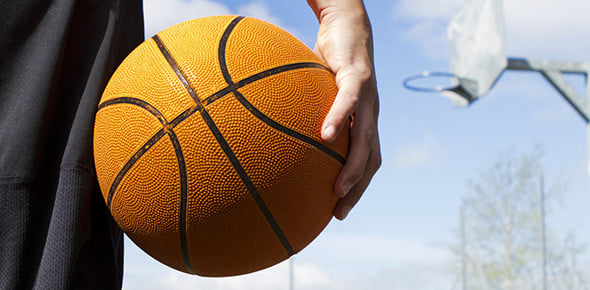 James Naismith, a teacher at a YMCA in Springfield, Massachusetts, is credited with inventing basketball in 1891. The first "hoops" were actually just peach baskets and the first backboards were made of wire. Take the quiz below to see if you are an expert when it comes to basketball. Have fun!
---
1.

A.&nbsp

B.&nbsp

C.&nbsp

D.&nbsp

2.

A.&nbsp

B.&nbsp

C.&nbsp

D.&nbsp

3.

A.&nbsp

B.&nbsp

C.&nbsp

D.&nbsp

4.

A.&nbsp

B.&nbsp

C.&nbsp

D.&nbsp

5.

Which coach is the Head Coach of the 2012 Jazz?

A.&nbsp

B.&nbsp

C.&nbsp

D.&nbsp

6.

A.&nbsp

B.&nbsp

C.&nbsp

D.&nbsp

7.

A.&nbsp

B.&nbsp

C.&nbsp

D.&nbsp

8.

A.&nbsp

B.&nbsp

C.&nbsp

D.&nbsp

9.

A.&nbsp

B.&nbsp

C.&nbsp

D.&nbsp

10.

A.&nbsp

B.&nbsp

C.&nbsp

D.&nbsp

11.

Which rookie shooting guard did the Dallas Mavericks acquire in 2010?

A.&nbsp

B.&nbsp

C.&nbsp

D.&nbsp

12.

Which Boston Celtic had 2.2 steals per game in 2010-11?

A.&nbsp

B.&nbsp

C.&nbsp

D.&nbsp

13.

A.&nbsp

B.&nbsp

C.&nbsp

D.&nbsp

14.

In 2010-11, the Minnesota Timberwolves had what NBA-worst win total?

A.&nbsp

B.&nbsp

C.&nbsp

D.&nbsp

15.

Which Utah Jazz player was named NBA Player of the Week in 2010?

A.&nbsp

B.&nbsp

C.&nbsp

D.&nbsp

16.

A.&nbsp

B.&nbsp

C.&nbsp

D.&nbsp

17.

The Miami Heat played in the 2011 NBA Playoffs as which seed?

A.&nbsp

B.&nbsp

C.&nbsp

D.&nbsp

18.

Which team did the Atlanta Hawks defeat in the 2011 NBA playoffs?

A.&nbsp

B.&nbsp

C.&nbsp

D.&nbsp

19.

Pacers coach Frank Vogel was an assistant for which team in 2004-05?

A.&nbsp

B.&nbsp

C.&nbsp

D.&nbsp

20.

Denver Nuggets coach George Karl reached what win milestone in 2010?

A.&nbsp

B.&nbsp

C.&nbsp

D.&nbsp

21.

The Houston Rockets traded which player to the Phoenix Suns in 2011?

A.&nbsp

B.&nbsp

C.&nbsp

D.&nbsp

22.

Which Magic player was suspended for shoving an opponent in 2011?

A.&nbsp

B.&nbsp

C.&nbsp

D.&nbsp

23.

2011 Bulls center Joakim Noah plays for which country internationally?

A.&nbsp

B.&nbsp

C.&nbsp

D.&nbsp

24.

The Raptors traded Hedo Turkoglu to which team in 2010?

A.&nbsp

B.&nbsp

C.&nbsp

D.&nbsp

25.

Which team originally drafted 2010-11 Suns forward Channing Frye?

A.&nbsp

B.&nbsp

C.&nbsp

D.&nbsp

26.

Which 2010-11 LA Laker attended the University of Wyoming?

A.&nbsp

B.&nbsp

C.&nbsp

D.&nbsp

27.

2011-12 Spurs rookie Kawhi Leonard was selected with which overall pick?

A.&nbsp

B.&nbsp

C.&nbsp

D.&nbsp

28.

During his rookie season in Minnesota, Derrick Williams started how many games?

A.&nbsp

B.&nbsp

C.&nbsp

D.&nbsp

29.

Tristan Thompson made his first NBA start as a replacement for whom?

A.&nbsp

B.&nbsp

C.&nbsp

D.&nbsp

30.

Brandon Knight played which position during his rookie NBA season?

A.&nbsp

B.&nbsp

C.&nbsp

D.&nbsp