What Does Your Sleepwear Say About You?
8 Questions
| Total Attempts: 427763
---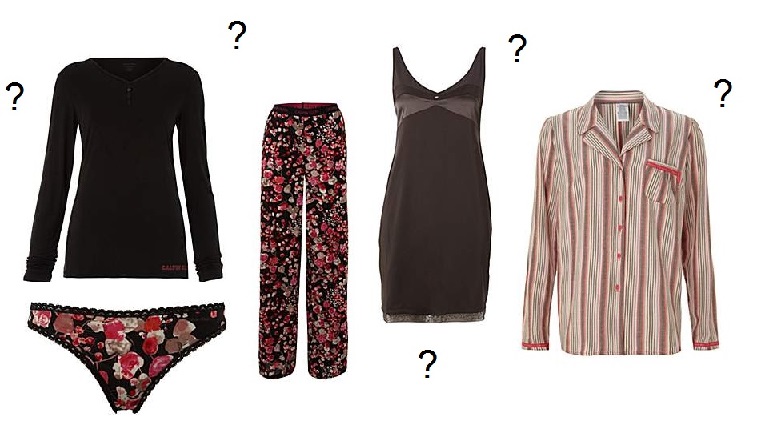 Out of all the clothes we wear, our sleepwear is what we show to the fewest people! Are you ready to see what type of sleepwear style you've got? Maybe you are someone who sleeps in cozy, cotton-baggy trousers or maybe someone who likes to sleep in sexy-silky lingerie? Let's see what your sleepwear may say about you and your personality!
---
1.

What time do you usually go to bed during weekdays?

A.&nbsp

B.&nbsp

C.&nbsp

D.&nbsp

2.

What position do you sleep in?

A.&nbsp

B.&nbsp

C.&nbsp

D.&nbsp

3.

What type of sleepwear do you feel most comfortable in?

A.&nbsp

A long pair of trousers and a sexy top.

B.&nbsp

C.&nbsp

D.&nbsp

4.

How often do you shop for new sleepwear?

A.&nbsp

B.&nbsp

C.&nbsp

D.&nbsp

I never buy new sleepwear.

5.

How much do you spent on your sleepwear?

A.&nbsp

B.&nbsp

C.&nbsp

D.&nbsp

6.

What is the number one thing you always wear, when going to bed?

A.&nbsp

B.&nbsp

C.&nbsp

D.&nbsp

7.

What is important to you when buying sleepwear?

A.&nbsp

B.&nbsp

That it is fashionable and trendy!

C.&nbsp

D.&nbsp

8.

What lingerie brand you prefer out of these:

A.&nbsp

B.&nbsp

C.&nbsp

D.&nbsp