"what Craft Beer Are You?
8 Questions
| Attempts: 3229
---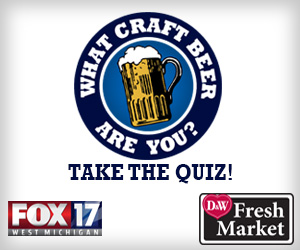 Did you ever want to know what Craft Beer you are?
---
You May Get
Wheat
You are a golden hued beauty, who is often unfiltered, with a slight haze about you. While you are very low in bitterness, your fruity, malt characteristic will shine through. You are always easy drinking, and when you are around it is sure to be a great time, especially if you are outside under a warm Michigan sun. Especially welcome at barbecues, you also pair well with crisp summer salads. Bell's Oberon, Arcadia Ales Whitsun, Short's Brewing Nicie Spicie, Greenbush Brewing Sunspot, New Belgium Snapshot
Pale Ale
You are assertive, yet balanced. While never letting the citrusy hop bitterness overwhelm, it is central to your personality. Fresh and drinkable, but no pushover. You are the full flavored option on a hot day, crisp and refreshing, drinking just one of you will be tough. You are always happy with a classic burger in hand, or branch out and try hanging out with some citrusy grilled shrimp. Dale's Pale Ale, Founders Pale Ale, Sierra Nevada Pale Ale, Bell's Midwestern Pale Ale, Odd Side Ales Citra Pale Ale,
& many more results.
Start this quiz
to find your result.
1.

What's your favorite dog?

A.&nbsp

B.&nbsp

C.&nbsp

D.&nbsp

2.

What season do you love the most?

A.&nbsp

B.&nbsp

C.&nbsp

D.&nbsp

3.

Out on a walk you encounter several different scents, which one appeals the most?

A.&nbsp

B.&nbsp

C.&nbsp

D.&nbsp

4.

What is your favorite snack at a party?

A.&nbsp

B.&nbsp

C.&nbsp

D.&nbsp

5.

Out for a celebratory dinner, you would select which one for dessert?

A.&nbsp

B.&nbsp

C.&nbsp

D.&nbsp

6.

To drive down the coast you pick?

A.&nbsp

B.&nbsp

C.&nbsp

D.&nbsp

7.

Which Band do you really want to see in concert?

A.&nbsp

B.&nbsp

C.&nbsp

D.&nbsp

8.

Which picture appeals to you most?

A.&nbsp

B.&nbsp

C.&nbsp

D.&nbsp