How Well Do You Know The Boston Red Sox?
---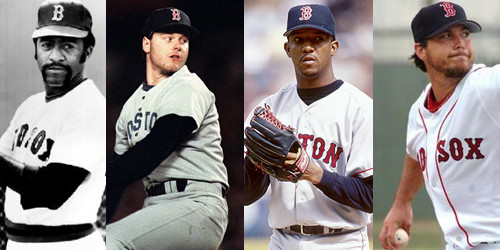 Opening Day has arrived, but how much do you know about the history of the Boston Red Sox? From Johnny Pesky to Neil Diamond, take our quiz and test your knowledge!
---
1.

Which pitcher has made the most Opening Day starts for the Red Sox?

A.

B.

C.

D.

Correct Answer

B. Roger Clemens

Explanation

Clemens started eight different opening days between 1988 and 1996.

2.

Terry Francona is entering his eighth season as Red Sox manager. Who was Boston's last manager to last at least seven seasons?

A.

B.

C.

D.

Correct Answer

D. Joe Cronin

Explanation

Cronin, a player/manager, led the Sox from 1935 to 1947.

3.

Who is this former American League MVP?

A.

B.

C.

D.

Correct Answer

B. Jackie Jensen

Explanation

Jensen was Boston's right fielder and the league's Most Valuable Player in 1958.

4.

How many times did Adrian Gonzalez hit at least 30 home runs for the Padres?

A.

B.

C.

D.

Correct Answer

D. Four times

Explanation

Gonzalez has hit at least 30 home runs every season since 2007.

5.

How many former Red Sox are in this picture?

Explanation

Among the many baseball players to guest star in the Simpsons episode, "Homer at the Bat," were Wade Boggs, Roger Clemens and future Red Sox DH Jose Canseco.

6.

Who holds the Red Sox record for hits in a season by a shortstop?

A.

B.

C.

D.

Correct Answer

D. Nomar Garciaparra

Explanation

Nomar set a new team record with 209 hits in 1997, breaking Pesky's record of 208.

7.

Which Yankee is Jason Varitek hitting in this famous 2004 picture?

A.

B.

C.

D.

Correct Answer

B. Alex Rodriguez

Explanation

This image later graced the cover of Stewart O'Nan and Stephen King's book "Faithful."

8.

Which of these Red Sox players does not have his number retired?

A.

B.

C.

D.

Correct Answer

B. Dom DiMaggio

Explanation

DiMaggio's no. 7 is currently worn by right fielder J.D. Drew.

9.

In which inning do Red Sox fans sing this song?

A.

B.

C.

Correct Answer

C. Middle of the 8th

Explanation

Red Sox fans sing the song in the middle of the 8th inning.

10.

The Red Sox have played which team the most in the World Series?

A.

B.

Brooklyn/Los Angeles Dodgers

C.

D.

Correct Answer

A. St. Louis Cardinals

Explanation

The Cardinals beat the Red Sox in the 1946 and 1967 World Series, and the Red Sox got revenge in 2004. They have also played the Pittsburgh Pirates (1903), New York Giants (1912), Philadelphia Phillies (1915), Brooklyn Dodgers (1916), Chicago Cubs (1918), Cincinnati Reds (1975), New York Mets (1986) and Colorado Rockies (2007).

11.

Who was the last Red Sox player to lead the league in batting average?

A.

B.

C.

D.

Correct Answer

C. Bill Mueller

Explanation

Mueller led the league with a .326 average in 2003.

12.

How many home runs did David Ortiz hit in 2006?

Explanation

Ortiz's 54 home runs set a new club record.

13.

When did the Rolling Stones play Fenway Park?

A.

B.

C.

D.

Explanation

The Rolling Stones played two shows, on Aug. 21 and 23.

14.

When did Wally the Green Monster first appear?

A.

B.

C.

D.

Explanation

According to legend, Wally first stepped out of Fenway's famed wall in 1997.

15.

Which current Red Sox player has made the most All-Star appearances?

A.

B.

C.

D.

Correct Answer

A. David Ortiz

Explanation

Ortiz has been named to six All-Star games. Crawford has made four, and Gonzalez and Varitek have been named to three each.