How Much Do You Know About The Egyptian Pyramids?
---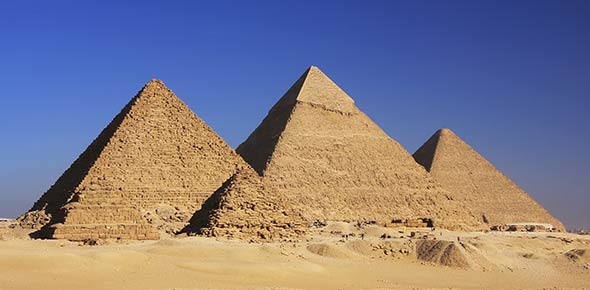 What do you know about ancient Egypt? Can you pass this quick quiz?
---
1.

Pyramids were the places that Egyptians gathered for worship.

A.&nbsp

B.&nbsp

Explanation

Pyramids were tombs for burial. Egyptians built temples as places of worship.

2.

There are 5 major pyramids, in addition to many smaller pyramids, still existing today.

A.&nbsp

B.&nbsp

Explanation

There are three major pyramids and nearly one hundred smaller pyramids still existing today from ancient Egypt.

3.

Limestone blocks were transported up the Nile River for use on the pyramids.

A.&nbsp

B.&nbsp

Explanation

The statement is true because historical evidence shows that limestone blocks were indeed transported up the Nile River for use in the construction of the pyramids. The Nile River was a crucial transportation route during ancient times, and the availability of limestone along its banks made it a convenient choice for building materials. The pyramids, such as the ones at Giza, were constructed using massive limestone blocks that were quarried and transported from nearby areas along the Nile.

4.

The center of ancient Egyptian civilization, and the location of the pyramids, was located in southern Asia.

A.&nbsp

B.&nbsp

Explanation

The first capital of Egyptian civilization was at MEMPHIS, at the mouth of the Nile, in northern Africa.

5.

The pyramids were built from approximately

A.&nbsp

B.&nbsp

C.&nbsp

D.&nbsp

Correct Answer

A. 2,800 B.C. - 1,800 B.C.

Explanation

The correct answer is 2,800 B.C. - 1,800 B.C. This time frame corresponds to the period known as the Old Kingdom in ancient Egypt, when the construction of pyramids reached its peak. During this time, the most famous pyramids, such as the Great Pyramid of Giza, were built as tombs for pharaohs. The construction techniques and architectural designs developed during this period set the standard for pyramid construction in ancient Egypt.