Due Dec 11 - Food Reading Activity
5 Questions
| Total Attempts: 117
---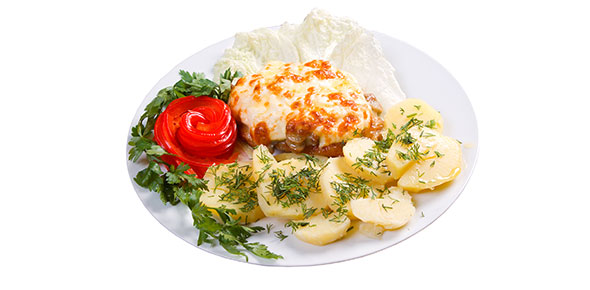 You will read a brief paragraph in Spanish and then answer questions about it in English.
---
1.

¡A mí me gusta comer las comidas sabrosas! Me encantan las postres: las galletas, el pastel de chocolate, el helado, y los dulces (sweets). Mi mamá me dice que las verduras son muy importantes, pero, para mí no son sabrosas.Would this person most likely eat a salad or cheesecake?

2.

A Eduardo le encanta comer en el restaurante "SubDelite" porque le gusta comer los sándwiches de tomate, lechuga, y queso y ensaladas grandes con muchas verduras. Eduardo es un vegetariano. No prefiere comer en McDaniels ni Burger Prince. No le gustan nada las hamburguesas. ¡Qué asco!Would Eduardo most likely eat at a Piggy's Steak House or Sally's Soup and Salad?

3.

Mi mejor (best) amigo, Bob, es loco. Nunca come las comidas rojas. No come las manzanas. No come los tomates. No come los espaguetis porque tiene salsa roja. No come la pizza porque tiene salsa de tomates y pepperoni. No come las fresas. No come la sopa de tomae. ¡Qué loco!Would Bob most likely eat a red bell pepper or a cucumber?

4.

Sra. Rodriguez es muy simpática y le encanta cocinar (cook). Ella cocina (cooks) la comida típica de su familia Por ejemplo, cocina las tortas (un tipo de sándwich con pan y carne), las enchiladas (tortillas de maíz con pollo, queso, y verduras), y gallo pinto (una comida con arroz, frijoles, y verduras). ¡Qué sabroso!In the dishes described, does Sra. Rodriguez use 'beans, chicken, and bread' or 'milk, eggs, and bacon'?

5.

Guillermo es un estudiante. Tiene mucha hambre. Su parte favorita del día es el almuerzo. ¡Come mucho! Prefiere la carne (meat), el pan, el queso, y los frijoles. No le gustan mucho las frutas y las verduras. Hoy en la cafetería no hay más sándwiches de pollo. Tampoco hay más hamburguesas y no hay más perritos calientes. Guillermo tiene que (has to) comer una ensalada de lechuga y tomate y una ensalada de manzana, plátano, naranja, y piña. ¡Pobrecito!True or False: Guillermo typically does nott eat much?