Can You Pass This Julia Roberts Quiz?
17 Questions
| Total Attempts: 467
---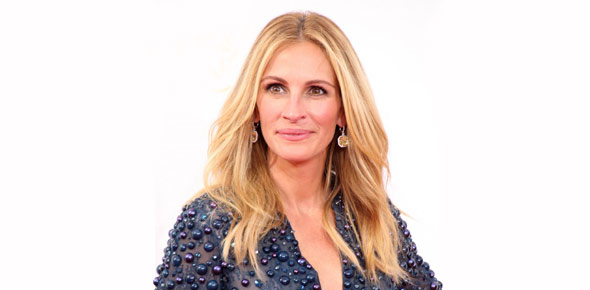 Did you know that Julia Roberts came from a family of actors? Her parents were both actors who ran a workshop for aspiring writers and performers until their divorce in 1971. If Julia is one of your favorite actresses you will be able to pass this Julia Roberts quiz. Give it a try!
---
1.

When Julia Roberts appeared on "The Rosie O'Donnell Show" in 1994, she brought a clip of Rosie making fun of her during what film's audition?

A.&nbsp

B.&nbsp

C.&nbsp

D.&nbsp

2.

Where is Julia Roberts from?

A.&nbsp

B.&nbsp

C.&nbsp

D.&nbsp

3.

Which of the following guys has Julia Roberts not been engaged to at one time?

A.&nbsp

B.&nbsp

C.&nbsp

D.&nbsp

4.

What film is Anna Scott promoting when she meets William Thacker in "Notting Hill"?

A.&nbsp

B.&nbsp

C.&nbsp

D.&nbsp

5.

What animal does Julia Roberts imitate to make Joan Cusack happy in "Runaway Bride"?

A.&nbsp

B.&nbsp

C.&nbsp

D.&nbsp

6.

What country was Julia Roberts in when she met and lived with nomads?

A.&nbsp

B.&nbsp

C.&nbsp

D.&nbsp

7.

What is on the dress that Julia Roberts wears to court in the beginning of "Erin Brockovich"?

A.&nbsp

B.&nbsp

C.&nbsp

D.&nbsp

8.

In "Ocean's Eleven", Julia Roberts recreates the role of "Tess Ocean" from the original Rat Pack film. Who played her in the original film?

A.&nbsp

B.&nbsp

C.&nbsp

D.&nbsp

9.

Who exaggerated how much of herself she showed in the Steven Soderbergh movie "Full Frontal" by saying "It's just my little nudie film"?

A.&nbsp

B.&nbsp

C.&nbsp

D.&nbsp

10.

Which two actresses were in "Mystic Pizza" with Julia Roberts?

A.&nbsp

Cameron Diaz And Sandra Bullock

B.&nbsp

Sissy Spacek And Wendie Malick

C.&nbsp

Lily Taylor And Anna-Beth Gish

D.&nbsp

Dolly Parton And Sally Fields

11.

In "Steel Magnolias", why does Julia Roberts' character Shelby want to wear her hair down at her wedding?

A.&nbsp

B.&nbsp

Her Father Wouldn't Approve

C.&nbsp

Jackson Likes Her Hair Down

D.&nbsp

Wouldn't Look Right With Her Veil

12.

What type of car does Julia Roberts get to drive in "Pretty Woman"?

A.&nbsp

B.&nbsp

C.&nbsp

D.&nbsp

13.

In "Steel Magnolias", who plays Julia Roberts' fiancé?

A.&nbsp

B.&nbsp

C.&nbsp

D.&nbsp

14.

In what year was Julia Roberts born?

A.&nbsp

B.&nbsp

C.&nbsp

D.&nbsp

15.

What is the name of Julia Roberts' character in "The Pelican Brief"?

A.&nbsp

B.&nbsp

C.&nbsp

D.&nbsp

16.

Julian McMahon of "Nip/Tuck" shared an on-screen love scene with which former daytime show host?

A.&nbsp

B.&nbsp

C.&nbsp

D.&nbsp

17.

What "Fantastic Four" star was once married to "Baywatch" babe Brooke Burke?

A.&nbsp

B.&nbsp

C.&nbsp

D.&nbsp