Trivia: Are You Smarter Than An Eighth Grader Kid?
10 Questions
| Total Attempts: 3037
---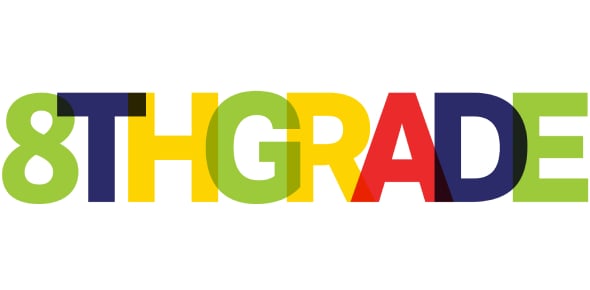 Do you think you know better than an eighth grader kid? If yes, then try out this quiz on all subjects of an eighth grader. Take your time and assess your calibre whether you re smarter or dumb. Let's start! All the best!
---
1.

1. Which of the following demonstrates incorrect subject-verb agreement?

A.&nbsp

B.&nbsp

C.&nbsp

This is not they're merchandise

D.&nbsp

E.&nbsp

I ask for money yesterday

2.

Which of the following elements is considered a noble gas?

A.&nbsp

B.&nbsp

C.&nbsp

D.&nbsp

E.&nbsp

3.

At the time of the US revolution, there were __________________ colonies.

A.&nbsp

B.&nbsp

C.&nbsp

D.&nbsp

E.&nbsp

4.

What is the name of the body of water between Spain and Morocco?

A.&nbsp

B.&nbsp

C.&nbsp

D.&nbsp

E.&nbsp

5.

Which of the following is not a prime number?

A.&nbsp

B.&nbsp

C.&nbsp

D.&nbsp

E.&nbsp

6.

What is the terminology used for a comparison two things using the words "like" or "as?"

A.&nbsp

B.&nbsp

C.&nbsp

D.&nbsp

E.&nbsp

7.

Which of the following religions did not originate around Mesopotamia?

A.&nbsp

B.&nbsp

C.&nbsp

D.&nbsp

E.&nbsp

8.

Which of the following systems is responsible for retaining constant blow flow throughout the body?

A.&nbsp

B.&nbsp

C.&nbsp

D.&nbsp

E.&nbsp

9.

Which of the following cities is not a national capital?

A.&nbsp

B.&nbsp

C.&nbsp

D.&nbsp

E.&nbsp

10.

What is the chance of rolling a coin twice and getting at least one "Heads?"

A.&nbsp

B.&nbsp

C.&nbsp

D.&nbsp

E.&nbsp