Are You Goth, Geek, Punk, Emo, Or Just Plain You?
7 Questions
| Total Attempts: 15500
---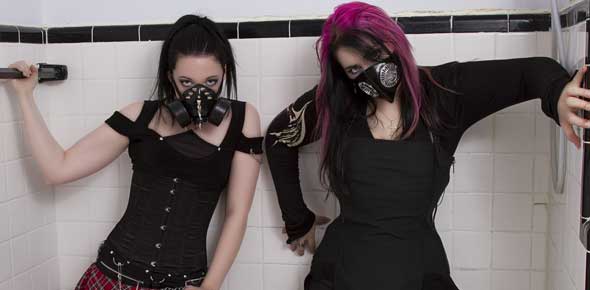 People portray different personalities and they take charge depending on their situations. So people choose a personality and stick to it. Most people find or loose their personalities that set them apart from the rest in high school. Are you goth, geek, punk, emo, or just plain you? Take up the quiz below and get to find out for sure.
---
1.

What is your favorite pass time?

A.&nbsp

Just whatever I feel up to.

B.&nbsp

Listening to Heavy Metal Rock!

C.&nbsp

Surfing the internet, playing with knives... you know my normal.

D.&nbsp

Praising Hell and worshiping Satan.

E.&nbsp

Protecting my computer from viruses.

2.

What is your favorite genre of music?

A.&nbsp

EMOtional and the kind that really makes you think about life.

B.&nbsp

HEAVY METAL ROCK! OH YEAH!

C.&nbsp

D.&nbsp

Whatever appeals to me when I listen to music.

E.&nbsp

I just rock oput to the classics.

3.

If you were going to kill yourself how would you do it?

A.&nbsp

A motorcycle crash... on purpose.

B.&nbsp

Cut my wrists and sit in tub full of hot water and let the blood flow out.

C.&nbsp

I have no reason to kill myself!

D.&nbsp

I'd elcracute myself with my computer wire.

E.&nbsp

I am already in hell why must I go again?

4.

Life is different for many people, how would you explain life?

A.&nbsp

Well, life for me is my straight A's perfect attendence, my windows/mac computer, and a bowl of popcorn.

B.&nbsp

Everyone justs gets in my way! I want to hit them! I have too.

C.&nbsp

People just don't understand me, I am not even alowed around the knives anymore i have nothing to live for anymore. (=(

D.&nbsp

LKife is a dark portal leading into an unknown realm where fire and pain exists around every corner and I am the leader of all death!

E.&nbsp

Life is like a box of choclates, you never know what you're gonna get.

5.

What is your get up?

A.&nbsp

Suspenders and plaid T-shirts with the newest high tech glasses.

B.&nbsp

Black skirt with a black shirt with heavy black lipstick, and black and purple eye shadow.

C.&nbsp

Chains, leather jackets, spikes, and spiked hair oh yeah!

D.&nbsp

I guess whatever is clean, I don't really care much.

E.&nbsp

Skin tight black pants, skin tight shirts, lots of eye liner and my hair covers my eyes.

6.

What clique are you in?

A.&nbsp

B.&nbsp

C.&nbsp

D.&nbsp

The people that hng in the dark corners ofthe broken down schools. hehe...

E.&nbsp

The Chess Club Oh boy... crap I am late for school!

7.

What do you think you are?

A.&nbsp

B.&nbsp

I know, the sad truth is... I am emo!

C.&nbsp

As the rain falls in the dark sky I whisper in the ear of I guy, I am goth!

D.&nbsp

I don't care what I am! I just want to be with my friends!

E.&nbsp

My A's speak for themselves.