Short And Simple English Tests - Animals
---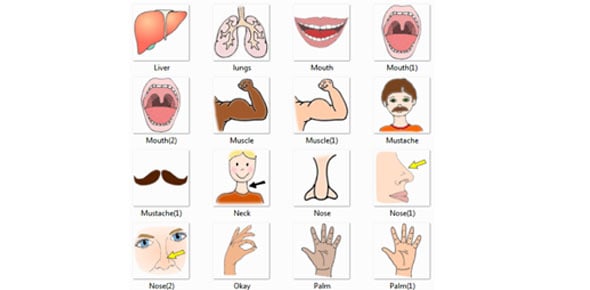 Quiz testing animal body parts.
Check out the releated lesson and worksheets:
Living with animals lesson
Animal parents and offspring & Animal body parts worksheet

---
1.

What is this?

A.

B.

C.

D.

Explanation

The question is asking to identify what "this" refers to. Among the given options, a beak is the most likely answer as it is a body part commonly found in birds and some other animals, used for eating and grasping objects.

2.

What is this?

A.

B.

C.

D.

Explanation

The given options are "fin," "hoof," "whisker," and "fang." Out of these options, "fin" is the only one that is associated with aquatic animals such as fish or dolphins. Fins are used for propulsion and stability in water, while hooves are found in land animals, whiskers are found in mammals, and fangs are found in carnivorous animals. Therefore, "fin" is the correct answer.

3.

What is this?

Explanation

The given answer "wing" is a possible explanation for the question "What is this?" as it is a body part of certain animals, such as birds, that enables them to fly.

4.

What are these?

A.

B.

C.

Explanation

The given options, claws, paws, and hoofs/hooves, are all body parts of animals. Claws are sharp, curved nails found on the feet or hands of certain animals. Hoofs/hooves are the hard, protective coverings on the feet of certain animals, like horses and cows. Paws, on the other hand, are the feet of certain animals, typically those with soft pads and non-retractable claws, like cats and dogs. Therefore, paws is the correct answer as it specifically refers to the feet of animals with soft pads.

5.

What does a horse have?

A.

B.

C.

D.

Explanation

A horse has hooves. Hooves are the hard, horny covering on the bottom of a horse's foot. Horses use their hooves for support and balance, as well as for running and jumping. Unlike paws, claws, or fangs, hooves are specifically adapted for the unique needs of a horse's locomotion and are an essential part of their anatomy.

6.

Which animal has whiskers?

Explanation

Cats have whiskers. Whiskers are long, thick hairs that are found on the face of cats and other animals. They are highly sensitive and help cats navigate and detect objects in their environment. Whiskers play a crucial role in a cat's sense of touch and spatial awareness. Cats use their whiskers to determine if they can fit through narrow spaces and to judge distances. Additionally, whiskers can also indicate a cat's mood or emotions.

7.

Which animal has a tusk?

Correct Answer

elephant

elephnats

Explanation

The correct answer is elephant. Elephants are known for having tusks, which are elongated, continuously growing teeth. These tusks are used for various purposes, such as digging, lifting objects, and defense. Elephnats is not a correct spelling and does not refer to any known animal.