(1.) Swedish Hl. Paper 1, Techniques.
15 Questions
| Total Attempts: 213
---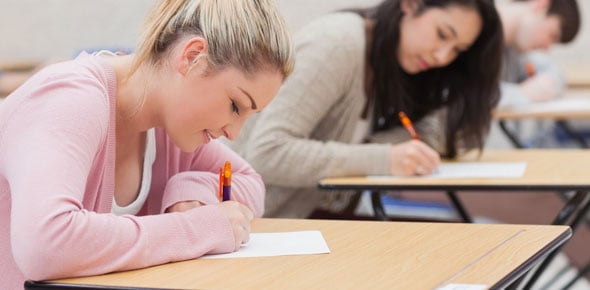 Swedish is the official language of the Swedes. Are you taking Swedish as your additional language in school and think you have it nailed down? The test below is designed to help you polish up on your reading and writing skills in the Swedish. Ge det ett forsook! Share your results.
---
1.

"Ordet "jord" repeteras flertalet gånger i texten, och detta tyder på att diktjaget har för avsikt att leva nära verkligheten." Hur många fel/onödigheter innehåller ovanstående mening?

A.&nbsp

B.&nbsp

C.&nbsp

D.&nbsp

2.

Vad är korrekt?

A.&nbsp

Det skriver Flutenback i novellen

B.&nbsp

Det skriver Flutenback i novellen

C.&nbsp

Det skriver Flutenback i novellen

3.

Daktyl är en form av [...] rytm

4.

När en versrad saknar en obetonad stavelse är den [...}

5.

1. "Kontrasten mellan de två beskrivningarna förstärker för mig intrycket av Semlas starka olustkänslor" 2. "Kontrasten mellan de två beskrivningarna förstärker intrycket av Semlas starka olustkänslor" Vad kan sägas om dessa två meningar?

A.&nbsp

B.&nbsp

Undvik (1) eftersom personal response är helt onödigt i paper 1

C.&nbsp

Undvik (2) eftersom det är att generalisera - du vet inte om kontrasten förstärker intrycket för alla läsare!

6.

Vilket ord / vilken fras är ok att använda i paper 1?

A.&nbsp

B.&nbsp

C.&nbsp

D.&nbsp

7.

"... det visar också på att den lille ekorren kommer fortsätta plocka nötter i framtiden." Innehåller ovanstående fras något opassande?

8.

En elev inleder sitt paper 1 med följande mening: "Den här uppsatsen skall behandla Pär Stretenblock och Gunder Flukenhöks författartekniker i romanerna "Knät" (1969) respektive "Benet" (1993). Vad är inte bra här?

A.&nbsp

"Den här uppsatsen skall behandla" är tråkigt

B.&nbsp

"Knät" är felstavat (det stavas "knäet")

C.&nbsp

Skriv aldrig "uppsatsen". "Uppgiften" är ett mer passande ord.

9.

"Pannkakan flög genom luften och landade på hennes näsa, hon kände den gamla äggsmetens vedervärdiga odör tränga in genom näsborrarna" Vad är fel här?

A.&nbsp

"Äggsmetens" står hopskrivet. "Ägg smetens" ska det vara

B.&nbsp

C.&nbsp

"Pannkakan" är felstavat ("Pangkakan" ska det vara)

10.

För att få 5 poäng i "presentation" i svenska paper 1 bör man se till att summera sina påståenden i uppsatsen i den avslutande delen.

A.&nbsp

B.&nbsp

11.

"Ja visst gör det ont när knoppar brister" är en [...] ur en av Karin Boyes vackraste dikter.

A.&nbsp

B.&nbsp

12.

I "Det lilla grodynglet" utav Sten Bergström återfinns flera händelser som belyser effekten av fördomar i samhället, såsom när giraffens tal slutar i en intensiv tvedräkt djuren emellan. Vilka är de två onödiga orden?

A.&nbsp

B.&nbsp

C.&nbsp

13.

Prepositioner: "Exempel [1]" "Likna [2]", "Bekskrivning [3]", "Jämföra [4]"

A.&nbsp

[1] av. [2] vid. [3] på. [4] med.

B.&nbsp

[1] på. [2] med. [3] av. [4] med.

C.&nbsp

[1] på. [2] vid. [3] av. [4] med.

D.&nbsp

[1] av. [2] med. [3] på. [4] med.

14.

"... och det ger också en föraning om vart de kommer att gå efter festen" Innehåller ovanstående mening något fel?

15.

Hon kände livet susa genom tårna som om hon var en fladdermus i en grotta. Hon var lycklig nu. Ovanstående är ett utdrag ur en prosatext. En elev skriver följande: Hennes stora glädje uttrycks också i liknelser: "som om hon var en fladdermus i en grotta." Vidare kan sägas att ... Innehåller elevens citatteknik några misstag?

A.&nbsp

B.&nbsp

C.&nbsp