Which Of The 10 Legendary Warriors Are You? (Digimon)
6 Questions
| Total Attempts: 7178
---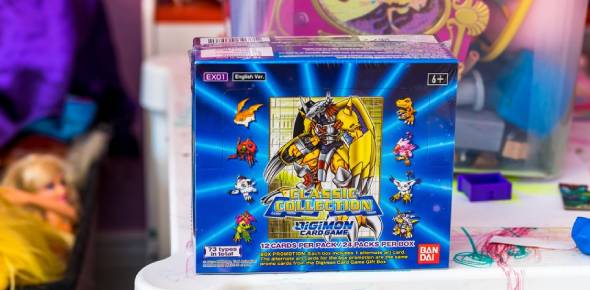 Digimon is a Japanese media franchise found in various formats; anime, video games, films, manga, trading cards, which focuses on monsters living in a digital world, known as Digimon creatures. The Ten Legendary Warriors were ten ancient Digimon which possessed ultimate strength and represented the ten elemental attributes. Which of these warriors best describes you?
---
You May Get
Ancientgreymon
You are ancientgreymon warrior of flame, you're powerful and a natural born leader.
Ancientgarurumon
You are Ancientgarurumon warrior of light, you've got the brains and a kind spirit but sometimes you can be stubborn and obnoxious.
Ancientirismon
You are ancientirismon warrior of the wind, you've got the looks and the heart of the group. Your a really sociable person and make a great friend even though you can be a creep.
Ancientbeetlemon
You are ancientbeetlemon warrior of thunder, your a good friend but can doubt your relationship with others. You think with your stomach and have a strong liking to that certain someone. ;)
Ancientmegathermiummon
You are ancientmegathermiummon (try saying that 5 times fast) warrior of ice, you feel left out and under rated sometimes but dont because your a big part of your friends and familys lives.
Ancientmermaimon
You are ancientmermaimon (the best) warrior of water, you are a calm, reliable person always looking for fun. You have a lot of friends which isnt suprising because of your great looks and lovely charm.
Ancientsphinxmon
You are ancientsphinxmon warrior of darkness, you have a difficult and confusing life full of mysteries but dont let that bother you because you have a bright future ahead full of friends and happieness.
Ancienttroiamon
You are ancienttroiamon warrior of wood, your a muscular guy who is quite intimidating even though you only use force when nececcary. Your not exactly a brainy on though.
Ancientvolcamon
Your ancientvolcamon warrior of earth, lets face it your a stubborn, selfish, bigheaded wierdo who thinks their all that. You dont have many friends because of this which is why you get picked on.
Ancientwisetmon
Your ancientwisetmon warrior of metal, you are a wise guy who prefers the company of books or computers rather than people. You are a mysterious person who likes to suprise other people with your intelectual skills.
1.

When is your favorite time

A.&nbsp

B.&nbsp

C.&nbsp

D.&nbsp

E.&nbsp

F.&nbsp

G.&nbsp

2.

Which word best describes you?

A.&nbsp

B.&nbsp

C.&nbsp

D.&nbsp

E.&nbsp

F.&nbsp

G.&nbsp

H.&nbsp

3.

HydbfrbfvvvvfnjfvnfmshbfqehfewjkgfrjekgfmrbembvvchdgsfgahfsfhfjkrhjghhgwgryghKWDKJEHJFhjfhjjkfhjfgdhghcashegfjrghiggv

A.&nbsp

B.&nbsp

C.&nbsp

D.&nbsp

Look this is not a joke its serious!

E.&nbsp

F.&nbsp

Jrgfrajegwferkjgfwilerfhdwirgheiur Back at ya!

G.&nbsp

That word is not in the dictionary!

H.&nbsp

THAT IS NOT A F***ING QUESTION!

I.&nbsp

4.

In your spare time you.....

A.&nbsp

B.&nbsp

C.&nbsp

D.&nbsp

E.&nbsp

F.&nbsp

G.&nbsp

H.&nbsp

I.&nbsp

J.&nbsp

5.

Someone just started mocking you. Your reply is...

A.&nbsp

B.&nbsp

C.&nbsp

Shrug your shoulders and walk away

D.&nbsp

E.&nbsp

F.&nbsp

G.&nbsp

H.&nbsp

I.&nbsp

6.

You like to go to the...

A.&nbsp

B.&nbsp

C.&nbsp

D.&nbsp

E.&nbsp

F.&nbsp

G.&nbsp

H.&nbsp

I.&nbsp

J.&nbsp