Which Victorious Character Are You Quiz
10 Questions
| Total Attempts: 27611
---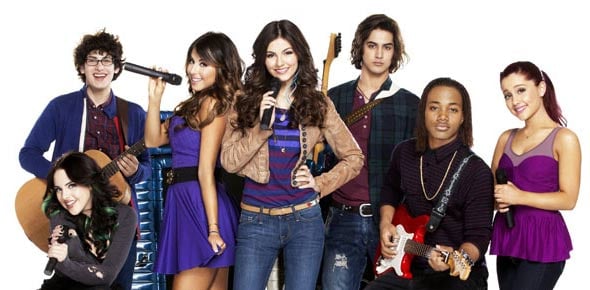 The show Victorious on Nickelodeon was a good one that was full of amazing music, lovable characters and showed us what true friendship is all about. So which Victorious character are you? Which character from the show do you think matches your personality? Take up the test below and share which of the characters you get in the comment section.
---
You May Get
Tori Vega
She is a sixteen-year-old aspiring singer who enrolls at Hollywood Arts High School, a prestigious performing arts school. Though initially self-conscious and uncertain among Hollywood Arts' talented student body, she soon embraces her own talents and new life. She is neurotic when it comes to situations but usually finds a creative way to fix them.
Jade West
She considers herself a "not good friend" of Tori's and is seen as the show's antagonist during the series's beginning. Although she has a caustic personality, Jade is hard-working, talented, and popular. She has been Beck Oliver's girlfriend for "one year and eleven months." She is seen to get jealous easily, often overreacting when Beck even talks to other girls. She is blunt and aggressive to almost everyone, especially Tori. Although she and Tori were adversaries at the beginning of the series, their rivalry slowly decreases, and Jade has occasionally come to Tori for help, such as in "Jade Dumps Beck" when she asks Tori to help her get back together with Beck. Other students at Hollywood Arts seem to be intimidated by her.
Trina Vega
She is Tori's egotistic sister, who is older by one year. Though she is likable, she is not very easy to approach or, for that matter, straightforward to please because she believes the world revolves around her. She has acted like that for her entire life, and she truly believes stardom is her destiny. In truth, Trina possesses the little talent to match her A-list attitude. Despite thinking that she is the most talented student in school, she can't hit a single note, act, or dance. She is goofy when she wants to be but will hold herself together most of the time. While she is often comically self-absorbed, she will admit when someone is talented. According to the episodes "Stage Fighting" & "Jade Dumps Beck," she greatly dislikes Robbie. She seems to be friends with Cat, despite getting annoyed with her on a basis. According to Jade, nobody likes her, although it was confirmed she has a friend named Molly.
Cat Valentine
She is an overly sensitive drama queen. She tends to overreact and is extremely emotional, but becomes close friends with Tori, André, Beck, Trina, and Robbie. She is seen as eccentric and naive but also sweet, outgoing, and cute. Cat's eccentricities, frequent exclamations of "What's that's supposed to mean?" and mentions of her strange--so far unseen--brother are common running gags. She dyes her hair red because it is the color of her favorite food, red-velvet cupcakes. She is nicknamed "Little Red" by Andre also because of her red hair. Cat is the most detached from reality (although smarter than she seems at first glance). Tori often says she's "insane" and "bipolar." It is revealed that she only weighs 90 pounds.
Robbie Shapiro
He is a shy and awkward student who is more comfortable speaking through his ventriloquist's dummy, Rex Powers. His grandmother, Mammaw (Renée Taylor), implies that Robbie has had Rex for a long time by telling her husband that Robbie still takes the puppet to school. He tends to take the slightest romantic advance from a girl, even while acting, very seriously. Lactose intolerant, he can play the guitar and the harmonica. He also loves acting.
Beck Oliver
He is witty and down-to-earth. He is also the most respected actor in school, taking the distinction very seriously. Although Beck is Jade's boyfriend, he backs Tori up when Jade tries to start drama. Most of the boys at Hollywood Arts want to be him, and most of the girls want to date him, but he is in love with Jade, and his affection for her survives even her most caustic traits.
Andre Harris
Andre is Tori's best friend and biggest supporter at Hollywood Arts. Andre is a gifted musician and a talented songwriter, having written two of the songs Tori has performed so far in the series. He first met Tori when he was assigned to work with Trina to perform for the school's annual talent showcase. He has a grandmother who is afraid of everything and everyone; thus, she doesn't go out much. He is reliable, and is the guy everybody likes (especially because of his musical talent), and is always the shoulder to lean on, especially for Tori. Of every character in the series thus far, he is the most sensible. He is the only one, except Rex, who hasn't kissed a girl on-screen.
Rex Powers
Rex is Robbie's ventriloquist's dummy, who is a lot more outgoing and sarcastic than him. In "The Bird Scene," it is revealed that Rex hits on every girl but Cat. He is occasionally seen flirting with Tori, even though she finds it awkward and rejects him. He also has a sleazy side shown in "Robarazzi," when he told Robbie to zoom in on Tori popping her pimple, which was completely embarrassing for her. Rex can talk even when he's not in Robbie's hands.
1.

You just got dropped off at Hollywood arts. You are registered in this school for...

A.&nbsp

B.&nbsp

C.&nbsp

D.&nbsp

2.

In your free time, you...

A.&nbsp

B.&nbsp

C.&nbsp

D.&nbsp

3.

If you could have any color of hair, it would be...

A.&nbsp

B.&nbsp

C.&nbsp

Brown with a sprint of blue

D.&nbsp

4.

What class would you like to take the most?

A.&nbsp

B.&nbsp

C.&nbsp

D.&nbsp

5.

Do people describe you as...

A.&nbsp

B.&nbsp

C.&nbsp

D.&nbsp

6.

What instrument would you like to play?

A.&nbsp

B.&nbsp

C.&nbsp

D.&nbsp

7.

Are you enjoying this quiz?

A.&nbsp

B.&nbsp

8.

What's your favorite color?

A.&nbsp

B.&nbsp

C.&nbsp

D.&nbsp

9.

Which buddies are the best?

A.&nbsp

B.&nbsp

C.&nbsp

D.&nbsp

10.

Who would you like to date?

A.&nbsp

B.&nbsp

C.&nbsp

D.&nbsp