TExES Tech Apps Review Quiz On Vector And Bitmapped Graphics!
15 Questions
| Total Attempts: 1810
---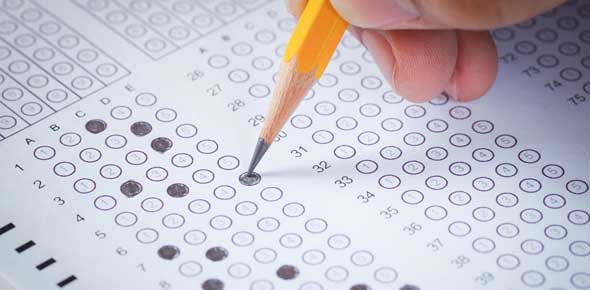 The TExES series is a group of exams conducted by the State Board for Educator Certification (SBEC) and managed by the Educational Testing Service (ETS). It's an entry-level test that assesses an individual 's specific teaching skills to become a certified educator within the state of Texas. This quiz has been created to test your knowledge and the basic understanding of graphics. Questions are based for EC-12 Technology Applications. So, let's try out the quiz. All the best!
---
1.

This type of image is created or "drawn" on the screen according to mathematical algorithms.

A.&nbsp

B.&nbsp

C.&nbsp

2.

Which type of graphic can be resized without any loss of quality?

A.&nbsp

B.&nbsp

3.

Which type of graphic is resolution-dependent?

A.&nbsp

B.&nbsp

4.

Bitmap graphics are also referred to as ____________ graphics.

5.

Bitmapped images are composed of a collection of colored dots, called ____________________.

6.

Photographs are best stored as which type of image?

A.&nbsp

B.&nbsp

7.

Which of the following applications edit bitmapped images?

A.&nbsp

B.&nbsp

C.&nbsp

D.&nbsp

E.&nbsp

8.

An image that is 4 in X 4 in at 72 dpi contains how many pixels?

9.

The process of converting a vector image into a bitmap is called...

A.&nbsp

B.&nbsp

C.&nbsp

D.&nbsp

10.

If a bitmapped image is enlarged and becomes fuzzy and unclear, it is said to have been...

A.&nbsp

B.&nbsp

C.&nbsp

D.&nbsp

E.&nbsp

11.

Which of the following file extensions is not associated with a bitmapped graphic?

A.&nbsp

B.&nbsp

C.&nbsp

D.&nbsp

E.&nbsp

12.

A simple black-line drawing of a cube to use as a graphic in a logo for a business would best be created as which type of graphic?

A.&nbsp

B.&nbsp

13.

Which graphic formats will allow you to make use of transparency?

A.&nbsp

B.&nbsp

C.&nbsp

D.&nbsp

E.&nbsp

14.

Video is a set of images stored in __________ format.

A.&nbsp

B.&nbsp

15.

Suppose you have an image that is 1080 pixels wide. The monitor you are using displays at 72 dpi. How many inches wide is the image? (Enter number only)