The Ultimate Spidey Quiz!
10 Questions
| Total Attempts: 396
---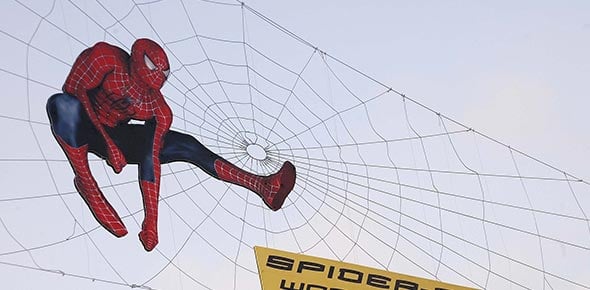 The Spiderman is a fictitious superhero character which was visualized by Stan Lee and Steve Ditko. The first comic book named 'Amazing Fantasy' appeared in 1962, which was published by Marvel Comics. Later it was adapted into television shows, movies and video games. Take this quiz to test your knowledge about the characters and the story of Spiderman. So, let's try out the quiz. All the best!
---
1.

Which of these is not a enemy of spiderman?

A.&nbsp

B.&nbsp

C.&nbsp

D.&nbsp

E.&nbsp

2.

Which of these is spiderman's identity?

A.&nbsp

B.&nbsp

C.&nbsp

D.&nbsp

E.&nbsp

3.

Which of these is not stronger than spiderman?

A.&nbsp

B.&nbsp

C.&nbsp

D.&nbsp

E.&nbsp

4.

When did Spider-man first appear?

A.&nbsp

B.&nbsp

C.&nbsp

D.&nbsp

5.

When did the first Tobey Maguire Spider-man movie come out?

A.&nbsp

B.&nbsp

C.&nbsp

D.&nbsp

6.

When did the second Tobey Maguire Spider-man film come out?

A.&nbsp

B.&nbsp

C.&nbsp

D.&nbsp

7.

How did Uncle Ben die?

A.&nbsp

B.&nbsp

C.&nbsp

D.&nbsp

8.

Did Peter Parker Marry Mary Jane?

A.&nbsp

B.&nbsp

C.&nbsp

D.&nbsp

9.

Who killed Gwen Stacey?

A.&nbsp

B.&nbsp

C.&nbsp

D.&nbsp

10.

Who's the second Spidey in the clone saga?

A.&nbsp

B.&nbsp

C.&nbsp

D.&nbsp