Skulduggery Pleasant:Which Charactor Are You
7 Questions
| Total Attempts: 259
---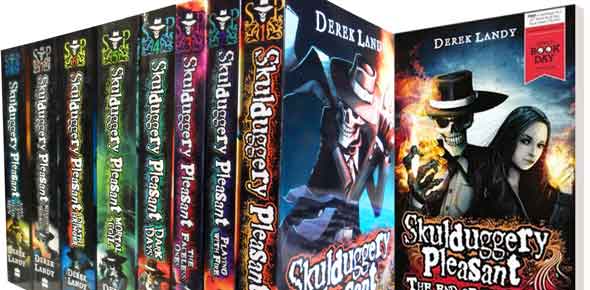 This quiz is all about which skulduggery pleasant character YOU are
---
You May Get
Skulduggery Pleasant
You are the man of magic.You are the detective who solves crimes of mystery and magic.You fight with your assitant Valkyrie Cain and the rest of your gang to save the world.
Valkyrie Cain
You are still in training to become a brilliant sorcerer,which you are already.You live two lives,one of magic and one of school.Your evil but you don't know it.
Tanith Low
You're a terrific swords woman and will fight to the verry end.You're confident,You're quick but best of all you can walk on walls!You have a mind of your own and follow your own rules.Keep on fighting
Ghastly Bespoke
You are an amazing tailor.Your mother was a boxer and a sensitive.You are a tailor and an Elemental.Your strong,smart and you've got scars all over your face!You were turned into a stone statue but your still alive.
China Sorrows
You're a sneaky,manipulative and absouotly beautiful.You collect all sorts of things and have your own library.People grove at your feet.You know your way around syblols and was the leader of the diablerie.Your stunning.
Fletcher Renn
You are quite mysterious and cheeky.You hair is to spikey for anyone and you're realy annoying.You think your the ladies man but sorry to break it to you.YOUR NOT!
1.

What do you spend your time doing?

A.&nbsp

B.&nbsp

C.&nbsp

D.&nbsp

E.&nbsp

F.&nbsp

2.

What type of magic do you use?

A.&nbsp

B.&nbsp

C.&nbsp

D.&nbsp

You use sybols to help you

E.&nbsp

You mostly use your fists

F.&nbsp

3.

What's your main weopon

A.&nbsp

B.&nbsp

C.&nbsp

D.&nbsp

E.&nbsp

F.&nbsp

4.

If you had to choose a name for your group what would it be?

A.&nbsp

B.&nbsp

C.&nbsp

D.&nbsp

E.&nbsp

F.&nbsp

5.

In the group what are you?

A.&nbsp

B.&nbsp

C.&nbsp

D.&nbsp

E.&nbsp

F.&nbsp

The difference between Life and Mass Murder

G.&nbsp

6.

Who is your favourite Hero

A.&nbsp

B.&nbsp

C.&nbsp

D.&nbsp

E.&nbsp

F.&nbsp

7.

Who is your favourie bad guy

A.&nbsp

B.&nbsp

C.&nbsp

D.&nbsp

E.&nbsp

F.&nbsp