What Is Your Warrior Cat Name, Rank, Appearance, Apprentice, Mate And Kits
5 Questions
| Attempts: 4338
---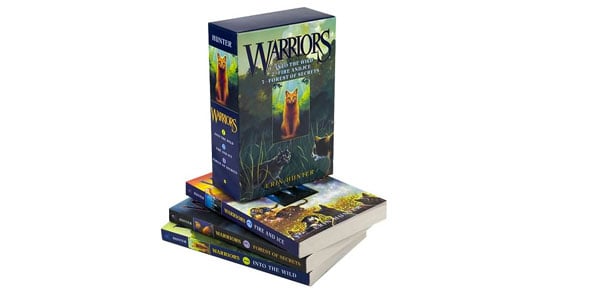 For all warrior cat lovers that have wondered what they would be like in the warrior world
---
You May Get
Oakbranch
Feisty Skyclan warrior, has light ginger fur with gray stripes and green eyes. Her mate is Star a rougue, and is expecting Star's kits, Sand, Dusk, and Pinekit. Her Apprentice is Seedpaw
Featherwing
Calm, impatient, but understanding Windclan Medicine cat. Featherwing has Silky white fur dusted with brown, and secretly has a crush on Rabbittail, a Windclan she cat,Althought he knows that they can never be together.Has no apprentice at the time but will eventually have Stormpaw as an aprenntice.
& many more results.
Start this quiz
to find your result.
1.

How would you describe youself

A.&nbsp

B.&nbsp

C.&nbsp

Full of character but quick to love

D.&nbsp

E.&nbsp

2.

Role Play: You see a Windclan cat hunting in your territory. What do you do?

A.&nbsp

Kill him while no ones looking, for fun (you: laughs evilly)

B.&nbsp

Pin him a give warning, before you attack him

C.&nbsp

Ask him to stop stealing you prey in a small voice

D.&nbsp

On the rare occasion you are hunting,say "Hurry up so I can hunt!"

E.&nbsp

Snarl and chase off territory

3.

What's your favorite thing to do?

A.&nbsp

Sort my herbs and snap at anyone who tries to talk to me

B.&nbsp

Lurk in the shadows and kill any living thing I see!

C.&nbsp

Earn reputation by solving all my clans problems

D.&nbsp

Meet my mate in the forest, he's a rogue!

E.&nbsp

4.

Role Play: Your best friend is in trouble, a messenger from your clan just told you that your leader is dying. What do you do?

A.&nbsp

Take my friend, and go save you leader while your medicine cat takes care of your friend.

B.&nbsp

Heal my friend then help my apprentice heal my leader.

C.&nbsp

I don't have a best friend or a leader (snickers) they just think they are. I'll speed up the process and kill them now.

D.&nbsp

Save my friend, I probaly can't help my leader anyway.

E.&nbsp

Save my leader and then tell someone to go help my friend

5.

What do you think looks prettiest on a cat? Or most likely to love.

A.&nbsp

Brown pelt and green eyes

B.&nbsp

I doesn't matter as long as they're nice

C.&nbsp

D.&nbsp

I would make them love me and then kill them! (mwah ha ha!)

E.&nbsp

Silver with ice blue eyes