Your Warrior Cats Full Profile! (For Girls)
8 Questions
| Attempts: 1552
---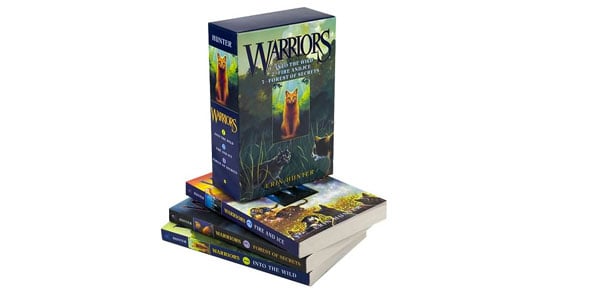 Find everything you need to know about your warrior cat!
---
You May Get
Runningstream!
You are a beautiful light brown tabby she-cat with light blue eyes! You are proud to be a ThunderClan warrior! There are two toms in your Clan that love you, Tigerblaze a brown tabby tom, and Smallbadger a small white tom with black stripes. Tigerblaze is a popular cat in the clan. He can sometimes get into trouble, but he is super sweet and funny! Smallbadger is really sweet but shy. He is not very popular, but he trys his hardest to be sweet to you. You don't know which cat to pick. Your friends tell you it would be mean not to pick Smallbadger, because he goes out of his way to be sweet to you. One day, you are walking to the lake to collect water for the kits and elders. As you look into the water, it seems to be striped! You then knew Tigerblaze was the cat for you! You are still good friends with Smallbadger, his mate is your sister Lilystorm! You and Tigerblaze have 3 kits; Badgerkit: a black and white kit named in honor of Smallbadger, and Lakekit: a light brown tabby she-kit named in honor of where you got Tigerblaze's sign, and Fallowkit: a brown tabby she-kit named for the tree where Badgerkit, Lakekit and Fallowkit were born. They grow up to be Badgerheart, Laketail, and Fallowstorm. You become ThunderClan's deputy and soon the leader, Runningstar. Your deputy is Smallbadger.
Nightdapple!
You are a black she-cat with barely visible dark gray dapples on your pelt. You are from ShadowClan! You have dazzling green eyes. A tom in your Clan, Grayshadow, has a crush on you, but he tries way to hard to impress you. You end up falling in love with Thornheart of ThunderClan, a white tom with a ginger patch on his chest. You two first met at a gathering as apprentices, and ever since, you have had a special connection. You meet him at the edge of your border every quarter moon. Your brother, Stormfoot followed you once, and knows about Thornheart, but he promises not to tell. You are soon expecting Thornhearts kits. You give birth to them on the edge of ShadowClan's border with ThunderClan. You name the only she-kit Hollykit: a brown and black she-kit. You have two other toms, Stormkit: a dark gray tom, and Thornkit: a white tom with a ginger patch on his chest, named after Thornheart. Thornheart took Stormkit to ThunderClan and you took Hollykit and Thornkit. Your kits' warrior names are Hollypelt, Stormtial, and Thornblaze. Thornheart died soon after the kits' birth. Whenever you looked at Thornblaze, it reminded you of Thornheart.
& many more results.
Start this quiz
to find your result.
1.

What Clan are you in?

A.&nbsp

B.&nbsp

C.&nbsp

D.&nbsp

2.

What do you look like?

A.&nbsp

B.&nbsp

C.&nbsp

D.&nbsp

3.

What is your eye color?

A.&nbsp

B.&nbsp

C.&nbsp

D.&nbsp

4.

What rank do you prefer?

A.&nbsp

B.&nbsp

C.&nbsp

D.&nbsp

5.

Do you follow the warrior code?

A.&nbsp

B.&nbsp

C.&nbsp

D.&nbsp

6.

What type of prey do you eat?

A.&nbsp

B.&nbsp

C.&nbsp

D.&nbsp

7.

Which warrior cat is your cat is your favorite?

A.&nbsp

B.&nbsp

C.&nbsp

D.&nbsp

8.

Did you like this quiz?

A.&nbsp

B.&nbsp

C.&nbsp

D.&nbsp