Are You A Introvert, Extrovert, Or Ambivert?
10 Questions
| Total Attempts: 65
---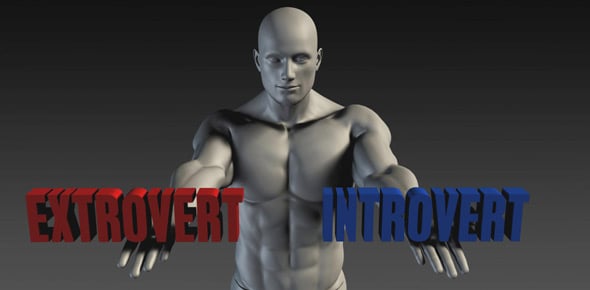 Which are you?
---
1.

What would your friends describe you as?

A.&nbsp

B.&nbsp

C.&nbsp

2.

You arrive early to a kickback at your friends house and everyone one there are strangers. What would you do?

A.&nbsp

Make new friends and have the time of my life, DUH.

B.&nbsp

C.&nbsp

Sit quietly in the corner and only speak when spoken to, while waiting for my friends to arrive.

3.

You're out with friends in a public place and they're acting wild. What do you do?

A.&nbsp

Are you stupid? Act wild with them!

B.&nbsp

Laugh and apologize for their behavior to random strangers.

C.&nbsp

Walk across the street while holding you head down to avoid being seen.

4.

Your crush is working at your local grocery store! They're working the only cash register open. What do you do?

A.&nbsp

Flirt with them at the register then slide him your number.

B.&nbsp

Attempt to make the transaction fast as possible and leave out the store in a hurry.

C.&nbsp

5.

You're at your families reunion and you have no idea who half these people are. What do you do?

A.&nbsp

Burst through the door exclaiming "the party has arrived".

B.&nbsp

Smile occasionally at them while making your way to your cousins room.

C.&nbsp

Pull out your phone or book that you brought with you and hide in a corner.

6.

All of your friends are planning to hang out but you simply don't want to leave you bed. How do you handle this situation?

A.&nbsp

Straight up tell them you don't want to go.

B.&nbsp

Make an excuse telling them that you're busy that day.

C.&nbsp

Agree to go out even tho you don't really want to.

7.

It's finally the weekend! What are your plans for the night?

A.&nbsp

I'm going out with my friends! We about to PAR-TAY (party)!

B.&nbsp

Invite a few friends over to watch a movie and maybe bake some goodies.

C.&nbsp

Scroll through social media or read a book. Maybe even have a lil spa day to myself.

8.

Get riled up sis, it's your birthday! What are your plans for the night?

A.&nbsp

I'm throwing a HUGE birthday bash, inviting everyone on my contact list.

B.&nbsp

I'm inviting a few friends and family over for cake and ice cream. Nothing too special.

C.&nbsp

Ordering takeout and posting a happy birthday to me on my private social media.

9.

You got moneeeeyyyy! Which living space is to your taste?

A.&nbsp

Million dollar house in the hills baby!

B.&nbsp

A cute apartment sound good to me.

C.&nbsp

A nice suburb house in a quiet neighborhood sounds amazing.

10.

When having conversations with others,

A.&nbsp

You share every last one of your opinions whether it will offend people or not.

B.&nbsp

You only provide your input when necessary.

C.&nbsp

You listen but never share what you're thinking.