Emo, Poser, Or Normal Quiz. Real Results!
16 Questions
| Attempts: 1156
---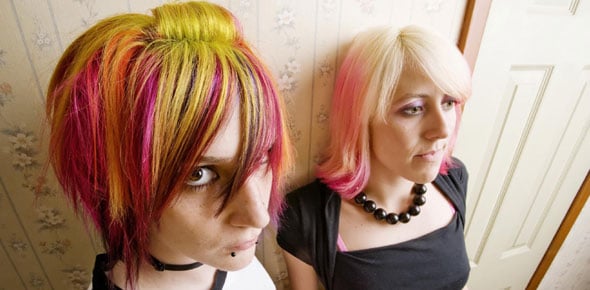 Quiz to finally settle if you are an emo a poser emo or nap normal person. Take this to find out once and for all!
---
You May Get
Emo
Congratulations! Whether you like it or not, you are an emo! So am I! Great, cause emo people rule! Do some reasearch on this and get into character!
Poser emo
You are a non emo poser misfit! You suck! Stop acting like someone you're not and get a life. Emos and all people can tell you're fake! Loser!
& many more results.
Start this quiz
to find your result.
1.

Do you write poetry when you feel like it?

A.&nbsp

Ewww! That's for nerds and losers!

B.&nbsp

C.&nbsp

Yes, my friends think its cool to be dark

D.&nbsp

2.

Do you wear skin tight clothes

A.&nbsp

B.&nbsp

C.&nbsp

3.

Do you love crosses, dog collars, and wrist bands

A.&nbsp

B.&nbsp

C.&nbsp

4.

Do you cry all the time

A.&nbsp

B.&nbsp

C.&nbsp

D.&nbsp

Like any normal person, when I have issues

5.

Do you feel deprived of friends and alone in the world

A.&nbsp

B.&nbsp

Idont care for company but yes

C.&nbsp

I prend I do but really I have friends

6.

Face color

A.&nbsp

B.&nbsp

C.&nbsp

D.&nbsp

E.&nbsp

F.&nbsp

7.

Whats your hairstyle?

A.&nbsp

B.&nbsp

C.&nbsp

D.&nbsp

E.&nbsp

8.

Emos is short for

A.&nbsp

B.&nbsp

C.&nbsp

Emu, a type of bird right?

D.&nbsp

E.&nbsp

9.

Classic emo colors are

A.&nbsp

B.&nbsp

C.&nbsp

D.&nbsp

E.&nbsp

10.

Emos of all genders wear lipstick and eyeliner

A.&nbsp

B.&nbsp

C.&nbsp

D.&nbsp

E.&nbsp

11.

Emos paint their nails

A.&nbsp

B.&nbsp

C.&nbsp

D.&nbsp

E.&nbsp

12.

Emos wear thick eyeliner and tons of eye shadow

A.&nbsp

B.&nbsp

C.&nbsp

D.&nbsp

E.&nbsp

13.

Emos have to cut themselves to be emo

A.&nbsp

B.&nbsp

C.&nbsp

14.

Your opinion on death

A.&nbsp

B.&nbsp

C.&nbsp

D.&nbsp

I think how it would be if I died

E.&nbsp

15.

Have you ever heard of th emo song

A.&nbsp

B.&nbsp

C.&nbsp

16.

Goth and emo is the same thing

A.&nbsp

Both black, same thing to me

B.&nbsp

C.&nbsp