Could You Guess The Movie Based On Character?
10 Questions
| Total Attempts: 279
---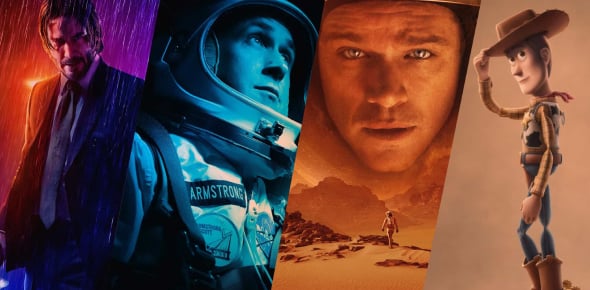 Are you crazy about movies? Can you guess the name or character or recall the dialogues of Hollywood movies? If yes, then do attempt this quiz to recall the famous dialogues and its character. This quiz has been designed to test how sharp is your memory. So, let's try out the quiz. All the best!
---
1.

Say hello to Tony Montana and his little friend! Al Pacino played this Miami drug lord in which movie

A.&nbsp

B.&nbsp

C.&nbsp

D.&nbsp

2.

Cady Heron, a new student at an Illinois high school who gets an in with the ever-popular"Plastics," learns some tough lessons about teenage life.

A.&nbsp

B.&nbsp

C.&nbsp

D.&nbsp

3.

"Wherever we want to go, we go… That's what a ship is, you know."Captain Jack Sparrow sailed the seas in which famous movie?

A.&nbsp

B.&nbsp

C.&nbsp

D.&nbsp

4.

Zero, a young refugee in the Republic of Zebrowka, embarks on a grand adventure when he becomes a junior lobby boy, working under concierge Gustave H.

A.&nbsp

B.&nbsp

C.&nbsp

D.&nbsp

5.

A bored office worker who suffers from insomnia is looking for a change. He meets Tyler Durden, a charming daredevil, and his world is changed forever.

A.&nbsp

B.&nbsp

C.&nbsp

D.&nbsp

6.

19th-century fur trader Hugh Glass gets attacked by a bear and is abandoned by his hunting team. Mustering up the strength to survive, Hugh must find his way back to camp and find the man who betrayed him.

A.&nbsp

B.&nbsp

C.&nbsp

D.&nbsp

7.

Astronaut Mark Watney is abandoned on Mars after a storm forced his crew to abort the mission. He learns to use the few resources he has to sustain himself until they can come back.

A.&nbsp

B.&nbsp

C.&nbsp

D.&nbsp

8.

Sheepish college student Anastasia Steele meets older business tycoon Christian Grey and develops a steamy, passionate romance.

A.&nbsp

B.&nbsp

C.&nbsp

D.&nbsp

9.

King Leonidas must lead his army of just 300 men to protect Sparta from the massive Persian army, led by King Xerxes.

A.&nbsp

B.&nbsp

C.&nbsp

D.&nbsp

10.

Living in a world where money is time, impoverished Will Salas is given a century by a wealthy man who has had enough of life.

A.&nbsp

B.&nbsp

C.&nbsp

D.&nbsp