Are You Bandwagon Or Die-hard Yankee Fan?
10 Questions
| Total Attempts: 1509
---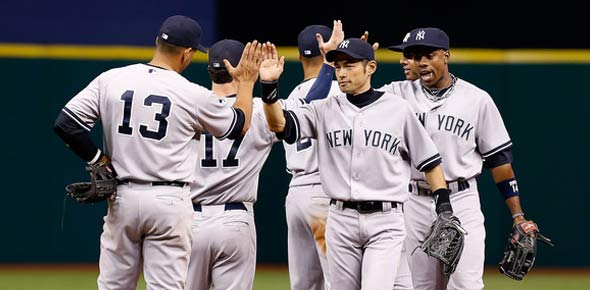 Alright you so-called Yankee fans, you claim that you have watched with pounding heartbeats for your entire lives. Now it is time to find out once and for all if you are a bangwagon fan from the dynasty years, or a true Yankee lifer. The questions will start out easy, and get harder near the end. NO CHEATING. That means no using Google or your more knowledgeable friends.
---
1.

1. What was the original Yankee Stadium known as?

A.&nbsp

B.&nbsp

The House that Ruth Built

C.&nbsp

D.&nbsp

2.

2. How many world series have the Yankees won?

A.&nbsp

B.&nbsp

C.&nbsp

D.&nbsp

3.

What was Don Mattingly's nickname?

A.&nbsp

B.&nbsp

C.&nbsp

D.&nbsp

4.

What were the Yankees called before they were the Yankees?

A.&nbsp

They were ALWAYS called the Yankees

B.&nbsp

C.&nbsp

D.&nbsp

5.

Who started the final game of the 1996 World Series for NY?

A.&nbsp

B.&nbsp

C.&nbsp

D.&nbsp

6.

Who did Derek Jeter PERMANENTLY replace at SS in his rookie year?

A.&nbsp

B.&nbsp

C.&nbsp

D.&nbsp

7.

The Yankees acquired Paul O'Neill from the Cincinnati Reds. Who did they trade for him?

A.&nbsp

B.&nbsp

C.&nbsp

D.&nbsp

8.

Which Yankee besides Joe Torre has worn #6?

A.&nbsp

B.&nbsp

C.&nbsp

D.&nbsp

9.

Who hit a walk-off home run in Game 3 of the 1999 World Series?

A.&nbsp

B.&nbsp

C.&nbsp

D.&nbsp

10.

Where did the Yankee franchise originate?

A.&nbsp

B.&nbsp

C.&nbsp

D.&nbsp