ProProfs Quiz Maker has taken a new shape to make quiz making as easy as possible with a new interface. This would enable anyone from a kid to a non tech savvy adult to create their own quiz in a matter of minutes. Navigation is so easy that the interface is highly compact to fit all the features required for quiz making in less than half the size of your computer monitor.
' I have just finished making my first quiz, and the result is an absolute stunner! It is so easy to use a child could do it, and at the same time it is extremely versatile. Great product and service!!'
–Werner Cooreman, DHL
Easy-to-use Interface:
There are a number of features that make quiz making easy. ProProfs' new interface to create quizzes can considerably reduce your time spent in quiz making.
Add questions and content quickly: It works swiftly to add questions and to upload video, graphics and documents within seconds.
Get question suggestions: Thinking of new questions can be time consuming at times. ProProfs helps you in getting questions suggested from over 300,000 quizzes already available.
Manage scores easily: Save a lot of time in assigning scores to your questions individually or to the whole quiz.
See the image below to check the interface that helps you create quizzes with reduced time and efforts.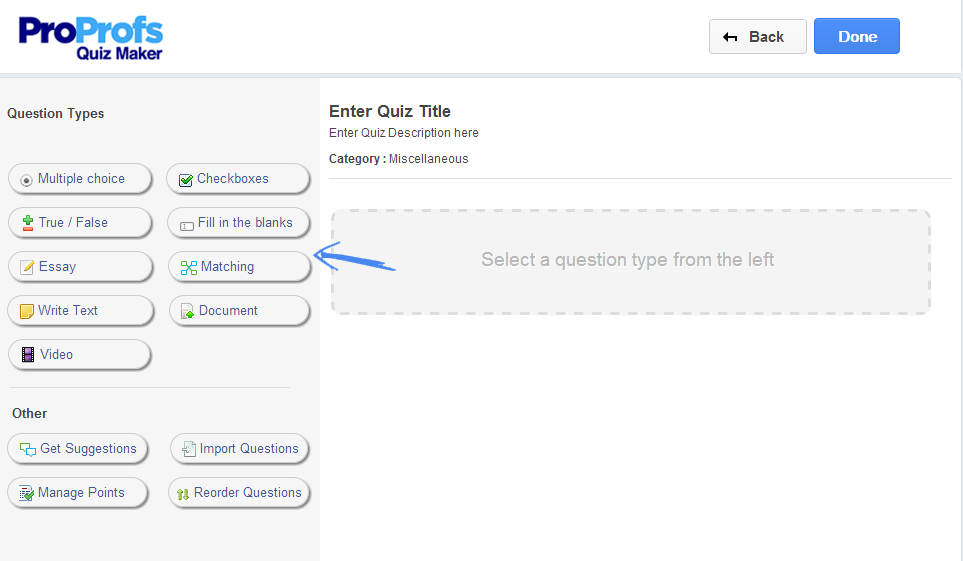 More features for a powerful quiz:
Customize your quiz appearance: Design your quizzes to convey its context by uploading your own image or selecting from a range of readily available templates.
Bulk import questions: A number of questions in an excel spreadsheet can be uploaded to your quiz.
Brand your quizzes: Company logo can be uploaded to quizzes to help you build brand values.
Have fun by creating powerful quizzes with least efforts in the ultra easy platform of ProProfs!