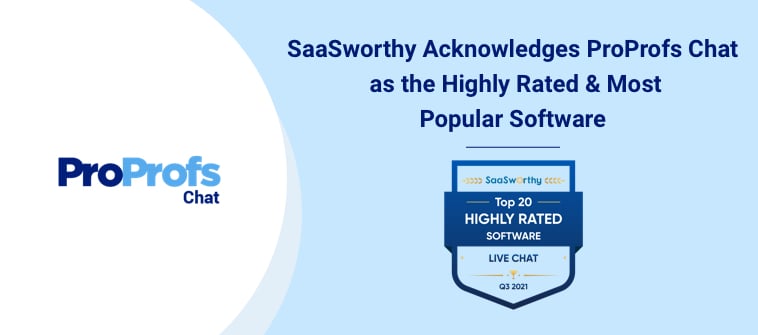 ProProfs Chat was recently recognized for not one but two awards by none other than SaaSworthy.com. We've been awarded as the Most Popular Software and Highly Rated Software for Q3 in 2021.
We sincerely thank SaaSworthy.com for recognizing our live chat platform and bestowing such an honor. As a recognized SaaS software listing and comparison website, SaaSworthy.com showcases the best SaaS products to businesses across the globe.
These badges are given after much detailed evaluation that's done through their sophisticated proprietary algorithm. It uses more than half a million data points to identify the best-rated and performing software listed on its platform.
Receiving awards back to back in such unprecedented times and economic lags is a testament to the fact that ProProfs is here to help businesses improve and progress the right way. Being rewarded like this shows that businesses are acknowledging the use and benefits of ProProfs Chat. It's gained a lot of attention for competitive features and pricing packages as well.
Getting recognized and awarded for our constant efforts gives us the motivation to improve our services even further and create the best possible experiences for our clients. And we'll strive to move ahead in the same direction for many years to come.