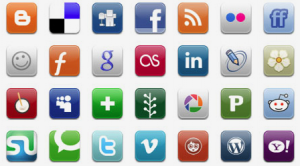 Quizzes, polls, and surveys are effective assessment, marketing, and practice tools. They provide a means for engaging your client base and collecting pertinent information to keep you informed. As you create these tools for your course or business, you should consider how to promote them to your target audience.
When creating a quiz in ProProfs Quiz Maker, use the sharing options provided under Share. Below is a short description of how each sharing feature works.
First click on the "Share" icon on your quiz dashboard

1) Email the link: Choose the Email share option to generate a message to copy and paste to your preferred email client. ProProfs Quiz Maker creates a generic message containing your quiz URL. You can edit the message and add contacts from your address book. If you're sending to multiple people put their addresses, in the TO field, separated by commas and put your own address in the FROM field to maintain your clients' privacy.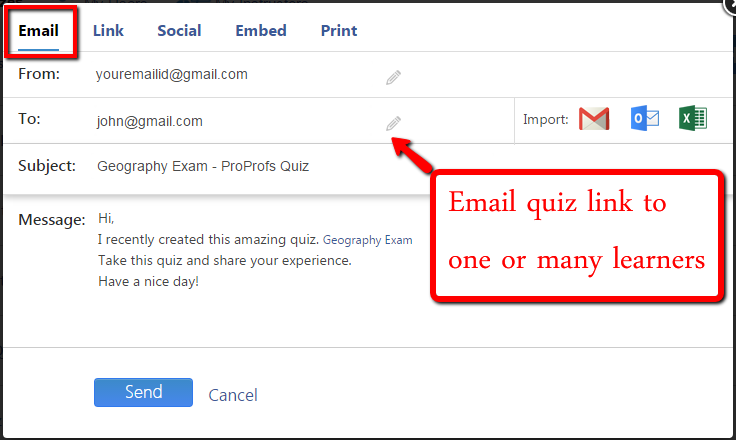 2) Post the link: Use the Link option to generate a link for your quiz that can be easily posted to your favorite blog, discussion board, class or other website. Copy the provided URL and paste wherever you wish.

3) Embed on a blog or webpage. Embedding is a more advanced way to share a quiz or survey on any page. By embedding a quiz, your audience can take the quiz directly on your website, without ever leaving your website.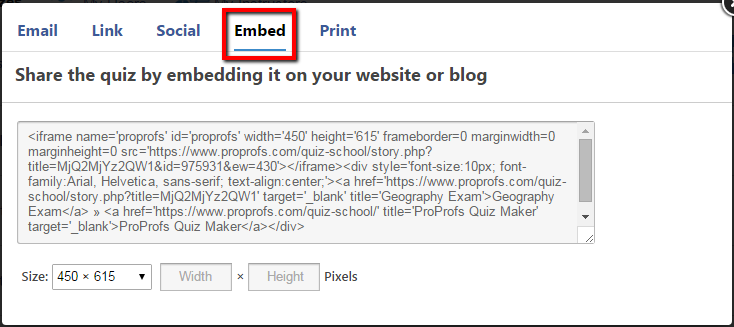 Embedding is ideal for posting when branding is a concern as users take the quiz on your URL/website. Embedding requires posting a simple code on your web page that ProProfs Quiz Creator provides. Once this code is pasted into your blog or website, the quiz appears on that page as shown below.
How do I embed a quiz on my own website?
How do I embed a quiz on WordPress?
How do I embed a quiz on Joomla?
How do I embed a quiz on Blogger?
How do I embed a quiz on Google sites?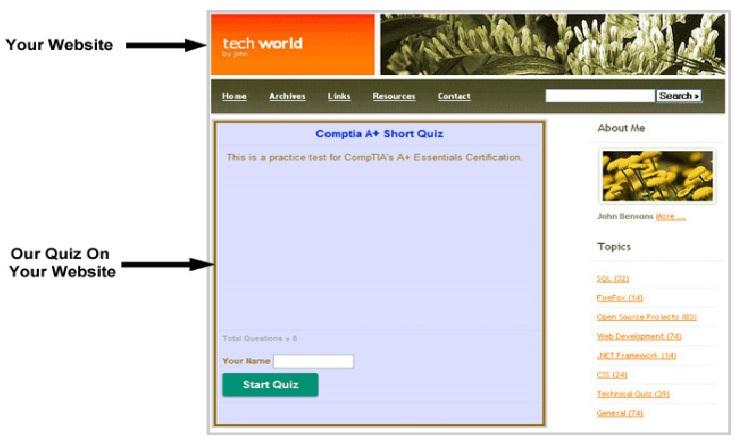 4) Share On Facebook: ProProfs offers multiple ways to share you quiz on Facebook. Two of the popular ways to share is via link or embed.
Option 1: Share the link on Facebook
To share the link on Facebook, click the Facebook option under the sharing tools. There you will see an option to select which social media you want to use.

Select Facebook and ProProfs will give you a simple shortcut for posting your quiz.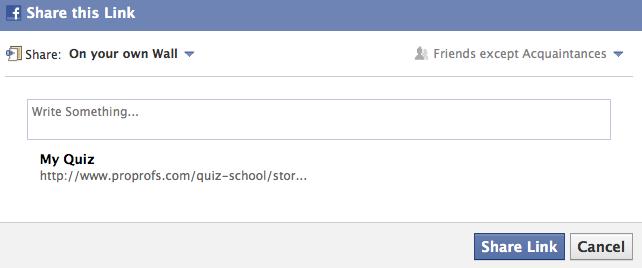 To embed your quiz on your Facebook you need to first add the app "Static HTML: iFrame tabs" and then use the embed code of your quiz. You can look at the steps in more detail by clicking the above link in the title.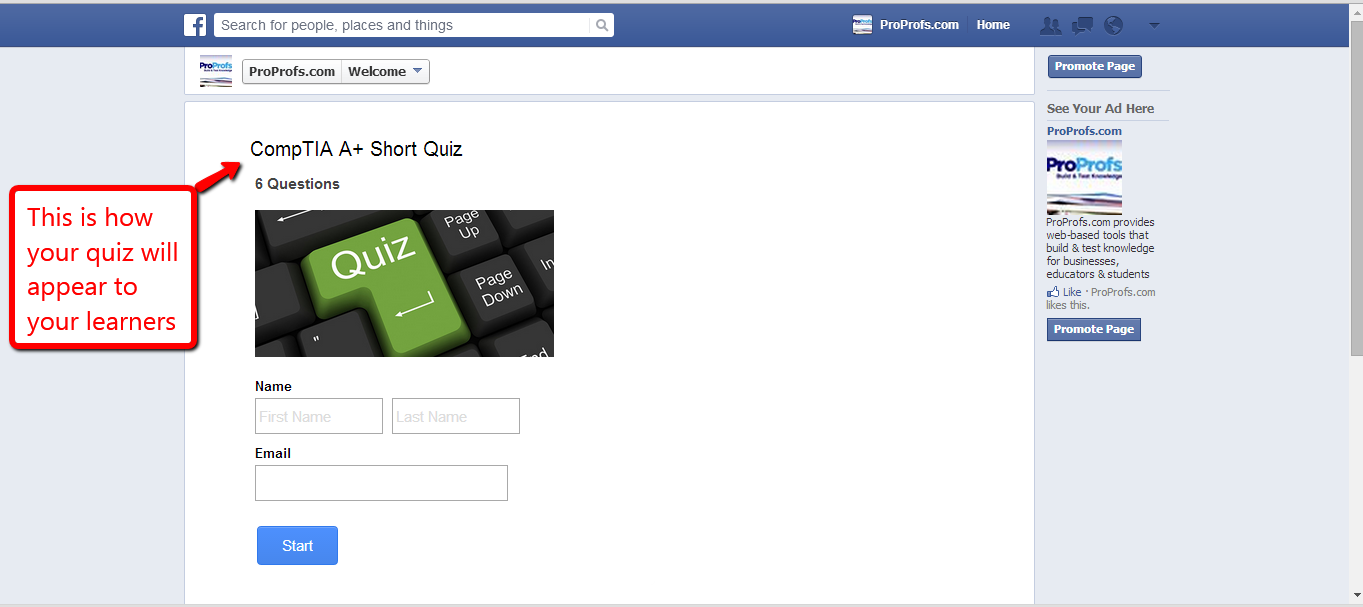 5) Share on Twitter: Sharing your quiz on Twitter is simple using the share tools in ProProfs Quiz Software. Click the Twitter option under the Share and you will see an option to select which social media you want to use.

Select Twitter and you will see a simple page for creating a tweet to share your quiz. You can edit the tweet by adding an interesting comment describing your quiz and why your followers should take it.

More Marketing Techniques to Promote your Quiz
There are many more subtle ways to promote a quiz. These options rely more on marketing than on features within ProProfs Quiz Maker and you can explore some of the options by reading over the list below. Consider which of these options might provide the best results you are looking for before using them.
List your quiz in groups, forums, and bulletin boards. These public areas often have discussion threads designated for specific topics. Find the topic that matches your quiz and post a short entry or invitation. Best results of this method occur when using groups or forums where you are a member and frequently post other entries that interest readers.
Generate a press release. When writing a press release, be careful not to write it as an ad for your product. Press releases are intended to generate interest by offering readers some information that is time sensitive, stimulating, or otherwise new or surprising. Examples include stories that have an inspirational conclusion, as well as stories of success. Use a press release to subtly promote your product, while at the same time, formulate the story to make readers want to find out more. A well-written press release will create curiosity which can promote higher interest in your product.
Experiment with Pop-up messages, banners, and exit messages as marketing tools for your quiz. Use this method sparingly, without making potential users frustrated. The best pop-up or banner ads won't block the view of what readers are trying to accomplish on a webpage. Don't make them want to close your message by covering up the page they are trying to view. Keep these messages simple and non-infringing in order to make people want to try your quiz. Targeted users reached through this method may not be willing to spend a lot of time completing a quiz or survey. To increase the likelihood of completion, keep these quizzes very short and precise.
Use incentives such as contests, giveaways, and drawings to increase interest in your quiz and promote social sharing of your quiz. Invite people to participate in your quiz and offer an incentive for having them complete it. If you like this method be sure to spell out the details of your incentive carefully. Be sure to follow through on any incentive you offer. People are sure to spread the news
Bonus ideas:
Customize messages & results: You can customize results to target specific users and increase traffic to your website or blog via your quiz, poll, or survey. No matter what your quiz or survey is about, customizing results helps you add custom messages which will be displayed when users share your quiz on social networks. You can also add a link back to your site to drive customers to your website's key pages when they complete a quiz. Here are two ways to customize quiz messages and results
Customize Facebook & Twitter messages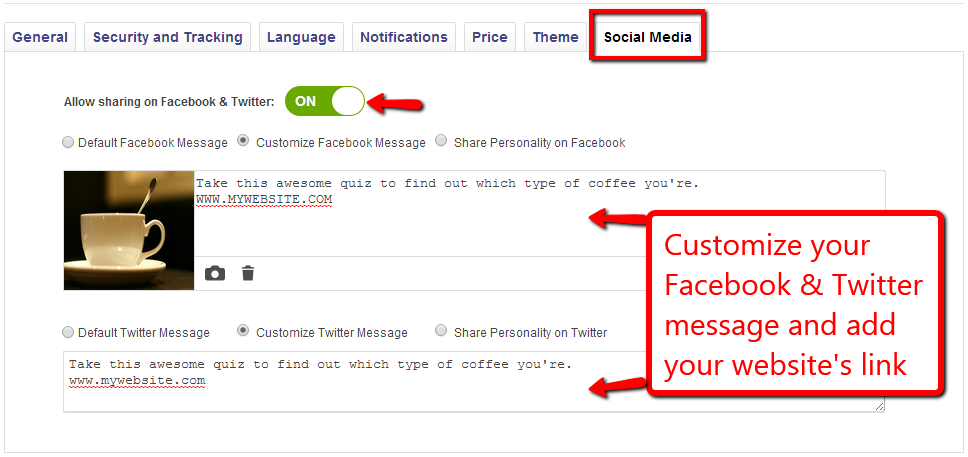 Sponsor search engine ads: Have your quiz listing appear visibly when people conduct searches that match a topic contained in your quiz on search engines. If you are looking to increase traffic to your quiz, poll, or survey, using search engines can offer some of the highest rewards. Some of these marketing techniques may come with an expense. Be sure to explore and weigh carefully whether any of these, or other methods, meet your needs and are right for you and your goals.
Additional tip* Integrate Single Sign-On with your existing authentication system
If you have an existing web based system where your users login at such as an intranet site, class management system etc, you can go one step ahead of just embedding the quiz. You can integrate your existing authentication system with the quiz so the users are automatically identified by the quiz. To do so, use the embed feature with Single Sign On (SSO). Using Single Sign On lets your quiz identify users already signed in to your website.