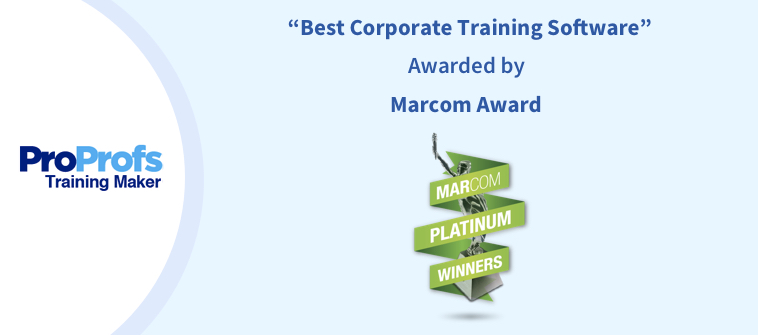 ProProfs once again leaves a mark on the enterprise software world by winning the prestigious 'Best Corporate Training Software 2019' award. Its flagship product, Training Maker got the recognition for the best corporate training software in the Digital Media category at the MarCom Awards 2019.
ProProfs went on to win this prestigious award leaving thousands of strong contenders behind.
MarCom Awards honors excellence in marketing and communication while recognizing the creativity, hard work, and generosity of working professionals.
MarCom is administered by the Association of Marketing and Communication Professionals (AMCP), an international organization founded in 1995.
It consists of several thousand marketing, communication, advertising, public relations, digital and web professionals. AMCP administers recognition programs, provides judges, and rewards outstanding achievement and service to the community.
This award is special to the entire team at ProProfs not only because we always make it a point to put our best foot forward but also due to the fact that big media conglomerates and Fortune 500 companies have been the proud recipients of several awards from the same body.
As a leading cloud-based SaaS company, ProProfs hosts more than 1,000,000 pages of online content in 70+ languages. Its product line includes the eLearning authoring tool, Quiz Maker, Knowledge Base, and Live Chat. The company's tools are used for corporate training and online education programs.
ProProfs is committed to delivering a delightful experience to its customers around the world through its suite of award-winning software applications.