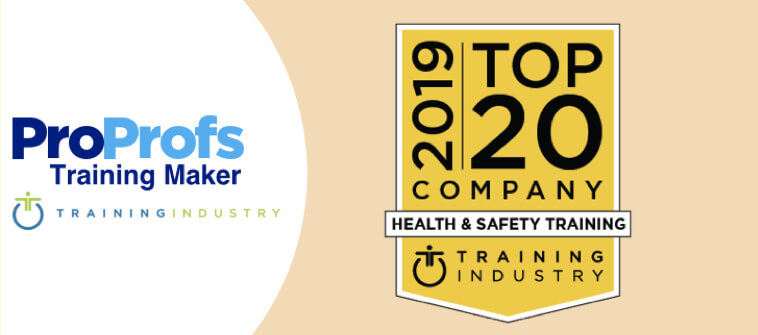 ProProfs finds a place among the Top 20 Health and Safety Training Companies for 2019. Training Industry, the leading research and information resource for corporate learning leaders, announced the list on September 26, 2019. The list targets critical sectors of the training marketplace and intends to inform professionals about the best and most innovative providers of training technologies and services.
The selection was based on a number of criteria, including the breadth and diversity of health and safety training offerings, the ability to deliver training in preferred modalities, geographic reach, and the quality of clients.
Ken Taylor, president of the Training Industry, said, "The 2019 Top 20 Health and Safety Training Companies List represents the leading providers in health, safety, regulatory, and compliance training. These companies offer fresh and up-to-date content, continuously adding new courses and resources to ensure employees receive the training they need. Some providers are now using interactive and immersive experiences, such as AR and VR, to keep learners engaged and involved."
With more than 1,000,000 pages of online content created in 70+ languages and a client base consisting of top MNCs and universities, ProProfs is a leading provider of software as a service. Customers from around the world use our healthcare learning management system and safety training software to deliver effective workplace training. Our product line includes Training Maker, Quiz Maker, Knowledge Base, Live Chat, and many more.
ProProfs is committed to delivering a delightful experience to its customers through its suite of user-friendly and easily configurable software applications.